After 'dancing his way off' to the 2018 Eurovision finals earlier this year, Benjamin Ingrosso is ready to reach even higher. The Swedish singer and songwriter has big plans, with his debut album on the horizon and his catchy song, 'Dance You Off', as a hit on the radio. Often dubbed the "European Justin Bieber", Ingrosso has been under the media's eyes since he was a child: from reality TV and musicals to prestigious music competitions like Sweden's annual Melodifestivalen. However, he now wants to show everyone that his music is what he should be recognized for. "I come from a family of actors, singers and artists, there's always been a lot of eyes on our family which sometimes can be a bit difficult," he confesses. "It's easy to get judged on what your family are doing and it's always been very important for me to be able to show who I am and then people can judge or have opinions. I feel that by now I've released a lot of music and had some great experiences as an artist and songwriter so the attention put on me now is because of my music and not my personal life."
Inspired by the '60s and '70s and namechecking artists like Toni Braxton as icons, the singer has always been surrounded by music. "I learned to play the piano by ear very early thanks to the fact that my family always played music," Ingrosso explains. Incidentally, his mother, Pernilla Wahlgren, is a prestigious singer, and his father, Emilio Ingrosso, a former dancer.  However, his passion for music moved towards songwriting as he grew up. Not a fan of being in the spotlight, Ingrosso spent a few years writing songs, actually considering undertaking this career path until he signed with TEN Music Group not that long ago. Looking back at it now, he says that he "always wanted to write [as] it is a great way of expressing yourself and your feelings [but] there's no way to describe how it feels to perform".
With dreams of being an entertainer, the opportunity of performing on this year's Eurovision stage in Lisbon, Portugal, and represent his own country was a remarkable experience. "It's been unique, to be honest," he says of the experience. "To put together the staging, lights, choreography and everything into that one performance – it was seriously fun though and I've learned a lot. When all these things come together and you're standing there in the lights, you realise how much you appreciate the art of music." His crew, his family, his friends were there to cheer him on as he 'danced it off' in front of millions of viewers on international TV. And, even more so, his goal of exposing his music to people outside of Sweden is now more than a reality. "[I'd like to get] more people to listen to my music," Ingrosso says. "It's such a big part of me that I want to share it with anyone who can relate to what I write".
Taking inspiration from his personal experiences, but also "movies, other musicians' work, things happening in the world, happenings in my friends and families' lives," the singer feels that there is a lot out there to take something from. "I'm at my most creative when I'm surrounded by friends and family, great food and things that just make me happy," he admits. "Also a break-up or two." This was the case for 'Good Lovin', a heartbreaking song that brought Ingrosso to the finals of Melodifestivalen two years ago. But despite most of his songs reaching the coveted Gold and Platinum status, Ingrosso is adamant to not let numbers get into his head. "I think I've grown a lot but I still have a long way to go."
Singing from his heart, Benjamin Ingrosso had surprised many with his driven passion, and his forthcoming debut album has fans over the edge of their seats. However, when asked what we can expect, he leaves a lot to the imagination — perhaps for the better. "It's feeling like it'll be a mix of songs — with both a modern vibe but also influenced by an older sound, like the music I'm inspired by," he spills. "A mix between retro and future, I guess! I'm working hard on it and I'm so excited to see the outcome."  
Benjamin Ingrosso is currently in LA writing and working on his debut album. Listen to his breakout hit, 'Dance you Off', here.
This Schön! online exclusive has been produced by
photography. Netti Hurley
talent. Benjamin Ingrosso
words. Irene Chirita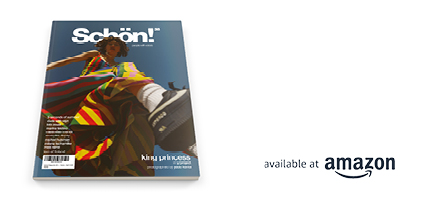 Discover the latest issue of Schön!. 
Now available in print, as an ebook, online and on any mobile device.