The coming sentence might have a platitudinous ring to it, but it needs to be said: Anik Khan is one of the freshest voices in hip-hop. Synthesising a range of musical and cultural influences to create his signature sound, his music is refreshing, current and just a little bit sexy. Born in Bangladesh and bred in New York City, his music resonates from a firmly international, cosmopolitan stance. He is very much an act for our times and has opened for contemporary musicians like Riz Ahmed's Swet Shop Boys and Jidenna. With a confident flow switching effortlessly between velvety melodies to wry rap, Khan is a formidable live act. but this charm isn't limited to Khan's stage persona. Schön! sits down with the rapper to talk concerts, cuisine and collaborations
How would you describe your sound to someone who had never heard your music before?

Curry chicken meets collard greens.
When and why did you first start making music?

I was around 14 when I wrote my first rhyme. It was the only thing I really related to.
How would you describe your musical process?

It depends on how I'm feeling. Sometimes I have a song in my head for months that I want to bring to life. Sometimes I go into a session thinking nothing's going to come out & I end up making one of my favourite songs. Most importantly, I have to go through something to write about something.

If you weren't involved in the music industry, what would you be doing now?
Definitely, culinary school to become a chef. I would love to travel the world tasting and making cuisine.
You've gained a name for yourself as an inimitable live performer, are there any live concerts which you have attended which have impacted on your growth as an artist?
I went to a Jay-Z concert and I didn't know how to act, ha. Also, watching people like Busta Rhymes and Lupe Fiasco inspired me to go super hard up there [on stage]. You could tell that their performances were tailored and thought out. When I watched the Bob Marley documentary and saw him still standing on stage after being tear gassed, that was a whole other level I couldn't even comprehend. Even the musicians were offstage but he was still singing with no music playing. I've always wanted to perform in that manner after that.
 You've opened for contemporary acts like the Swet Shop Boys and Jidenna, as well as playing your own sold-out headline shows, which performance of yours would you describe as the most important on a personal level?
My most important show would have to be my sold out show in Brooklyn at Rough Trade. I don't think anyone expected me to sell out and make the venue go over capacity with no opener. It was the first time in my life hearing almost 400 people sing every word to my songs. My mother was watching on Facetime and my closest loved ones were watching me with a smile on their faces. It truly is a day I'll never forget, I honestly can't describe in words what I felt that night.

In an age of Spotify and Youtube, where the artist's back catalogue and image are so readily accessible, why do you think that live music is still so popular?
I think by the end of the day people want to feel close to you, see your mannerisms, hear what you have to say in between your songs. It's still the closest you can get to an artist on a personal level, and I think once a fan is hooked from a song, they want to experience the music on a different level. I think a song makes them love you, but a performance makes them never forget you.
Listening to your music, you get a sense that there are a lot of different musical inspirations and contexts feeling into one another, what would you say are your main influences musically?
Wow, this one's not easy. if I had to make a list, it would include Bob Marley, Amy Winehouse, A.R. Rahman, Jay, Nas, Chris Martin and Tony Bennett.
What attracted (and continues to attract) you to hip-hop as a genre? Do you see yourself moving towards different genres in the future?
At the end of the day, hip-hop is the closest thing I've ever related to. Hip-hop comes from making something out of nothing and doing things against the grain. My music is constantly moving between hip-hop and the world and will continue to do so as long I keep making music.

From your position as an artist writing and creating from a multicultural stance, would you say that hip-hop is progressively international or is there still a lot of a progress to be made?
I would say that hip-hop has already made so much progress. Kids in Bangladesh are making songs rapping entirely in Bengali. My own mind as a Bengali-American being from Queens can't even comprehend that. The fact that there are kids around the world rapping, dressing, acting, and taking in the entire lifestyle trips me out.
Your debut, Kites, quickly amassed over three [four] million Spotify streams. What do you have planned in terms of future releases?
I have visuals coming soon that I'm really excited about. I have some music that I was creating right before Kites was released that I'd like to share when I'm ready. And I'm planning on continuing to push Kites through shows and other projects.
Who would you most like to work with in the future?
I'd love to work people like David Gelb of Chef's Table or Ronnie Fieg of KITH to name a few. In terms of artists, it would be great to work with Belly, Frank Ocean, Damian Marley… There's obviously so much more but those are the ones that come mind at this moment!
Listen to Anik's debut EP, 'Kites', here. Check out www.anikkhanmerch.com to get one of the newly released socially conscious shirts, reflecting the flavour of Anik's album through his favourite food spots in NYC.
This Schön! online exclusive was produced by
Photography / Mark Veltman
Fashion / Anthony Pedraza
Talent / Anik Khan
Groomer / Vanessa Cartagena
Interview / Megan Wallace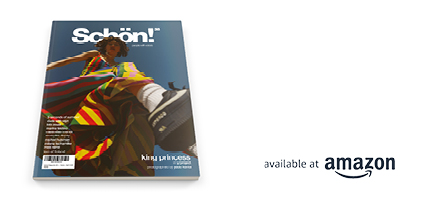 Discover the latest issue of Schön!. 
Now available in print, as an ebook, online and on any mobile device.