Singer Ängie is an unapologetic vision of an artist without boundaries. The 23-year-old Swede first entered the scene in 2016 with single 'Smoke Weed Eat Pussy.' Her following singles 'Housewife Spliffin' and 'Spun' raked in over a million Youtube views and this year she's back with dark and bass-driven track 'Dope.' Angie's words are refreshingly candid, her vocals are a trap-jazz concoction, and her goal for this year is one thing only: to make "dope shit." With her debut album, 'Suicidal Since 1995', dropping today, we chat to the girl behind the image.  

"99% of my brain is other people's lyrics," says Ängie, citing Lana Del Rey, Lou Reed and Swedish cloud rapper Yung Lean as a few of her favourites. "I grew up in a small town outside Stockholm. It's very beautiful but has a lot of stupid people" she begins. It's unsurprising that a creative outsider like Ängie felt unsettled. In a culture that values lagom, meaning moderation, and jantelagen, meaning we're all the same, Ängie's bold and rebellious image is unashamedly anti-jante. "It [was] hard because people tell you what you can and can't do all the time and everyone knows every little thing about you. You have to have a great mind to make it out of there" she reveals. "I think it started with one thought — we're all gonna die so why not try?" Ängie's plunge into the unknown paid off, after posting music to Soundcloud ignited her music career.

"I don't think I've had my breakthrough yet," she claims. Although not a household name, her frank and explicit lyrics often spark enough controversy to make her a tabloid target. In a world where women get slandered for singing the same lyrics male artists and rappers have freely written about for decades, Ängie expresses her irritation. "Of course it's frustrating. It's silly as fuck." When it comes to how society treats female sexuality in 2018, she feels there's still a long way to go."Sometimes I believe it's not ever going to get better," she says.

In Ängie's music, nothing is off limits. She is not afraid to voice the taboo and redefine how a lady should behave. In the past she's opened up about falling for a woman at 15 only to be ostracized by her friendship group, she's revealed her troubled upbringing and her personal struggle with ADHD and depression. From darkness, a resilient young woman with a creative soul arose, although finding inner peace and self-love is something Ängie is admittedly still working on. "I repress but I feel shitty all the freaking time" she confides. "I want to feel better about myself the most."

Music is Ängie's therapy, and with the release of her debut album today, she assures us her sound is more her than ever before. After all, if there's anything to anticipate from Ängie, it's the unexpected.
Ängie's debut album, 'Suicidal Since 1995', comes out today, April 6th. Listen to it here.
This Schön! online exclusive has been produced by
photography. Therese Öhrvall @ BADLAND
fashion. Josef Forselius @ ADAMSKY MGMT
hair. Jacob Kajrup
make up. Johanna Nomiey
fashion assistant. Barbara Klawitter
model. Ängie
words. Shama Nasinde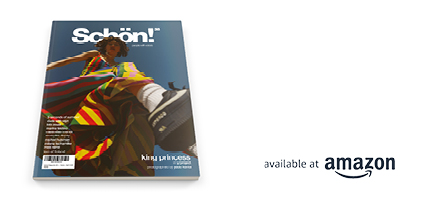 Discover the latest issue of Schön!. 
Now available in print, as an ebook, online and on any mobile device.