When Alessia Cara shows up to meet us at the Dean Townhouse she is refreshingly relaxed, in jeans and a tee, sneakers, big curly hair and a fresh face. When complimented on her pink satin bomber jacket she smiles coyly and adds "this is as shiny as I'll go". She's been called the anti-pop pop-star and the voice of the outsiders, having come to fame with her hit song Here where she describes feeling like an "anti-social pessimist" at a party. The DefJam-signed, 19-year-old Canadian songstress sits down with Schön! to discuss how she's handling her meteoric rise to fame before the UK release of her debut album Know-It-All tomorrow.
It's hard to believe that the self-assured young woman sat across from us in the booth was once so terrified of singing in front of others she spent years doing much of her performing on YouTube. "My end goal was to be where I'm at right now," she says "but I couldn't even sing in front of my parents, so YouTube was kind of my way of performing for an audience without actually singing in front of people. I got to practice and I got constructive criticism." Now her YouTube channel serves as a way to document her journey with her fans. 
Following the lead of other post-millennial musicians like Lorde, Cara has no holds barred approach to songwriting. A marked change from the bubblegum pop of yesteryear, her songs are at times self-deprecating, raw and bitingly critical of the expectations placed on teens today. 
Lorde's music she says gave her permission to release her own in a sense "she was so young and actually speaking about things that mattered. So it made me think it's acceptable to sing about the things I wanted to." It's an approach that's slowly changing the face of pop music and what the world has come to expect from pop-stars. Gone are the days of the carefully manufactured pop-star: the pretty, popular girl trope is out, making Cara and her contemporaries the most honest commentators on the teenage existence today. 
While it's easy to draw comparisons between Cara and other established musicians – she shares a sense of self assuredness with Lorde, her compatriot Justin Bieber had a similar start singing covers on YouTube, and like Taylor Swift (with whom she's already shared a stage), she channels girl power – she somehow sits firmly and confidently in her own category. Cara is herself and comfortably so. Her music has a downtempo silky quality, matched with a soulful voice that brings to mind one of her idols Amy Winehouse. It's a sound that almost undefinable, something she thoughtfully suggests is not unique to her, but a reflection of the music industry at large, "that's kind of how music is today, everything is a hybrid. It's so hard for me to consider every song as one thing. I feel like each of my songs is completely different. Overall I guess my music is pop music that also happens to fall under other genres." 
Her growing career success and fame create a complex experience for her, "I feel like I'm floating above myself sometimes." She admits her newfound fame scares her: "I was watching the Amy Winehouse documentary and a lot of things that affected her in the beginning really resonated with me and it sounds sad but it was kind of a warning to me. Fame is definitely something that scares me but it also excites me, I guess what I don't know scares me and excites me at the same time."
Amidst all this, she maintains she is still hopeful for a life that's as close to normal as possible. Much like Adele, she muses unabashedly. "Ideally that would be my life. Put out music, let it speak for itself but go back and live my life while making new music." 
It's not unusual for a pop-star to crave a life of normalcy and insist on being a regular person, yet it's easily to feel that with Cara, what you see is what you get. "I'm the same person that I am in real life and on stage" she insists, "I feel like it would be so difficult to pretend to be somebody I'm not. Imagine having this as a full time job but also having the job of being someone else, that's too much, so I can only be myself and put out good music." 
Know-It -All is out March 11th on Def Jam Recordings.
Words / Kristie Gonzales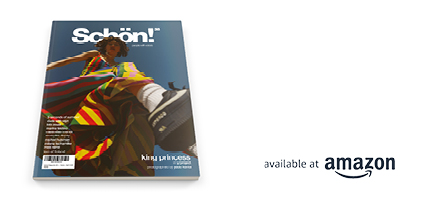 Discover the latest issue of Schön!. 
Now available in print, as an ebook, online and on any mobile device.