In 2016, his debut documentary Dancing In the Dark captivated masses with the exploration of the nightlife scene as a safe space for gay black and latinx men. Since then, Adomako Aman has not stopped; becoming a powerful vessel for queer POC and LGTBQ+ narratives. Tackling race and identity heads on, Aman's distinctively powerful voice rises through the noise, generating conversation and turning his experiences as "a queer man of colour from a low-income family" into artistic gold with a deep message. We catch up with the inquisitive filmmaker to talk about his upcoming short film Fish, his firsts and why he'll always "give the audience the opportunity to take away their own personal message".
Your debut documentary, Dancing in the Dark, gave you a lot of notoriety and it's still going strong on YouTube. How's the experience been since releasing the documentary?  
Dancing in the Dark took a lot of TLC. I've had many first times with that documentary. That was the first time I created a full-length film, the first time I really began to explore the process of making a film and the first time I really began to take an in-depth look of race and identity. Because there was not a big budget on that project I also had to learn how to play many different roles in order to see this project come into its full completion. The aftermath of Dancing in the Dark still shocks me, to have people from all over the world message me on how thankful they are for this project is mind-blowing. To even receive emails from different college students asking to use this film as a cultural reference in their essays is such an honour. This whole experience really puts things in perspective for me on how working hard really does pay off.
You recently uploaded an online docu-series, Aman Love, to your YouTube focusing on queer relationships. What can you tell us about working on that project? 
With each project that I'm involved in, I work really hard [to] telling stories that connect to me and the many different communities I come from, as well tackle stories that are very challenging to tell. I sometimes feel that 'love' is unfamiliar to a lot of LGBTQ+ folks and I wanted to explore what love looks like and the many different layers of it from the couples that were involved in Aman Love. It's vital that these experiences are shared to emphasise that we are here and present. With any of the body of work I create, I'm usually interested in capturing the subject matter at hand and enjoy when the audience takes away their own personal message.
Apart from documentaries, you also do fashion work. How do you find the balance between filming vocationally and professionally? Where do your future and heart truly lay? 
When I was younger I used to take on any project that was sent my way, but now that I'm older I've become very selective about what projects I get involved in. Maybe it's the Libra in me, but a creative collaboration has to make sense for me in order for it to have some type of impact or else it'll fail. Overall, I consider myself a Content Producer. [Whether] it's fashion or film, I truly enjoy producing content that resonates with people intellectually, emotionally, spiritually and aesthetically.
You tackle issues that are quite latent for the LGBTQ+. Where did you draw the idea to start this docu-series from? Any memorable stories whilst filming?
Whenever I get involved in documentary work, the journalist hat comes on and I do whatever it takes to make sure my subjects are confident and comfortable when I'm either recording an experience or an interview. So it was funny when I was filming one of the Aman Love segments and, off camera, the couple's friend kept flirting with me in between takes and then once filming was intact, he announces to me that he's in a long-term relationship that he's happy in. At the time of filming, I was very much focused on getting this story complete but in that same breath was completely thrown off with this guy's delivery. I thought this was both funny and ironic given the subject matter that I was documenting and this really put context towards how people love polyamorously.
You also have a short film, Fish, coming up. What can you tell everyone about that? 
I'm really excited for the first screening of this film on May 11th. It's my first written narrative and it was such a communal effort — [from] people making donations to see this film happen, working with my best friends Sofija Maria Kas and Remmy Peterson [to] most of the cast and crew being either LGBTQ+ and/or people of colour, and even having the chance to work with different music artists such as Juno, Young Peligro, DonChristian and Ms.Boogie.
You wrote, directed, edited and starred in Fish. What message do you hope to send with the short film?
With all the body of work that I've created, I'm really interested in starting a conversation about the subject matter at hand. I always love to give the audience the opportunity to take away their own personal message.
With Dancing in the Dark, you explored the intersection of Blatino gay men through the nightlife scene. Fish focuses on "two men of colour and their [everyday] struggle living in the Bronx from a gay perspective". What prompted you to make this film? Do you feel like they are connected in a way?
What makes Dancing in the Dark parallel to Fish is the experience of young queer men of colour and how they exist beautifully in both their struggle and perseverance. Besides that, these stories are completely different. Fish came from being inspired by stories such as The Boondocks and Friday. My friend Remmy and I have so many of these experiences and can connect more with these stories vs. popular gay culture that still lacks diversity.
How did your own experience as a man of colour living in the Bronx inform your creative process? 
It's funny because my life's experiences are such a blessing in disguise it's beyond ridiculous. All my work has come from the many struggles I've faced being a queer man of colour from a low-income family. The best way to explore any past pain and struggle is creating artwork that makes the struggle worth experienced. At 26, I feel every obstacle I've faced came an opportunity to exercise my strength and to sculpt work with any given pain that's delivered my way.
Dancing In The Dark certainly developed the conversation around gay nightlife beyond Paris Is Burning. What is the main thing you hope people will take away from Fish, especially those outside the communities?
I think the one thing I would want people to take away from this film is that LGBTQ+ people exist everywhere, even in the Bronx. There is this image of what gay men are and I hope this film can open people's eyes to the perspective that there is no direct way of how gay men exist.
In the past, you have spoken about how you felt there was little POC queer representation within mainstream pop culture in general. With the launch of digital platforms praising queer identities and openly queer black artists like Frank Ocean being more outspoken and embracive of the culture, do you feel like there's been a shift lately that's giving underrepresented queer voices their deserved momentum? 
Yes, progress is being made in order to have POC queer representation present in mainstream culture but there is a lot more work that needs to be done for the community before it can begin to feel secure. There are all these reboots happening which make it appear that Hollywood still has their audience on hold. I'm still waiting for a successful series that focuses on an authentic experience of young Queer Men of colour in their 20s. Something like that would be extraordinary.
Lastly, do you have any more projects in the pipeline? Are there any other topics you'd like to tackle in the future?
I'm ecstatic for the screening of Fish that will be happening May 11th at the City College of New York hosted by Brian David Grimotes. My team and I are super excited to have everyone see it. People can visit the Fish Eventbrite page for details of the event and or can stay updated with the film by visiting my Instagram. I will always be fascinated with the complexities of those who face adversity and look forward to continuing to share this way of storytelling.
'Fish' premieres May 11th at the City College of New York. Keep up with Adomako here.
This Schön! online exclusive has been produced by
photography. Tatiana Nancy
model. Adomako Aman
interview. Sara Delgado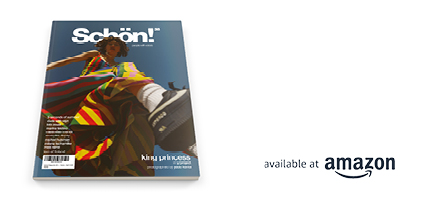 Discover the latest issue of Schön!. 
Now available in print, as an ebook, online and on any mobile device.