Deeply touched by the spirit of the late '80s drag race, Yang Zou depicts the era's essence in her designs. Focusing more on building a wardrobe, rather than throwing away trends, her inspiration is vivid and daring. Living by the words of American dancer and choreographer Willi Ninja in the iconic 1990 documentary Paris is Burning: "I want to take voguing not to just Paris Is Burning, but I want to take it to the real Paris… and make the real Paris burn"; Yang Zou takes the subculture's immensity as a reference to the womenswear collection of the era and manipulates it her own way. 
At the extremity of urban poverty, the drag shows were attracted and fetched during that time; underground drag queens were art themselves. Creative and glamorous, they were stylists, designers, artists. With way less amount of money, they would re-create their own mesmerising garments. The glowing flawlessly confident drag culture was not only in the small houses, but in the big world, and the colourless society could not stop them from living a vivid life. 
In her designs, Yang Zou takes the spirit of these marginalised black and Latinx communities, finding and showcasing identity through the use of very plain materials, aiming at creating extraordinary garments and so shifting the basic patterns into new interesting silhouettes. Greys, whites and blacks are predominant in the designer's balanced philosophies, giving the final looks a classy monochrome touch into high-end ready-to-wear.
"[My] designs aim to mix of low-key elegance and remarkable minimalism. The sumptuous good hand fabric, the stark silhouette, the awareness and femininity that all stand for powerful gentle-women at the same time," says Yang Zou when talking about her collections.  With an elegant dexterity, the garments impeccably mirror the nature of a high attention to detail, from the materials' choice to the fine sewing technique: the fishnet bonnet, the fine cut body's white braces, the long symmetric collar are just some the features.
Combining texture and movement, the designer gets as creative as an '80s drag queen when it comes to embellishments. Colour is not at the centre of attention, the innovation is, and so is the experimental use of threads which helps to break into a fashionably classic collection.  On the other hand, with a total black look, Yang Zou creates a timeless outfit, adding to her inspiration of high cultured drag queens a touch of bell sleeves, ruffles and daring cuts. Amidst suburban setting, the miscellaneous garments are a remarkable excellence of defined lines and cuts. 
To find out more about Yang Zou and her collections click here
designs + art direction. Yang Zou
featuring. Yang Zou Fall 18 Womenswear Collection
photography. Junxing Su
model. Mira Lenko
hair + make up. Nana Hiramatsu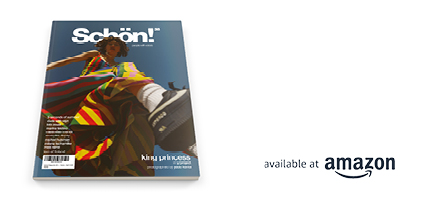 Discover the latest issue of Schön!. 
Now available in print, as an ebook, online and on any mobile device.