For Slovenian born Ana Bucik, a life of academia seemed considerably more likely than a career in alpine skiing. Still a student of Maths & Physics, Bucik remains academic but is more and more enjoying the fruits of a passion which she began when she was a child.
Dividing her time between studying and training, Bucik believes in a good education but admits, what with the 2018 Winter Olympics firmly in her sights, that the balance is often skewed in favour of ski training. The Pyoeng-Chang Winter Games in 2018 offer Bucik a chance to achieve something she has only dreamt about, to represent Slovenia as an Olympian at the world's largest sporting event. Schön! speaks to the skiing talent, fresh out of the Ski World Cup Opening in Sölden. 
You're a student of Maths & Physics, was skiing a passion growing up? Did you ever consider you would be doing it competitively?
Skiing was something I loved to do since I was little. I did lot of different sports when I was little (athletics, volleyball, basketball, dancing,… ) but somehow skiing was always my favourite. I skied during the weekends and vacations with my family. When I entered school I started to train in my local club, but never thought it would get so serious, I just enjoyed what I did and it all lead to being where I am now. 
What comes first, skiing or studying? How do you strike up a balance between the two?
Skiing has definitely been my priority in past years. During races I focus just on skiing and do most of exams in spring or fall. Sometimes it's hard, since training fills most of my time, but I always try to take an hour or two per day for studying. I believe education is very important so I try to find a balance between skiing and studying.
Are you pushing to make skiing a full-time career?
Of course. I feel I have still much to learn and improve and would love to do that in the next years. Make skiing a full-time career is definitely my big wish.
Are the Winter Olympics in your sights?
Olympics are next big goal I would like to achieve. Being an Olympian and represent Slovenia on world's biggest sport event would be a dream come true. I'll work hard to show my best in Pyoeng-Chang in 2018
What's next for Ana Bucik? Something you're particularly excited about?
I already miss races so I can't wait for the season to start. This season's highlight is for sure World Championship in Saint Moritz, Switzerland.
This Schön! online exclusive was produced by
Photography / Fulvio Maiani
Fashion / Pia Johansson
Talent / Ana Bucik, Slovenian World Cup Alpin Skier
Hair & make up / Bonnie Caria @ GreenApple Ag. 
Special Thanks to Renato Da Pozzo & Vid Buraca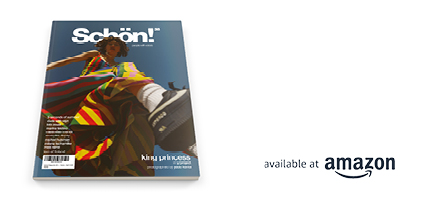 Discover the latest issue of Schön!.
Now available in print, as an ebook, online and on any mobile device.