Up, up, and away we went for the fifth and final day of Paris Haute Couture Fashion Week Autumn/Winter 2015. Traveling skyward in Lan Yu's heavenly collection, we took a spin around the cosmos in Zuhair Murad's ultra glamorous star-studded eveningwear. Then, Coppélia Pique completely concluded fashion week by transporting us to another dimension entirely. What an aspiring conclusion to a week that left us floating in mid-air.
Towering curtains of wire stood among silhouettes draped with such exceptional precision and delicacy that the sheer beauty of the frothy creations silenced Paris's Grand Palais. Lan Yu's ceremonial couture collection was not only a dreamy, lush ballet of brilliance, but also a fine-spun declaration of supreme imagination and technical finesse. A spiritual journey, Yu showed diaphanous pastel and crimson gowns lacerated in triangular panels of organza — while winged frosted mini-dresses floated like divine-messengers under a pale halo of blue light. 
Zuhair Murad set his sights to the heavens this season in a constellation of twinkling stars in out-of-this-world gowns. The Lebanese designer brought out the luxe in classic black by implementing galactic silver and red crystals to his eveningwear, a hint to the fact that stars are hottest before they cool. The 70s were exemplified in cosmic jumpsuits with dazzling flares in the pants. Murad's signature dresses of form fitted bodices were sensually draped at the hips, accentuating a woman's curves. These were paired with standout Olympian fur coats. When dresses did not have a stellar décolleté, they were sheer and bursting with comets of beads. Everything shone, glittered, and sparkled for the true stars in Murad's line of work: the women he dresses.
Haute couture designer Axelle Migé of Coppélia Pique channelled a galactic atmosphere in her collection's geometric silhouettes and rounded pleating. Colours of cream, navy, and crimson were woven into this scientific fantasy. Hints of shine were injected through panels of silver pockets or as the iridescent layer of an astral blue skirt. Migé transported us to a faraway world of couture, a new planet ready to be discovered.
To wrap up fashion week, Kenzo Takada teamed up with LIQUIDEO to produce four unique electronic cigarette flavors for the sophisticated city slicker. Simple and pure in design, the white bullet-shaped disposable cartridges containing the aromas are easily attached to the KTUBEO system for inhalation. Any globetrotter can practically take this e-cigarette on the go as batteries can be recharged with a USB port. The four flavors of LIQUIDEO by Kenzo Takada are RM73: grilled butter with butter and strawberry jam, TR13: berries, grape, anise, and eucalyptus, FB74: peanut butter and tobacco pipe vanilla coumarin, and MB75: cream of menthol, black tea, coco, and cactus. What better way to end fashion week than with a playfully imaginative touch of class.
Words / Sheri Chiu and Chloe Rash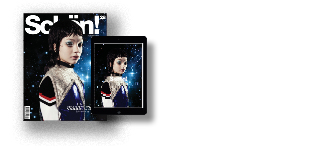 Discover the latest issue of Schön!.
Now available in print, as an ebook, online and on any mobile device.