The fourth day of Paris Haute Couture Fashion Week Autumn/Winter 2015 was unequivocally theatrical in every sense of the term. Designers such as Franck Sorbier and Charlie Le Mindu harnessed a theatre stage to unfold their collections. Elie Saab and Alexis Mabille's stories exalted the female form in all its glory. Every performance rubbed us the right way until we were climaxing couture. The extravagant day also led us to designers Bowie Wong, Charlotte Dauphin, Ludovic Winterstan, Octavio Pizarro, and Maurizio Galante. 
Season after season, Franck Sorbier somehow manages to emotionally catapult us. This time, he presented "Eternal Snow," an exquisite ballet couture show of snowflake lace and ice queen gowns. "I thought of the artistic Japanese movement Ukiyo-e, the image of the floating world and its actors," Sorbier explained. A ballerina softly twinkled around the stage in ethereal, voluminous dresses. She is a gracious snow crystal, dressed in a lace cape or corseted garments of feathers. Splendid gowns are named after the great mountains: Mont Blanc, Mount Everest, and Vinson Massif. Each pure look sauntered and twirled, revealing garments' flexibility. Sorbier brought us back to warm winter memories: the precious creations of snow angels. 
An evolutionary fairy-tale of metamorphosis uncovered in the form of amplified spheroidal shapes proved that designer Bowie Wong never fails to tell a story of theatrical proportion. Cloud moulded crinolines in raven and cream coloured lace were enhanced with decadent ruffles, while dramatic swanlike sleeves were ensconced with whimsical leather butterflies. The 17th century silhouettes reflected the elegance of a bygone era – but there was nothing démodé about Wong's fantastical netted face veils, pleated hoop dresses, or oversized whimsical outerwear. 
A woman's kingdom, her sacred beauty and golden allure were the essence of Elie Saab's Byzantine mosaic collection. Models ruled the runway adorned in meticulously beaded confections interwoven with dazzling gilded thread; wearing cotyledon crowns envisioned for the empress du jour. Fluid silk chiffon gowns flaunted taut waists and cascaded like regal waterfalls. Opulent embroideries blossomed in the way of serpentine vines for a leafy and luscious effect, while efflorescent markings were tinted in emerald and burgundy.  
At just 27-years-old, Charlotte Dauphin has already created a lavish high jewellery brand for herself. Having established her double ring concept, this season she meticulously harnessed big stones in her rings and earrings. Structural in design, the rings highlighted the natural form of fingers, while giving the appearance that the gems are floating on the sides. The stones' overlapping effect gave an abstract shape, but retained the simple elements of the gorgeous stone. Dauphin's adjacent collection highlighted pure, architectural sophistication in a series of "cage" accessories. As an extension of the human body, the curves of the jewellery parallel organic lines. Unique black and blue gold are utilised, adding a special touch to the more commonly seen gold such as yellow, rose, or white. Dauphin exercised great care in the balance between negative and positive space, creating a harmoniously modern take on haute joaillerie for a strong and confident woman.
The quirky haut coiffure, Charlie Le Mindu, invented an erotically charged ballet of voluminous hairy creations; both raunchy and refined at Paris's Crazy Horse cabaret. Driven by the 'male gaze,' Mindu snipped three-dimensional wigs that made Cousin Itt look glabrous. Not only did cone contoured cheveux sit on top of the undressed models' heads; it draped around their unmentionables for a perversely poignant spectacular. A very expressive and erotic exhibition of tresses that tease and titillate, Mindu's artistic vision and bold approach was a hair-raising triumph.
Alexis Mabille honoured 15 women who are close to him by designing one-of-a-kind dresses that accentuate each woman's vivacity, greatness, and everlasting femininity. These muses include Dita Von Teese, Marie-Agnès Gillot, Audrey Marnay, and Bérénice Bejo. "The true face of Couture is an intimate, sensual and passionate relationship, the use of exceptional know-how to honor an individual, the woman who wears it," Mabille said.
Debuting his first haute couture collection this season, French designer Ludovic Winterstan astonished by revealing a poetically gothic series of garments. Embellished face masks concealed models, allowing the powerful pieces to speak for themselves. Strict silhouettes encased the body while graphic lines defined busts and waists. Winterstan triumphed in designing the ultimate couture creature of darkness through meticulous handcraftsmanship and visible dedication. 
For his haute couture collection, Chilean designer Octavio Pizarro constructed various thematic interpretations of luxurious sportswear. From sophisticated biker jackets with pops of fur to cosy patchwork skirts, the collection demonstrated a wide range of technical savoir-faire. Wool has been manipulated in forms that encase the body in rich manners, while neoprene and silk come together to form a lush athletic aesthetic. For eveningwear, black armour Plexiglas strengthened Pizarro's woman, while satin de soie softened her. The couturier has greatly succeeded in fashioning an extremely wearable couture collection.
Maurizio Galante presented several of his couture pieces at Helene Bailly Gallery, alongside other works of art such as paintings and sculptures. Long silver necklaces were displayed as coveted art pieces. Organic loops and swirls highlighted Galante's affinity towards natural lines seen in flowers or underwater corals. The waves in the gallery's light seemed to mimic the curves in a silk top, completely interweaving Galante's "art couture" into the space around it.
Words / Sheri Chiu and Chloe Rash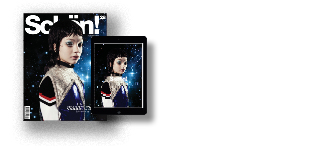 Discover the latest issue of Schön!. 
Now available in print, as an ebook, online and on any mobile device.