The third day of Paris Haute Couture Fashion Week Autumn/Winter 2015 fashion week presented wickedly sweet handcrafted garments. From Busardi's devilishly younger vibes, to Yiqing Yin's diaphanous interpretation of snakes shedding their skin, this day marked a transformation and rebirth for many designers. We also visited the universes of Alexandre Vauthier, Julien Fournié, Rami Al Ali, and Stephane Rolland.
Syrian-born fashion designer Rami Al Ali presented an extraordinary series of evening gowns fit for a queen. Shorter cocktail dresses added a modern majestic flair. Inspired by the exemplary silhouettes from the 40s and 50s, Al Ali infused Hollywood's golden era into his collection. The couturier crafted women who mean business by the implementation of dramatic volumes and sophisticated pleats, but softened his designs in colour palette using powder blue and sweet pink.
If all that glitters is gold, then couturier Stephane Rolland's latest collection is the epitome of luminescence. Working with silicone, Rolland crafted a radiant bustier that blazed like desert sand on top of a one-sleeved black evening gown. Appearing like grand sculptures, Rolland's conceptual, yet wearable creations, showed a woven gilded cape, shaped like the wings of a phoenix and a Camel coloured cat suit with peplum sleeves cut like overgrown tulips. Monochrome caped dresses were painted with patches of metallic panelling on flowing crepe for a rather contemporary Cleopatra feel. 
Busardi turned to the dark side in an impressive collection of sinister lace gowns and lavish plumes. Mother and son team, Busardi and Tuck Muntarbhorn, opened their couture show with cocktail dresses in box silhouettes. Subtle tone-on-tone embroidery made for refined femininity. While still fashioning rather conservative dresses, Busardi aimed for a younger audience this season and masterfully succeeded in reigning in a new and exciting era for the fashion house. An electric blue dress with tree branches (or are they lightning streaks?) wrapped around the body – a true showstopper. The end of the show churned out impressive gowns one after the other, a dazzling peach and nude dress with silver lace, and then the incredible black plumed finale. 
Julien Fournié's bewitching gowns and lush velveteen tuxedos are reflective of the night's unpredictable shadows. An Art Deco influence seeped through Fournié's sable seams as diamond encrusted necklines were embellished with geometric prints. Structural jackets with bold lapels were dusted in chrome. Jumpsuits with wispy inlays of sequins and lace honoured the femme Fournié and dramatic eveningwear in brocades of silver and black were personified by skilful draping and emerald details. A poetic explosion of gothic forms and textures motivated by the allure of 20th Century cinema.  
Yiqing Yin's designs have significantly transformed from her breathtakingly heightened creations of yesteryear. Like her most recent haute couture collection, the couturier proved to be going through a metamorphosis. Yin's collection was called, "Shed My Skin," and the extravagant gowns we were used to seeing are indeed no longer in sight. This season, Yin added a punch of neon yellow infused with barely-there pieces, edging on the realm of lingerie. Beauty was in the details: silk manipulated so finely to resemble peeled away skin. Lace gave the impression of that effortlessly crisp player of skin; solid jumpsuits were fluid like a serpent's slither. Yin once again proved her mastery in all things ethereal and delicate. Lighter-than-air dresses revealed the skin and thus became a part of it. A strong sense of sensuality resonated throughout. Overall, this couture collection represented a definitively ghostly woman, perhaps a little torn away. However, at the end of the transformation, the woman finds a newer version of herself.
Lengthy and leggy, Alexandre Vauthier's spirited couture collection was a little hip-hop and a lot of hip — revealing asymmetrical high-slit evening dresses embroidered with gold cartridges for a fierce urban warrior. Infusing glamour with rock and roll, fringed opium leather belts narrowed waists, while softer looks, such as a powdery-tiered rose gown oozed ethereality. The French designer experimented with length and layering showing a diagonally lacerated, voluminous fuchsia silk skirt with a transparent mesh top – revolutionizing sporty and sexy – and reinventing our notion of what couture should be, by showing us all that it can be. 
Words / Sheri Chiu and Chloe Rash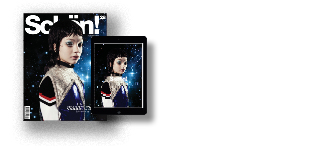 Discover the latest issue of Schön!. 
Now available in print, as an ebook, online and on any mobile device.