The second day of Paris Haute Couture Fashion Week Autumn/Winter 2015 accentuated geometric and architectural forms that heightened the female form. Then, there were the shows with standout narrative themes such as Ralph & Russo's majestic Tsarina and Yanina Couture's lovely inspiration from Russian folklore. We also embraced the designs of Dice Kayek, Patuna, Tony Ward, and Serkan Cura. 
An iridescent rhapsody of nocturnal inspired dresses and masterfully tailored tuxedos drew inspiration from the dazzling 1970s and early 80s at Dice Kayek. The collection, slightly more subdued than the well-oiled Studio 54, blended the decade's sumptuous arts scene with vibrant Swarovski torsos and paunchy peplums uncovering a pop art parade of stroboscopic silhouettes. True to form, Creative Director Ece Ege used pleats and draping to reimagine urbane looks of a feral époque — the only thing missing  — Bianca Jagger riding into Paris' Musée des Arts Décoratifs on a white horse. 
Drawing inspiration from the dark romance and art that Paris offers, Patuna considers fashion a sincere tribute to art. "When I touch fabrics I have to feel the symbiosis and the alchemy of the fabric and myself," Patuna explained. "If I feel this, I will create magic. If not, I will move on to the next one." This season, the haute couture designer played with over-the-top volumes where no shoulder was left unadorned. Ruched bodices tied in the back made for sexy reveals. A touch of '30s retro was infused in shimmering black dresses with dramatic half-moon appliqués. Patuna's majestic woman could almost slither in her form fitted gowns; a seductive and exciting show highlighting the art of couture.
An angelic journey of feminine discovery unravelled in garments impressed with harlequin floral embroideries and feathers. Yulia Yanina harnessed Russian folk art in romantic lace mini dresses and gossamer gowns, that were engraved with lace embroidered cherubs and elegant flamingos and firebirds to encapsulate the splendour of eternal youth and happiness. Sophisticated silhouettes like structural cochineal and charcoal skirt-suits exuded the nostalgic decadence and refinery of the New Look revolution, showcasing tiny accentuated waists and narrow hems. 
Creative Director Tamara Ralph and CEO Michael Russo fashion a young empress in ceremonial robes in charge of her own femininity and sophistication. Soft bell skirts and cotton clouds of coats manifested from the foggy obscurity, illuminating the path for feathers and beading galore. As much as Ralph & Russo are deeply romantic in design, this season the designers have injected wisps of mystery in regal capes and dramatic outerwear. Intricate tone-on-tone embroideries, immaculate silk and metallic thread work, and expertly cut satins form a story on rituals. The princesses shimmered a darker sophistication from seasons past; a truly inspiring commemoration of magic and luxe. 
Lebanese designer Tony Ward's sensational evening gowns were painted predominately in cerulean and sand; dusted with metallic sequinned detailing and rich silver embroidery. Protracted dresses with plunging spines and organza underpinnings evoked extraordinary gracefulness, majestically sweeping the runway like morning doves soaring in a blue sky of silk and tulle. Inspired by nature's treasures, Ward's frothy fantasy crescendo-ed with a crystalline finale; a spectacular wedding dress fashioned with a far-reaching passementerie lined veil.
Titled, "Le Jeu des Dames," Serkan Cura's collection played with rich textures and volumes in the way Cura knows best. His creatures sported high, twig ponytails with rosy, glittery cheeks – part animal, part fantasy. Casting corsets aside this season, Cura focused more on outerwear: voluminous, feather coats and black and white chequered jackets. Swarovski crystals were utilised to create extraordinary accessories for the face, and were also seen in a cashmere coat encrusted with the gems. The showstopper was a dramatic feather coat, fashioned so that the plumes resembled porcupine spikes. The juxtaposition of hard and soft was the common thread weaving this textural fairy-tale together.
Words / Sheri Chiu and Chloe Rash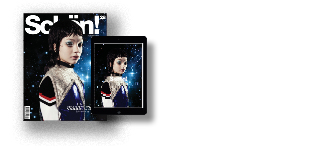 Discover the latest issue of Schön!. 
Now available in print, as an ebook, online and on any mobile device.