Paris Haute Couture Fashion Week Fall/Winter 2015 started with a loud and conceptual bang, as Eva Minge kicked off the runway shows. From Adeline André's minimally sleek designs to ILJA's architectural origami spectacle, the first day proved to be an exciting display of talent.
If Aphrodite and Mick Jagger had a baby, it would be Polish designer Eva Minge's velutinous, part Grecian, part rock and roll couture collection. Her designs would be best described as ethereal punk; with bold gowns spun out like gothic vines and swanlike silhouettes textured and layered with diaphanous organza and shaded chiffon. Though colour was sparse, skin was ubiquitous. An ebony hooded mesh cape was attached to a sexy cut-out cat suit and ultra-sheer blousons with billowing sleeves were joined with taut leg-baring leotards.
French fashion designer Adeline André encased the physical form with structured coats while releasing the body in loose, free flowing silks. Long dresses were pieced together with visible knotted strings for a touch of handcraftsmanship, as were spiralling zipper sleeves for a unique twist. Jackets could be worn with architectural sleeves or the direct opposite: bare-shouldered. Oversized tailoring gave a very physical sense of cotton, wool, and georgette silk. André focused on neutral base tones of beige, indigo, and cream, and added splashes of bright hues in inside lining and scarves. 
Conceptual dresses chiselled like origami were paired with bold towering heels for an architecturally rich couture spectacle. Designer Ilja Visser's metaphysically moulded outerwear was juxtaposed against sleeveless, wispy dresses to suggest life's varying stages, shapes, and patterns. By poetically synching anomalous textures and fabrics to create cubic hourglass shapes, we felt the heaviness of time flood the young designer's existential parade of geometry. Dynamic and statuesque, Visser focused predominately on the bottom of her charcoal and copper toned garments, pruning voluminous skirts to reflect modern, triangular sculptures.
Words / Sheri Chiu & Chloe Rash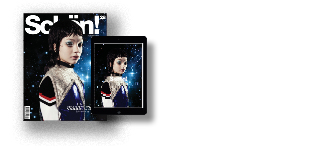 Discover the latest issue of Schön!. 
Now available in print, as an ebook, online and on any mobile device.