Kiev is the current epicentre of Ukrainian Fashion. A city built upon the Dnieper River, Kiev is brimming with religious architecture, kitsch signage, and remnants of a recent revolution —which makes it an unsuspecting home for fashion. Ukrainian Fashion Week has been proudly held in the city since 1997 and is now a fast evolving event. This past week, the Autumn/Winter 2018 collections were presented at the Mystetskyi Arsenal, a generous warehouse-meets-museum space. Offsite shows took audiences on a tour of the city's sprawling streets, with an array of locations —from a post office to an ice skating rink and even a local museum. As the days progressed certain trends emerged, including a sense of deconstruction, an abundance of turtle necks, florals, 80's blazers, puffer jackets and the ever faithful houndstooth print. Amongst the flurry of creative forces, Schön! has selected those that best captured our imaginations.
Set in the main hall of Mystetskyi Arsenal, the GUDU show opened to the sounds of alluring French melodies. There was an intriguing tension between revealing and concealing the body. Tight face masks and high collars extended each look across the fashion figure, dehumanising the model underneath. Skin tight bodysuits showcased the female form, yet were juxtaposed with larger than life puffer jackets slung around the models' frame. An extensive range of patterns, colours and textures were utilised across the collection. The audience witnessed yellow houndstooth, gold metallics, beaded organic swirls, deep green leather and bright pops of reds, falling amongst perfectly timed black-on-black looks that tied the collection together.
Lake Studio presented its collection in an old warehouse, amongst polished concrete floors, crumpled walls and scaffolding. A burgundy BMW was first to grace the runway, revealing the sheer space the audience was privy to. The models graced the runway with sleeked back hair, light brown eyeshadow and pops of mud red on their lips. Silhouettes presented a dichotomy of utilitarianism and flounce. Straight-edged pencil skirts, blazers and trenches were interrupted by falling ruffles and gathers. As the show progressed, the designs moved from solid greys and blacks to bright sparks of metallic, electric colours across floral prints. Silky garments crept in, then took dominance, draping softly around the body, contrasting with the stiff construction of their overgarments. To complete the collection, glimpses of lace added another layer of femininity.
The Taras Shevchenko National Museum was re-faced with wooden pergolas and hanging plants for FLOW the Label. Shirting fabrics were mixed with cardigan knits, small-scale houndstooth and the casual sheer. A colour palette composed of brown, beige and baby blues was strategically in place throughout the collection. However, it was the styling which brought this collection home. Simple ponytails poked out from monotone caps, complimented by big round glasses and thick beige socks which peered out from equally chunky black heels. When models began carrying grocery bags with lettuce poking out, one really got an odd sense of nostalgia. It felt as though Dad's oversized shirts had been met with Grandma's cardigans and the result oozed a real sense of zeitgeist.
The POUSTOVIT show had a 'neon warehouse club,' vibe as models roamed the blue/greenlit catwalk. This set complimented the blue and green silk garments, collaged and draped around the body in a range of dresses, skirts and coats. A subtle respite was offered as the works moved back to a more conservative black and white colour palette —with trenches and dresses that explored layering, florals and obscure cutouts. Before too long, the psychedelic silks were back, this time even stronger, in pinks blues, oranges and cartoonish florals. The collection finished by moving into a shimmering, glitzy disco era. Styling incorporated a range of long shiny black boots and pink mules. A coiffed pony was observed and at times replaced with a wrap of fabric around the head. This show melded atmosphere and garments with a strong sense of balance and consideration. 
FROLOV created a fashion presentation, rather than a runway, for his adoring audience. Set amongst blackboard scribbled walls, models moved around a range of randomly positioned tables. The styling felt as though Punk had suddenly swallowed Marie Antoinette —perhaps a direct nod to Sophia Coppola's work. The garments, also explored a punk aesthetic, as tartan was juxtaposed with college sportswear and lace dresses. The colour palette had a British undertone, with reds, blues and whites, epitomised in a glittering Union Jack headpiece. Despite the myriad of possible reference points, everything seemed to belong in a wonderfully obscure little world that Ivan Frolov created for the observer.
Ukrainian Fashion Week continues to be a unique, cultural experience — a place to wonderfully witness the pride and spirit within this burgeoning fashion community and a truly intriguing celebration of talent that will surely continue to further develop along its region within the coming seasons.
To find out more information about Ukranian Fashion Week, click here.
Words / Alana Flood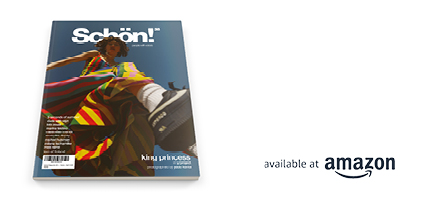 Discover the latest issue of Schön!. 
Now available in print, as an ebook, online and on any mobile device.