Photographer Marco D'Amico conjures up surreal sculptural visions in this Schön! online editorial. With
fashion by Marco Grisolia, textiles go beyond the simple forms of the body to fuse space and shapes.
Model Giordana Vasquez is spliced and fixed, with pieces by Alberto Zambelli, Fatima Val and Chiara Baschieri.
This Schön! Online Exclusive has been produced by
Photography / Marco D'Amico
Styling / Marco Grisolia
Make Up and Hair / Antonio Ciaramella
Model / Giordana Vasquez
Development & Production/ StudioDModa
Styling assistants / Federico Barrazzo, Martina Briotti, Serena Pompei
Make Up assistant / Cristiana Casto
Fashion Coordinator / Romina Toscano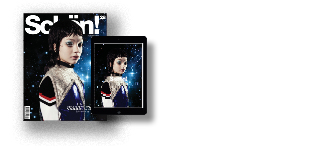 Discover the latest issue of Schön!.
Now available in print, as an ebook, online and on any mobile device.