"I'm confused!" says the customer. "What are the trends for the season? What is the hot colour? What are the "must haves"? What are the hot items?" Endless questions that, in today's democratic fashion society, are almost impossible to answer. Retail is in turmoil, sales figures are not great, online shopping enables the customer to swap and change at home and the world economic situation — from stocks and shares to Bitcoin investment — is hardly stable. This isn't the moment for fashion to change that much. Sales matter more than innovation, thus micro trends are easier than major fashion shifts and swings. Up sourcing, recycling, environmental concerns, ethical matters, cultural diversity, and gender equality matter more to designers right now than another dramatic fashion switch to just add to everyone's worries.
Luckily, the four key stories to take away from fashion month are international, seasonless and even mix and matchable. Individuality, rather than the basic and bland, is being used as a personal fashion tool. This doesn't mean eccentric per se but rather that clothing is being used as another means of communication. Certainly, and with any luck, the days of the "Fashion Victim" or being a lemming-like fashion follower are finally behind us. Fashion no longer dictates. Once past the teenage years of tribal and group mentality — when belonging at all cost to a specific attitude, image and code are literally essential for survival — we become individuals, and fashion and clothes become personal. All this is perhaps why the key fashion trends and themes for the season were threaded through all four cities.
Rediscovering Classics
It may be a low-key collection or a styled up supermodel extravaganza but, at heart, the clothes. From coats and dresses to all the pieces that form a great wardrobe. Since we are discussing international fashion weeks, we assume these clothes are of quality and at a high price level, thus they should also offer a good lifespan. Customers in this group spot a great skirt, a good jacket, or a versatile shirt. They tend to favour a classic colour palette too: cool and warm neutrals, black and white or good navy blue. This customer also spends a lot on accessories of high quality.
Agnona played it pretty in the softest shades, reminiscent of Grace Kelly; whilst Altuzarra favoured deeper and warmer tones together with pinstripes and a slightly sharper edge. Jacquemus flew in the face of the season and went to Morocco for inspiration producing a seasonless and divine collection of pieces that offered a wardrobe of clothes any woman would be able to select from. All this in a really balanced range of colours — from olive green to sand, and turquoise to black.
The Row makes the idea of almost monastic and clerical clothing so beautiful and seductive. They never falter from great coats, wonder items of fashion which enfold, protect, and seduce in equal measures. Peter Cohen's clothes are so delicious to handle that the throwaway brilliance of the construction is often invisible until the garment is tried on. He needs no huge production, just a model and the clothes do the job.
Yohji Yamamoto has such rigour in his work that even the oddest silhouette seems perfectly normal and wearable. But it is his alchemy to deliver in-store tailoring and daywear that brings a strong presence and confidence to his wearers — always immaculately dressed.
Victoria Beckham never resorts to tricks: her clothes and her collections are all about the attention to detail she learnt even before becoming a designer. The clarity of her vision means each season in sharp and edited. She creates clothes which are as clear-sighted and truthful as she is. And without fuss; what more could a modern woman want? A_Plan_Application offers its first season's wardrobe in a sharply edited story too. We'll see how this develops but, if the response at the showroom is anything to go by, success is already announced.
Michael Kors creates American clothes. This season, he follows Bill Blass in his mix of pieces, which simply say "sportswear" —  from the skirts to the sweaters, and the coats to the shirts. "It's not rocket science," you might say but these clothes work because he has the eye and the knowledge to do this. The knack of doing this is its own brilliance, and not that many people have it. Bruno Cucinelli, Cyclas, Gauchère , Givenchy, Ferragamo and Ralph Lauren also perfectly illustrate this move.
Investment Pieces
Like the owner of a small gallery who discovers new artists, or the collector whose eclectic taste in interiors combines the worthless with the valuable; this customer likes some creative pieces and ideas but will buy and work them in their own manner. They have little customer loyalty since the creative designers shift from season to season. Undoubtedly, classic inventive names remain, but there's an ebb and flow to the inventive ones…  
New this season was Yiqing Yin at Poiret, presenting a collection where every piece was a new collectable and the soft glamour was irresistible. Rochas, where Alessandro dell'Acqua offers his superbly thought-through seasonal narrative in great fabrics and colours, was as ever specialist in its pieces — a soft violet dress, a dazzling silver coat… each piece a collectable, like art. Sébastien Meunier's sureness of touch and inherited sympathy for the mood of the founder's work at Ann Demeulemeester remain superb. The endless black pieces came in shapes that went from nun-like to clean tailoring: from black sliced with white to black that drifted like a dream down the catwalk. Clothing to try on, buy and treasure.
Lutz Huelle is, for me, a direct descendant of Cristóbal Balenciaga — with proportion, construction, and fabric in total harmony. The slicing into a shape to distort or re-angle the silhouette, the insertion of a fabric to create a swing or a line… Huelle's precision is a master class to aspiring designers — it all looks effortless and the skills are at the service of the clothes. Bravo.
Bottega Veneta opened with the most divine pyjama and dressing gown looks and finished with the softest velvet dresses in potpourri shades. Tomas Maier, the house designer, knows his clients love a very relaxed modern elegance with a hint of heritage, and he delivers it so beautifully.
Jil Sander's new designers, Lucie and Luke Meier, are exploring the house ethos and signatures in a fresh way, with a rococo pattern even making its way into this season. The long silhouettes, use of white and the balance of pieces was strong. A nipped-in waist here and a detail there honoured Jil Sander's "less is more" philosophy and these clothes are certainly destined to be added to many wardrobes come the season.
The first half of the Balenciaga show was tailored and like the swift line of a pen or scalpel —with checks being carved into suits and coats. The ateliers clearly know how to do daywear at the top level, thus keeping the spirit of the house intact.
Coach's trademark suedes and leather are, of course, stunning and of superb quality. This season, designer Stuart Vevers added some of the loveliest dresses of the season. Not rooted in any specific historical period, they seemed to distil the essence of nostalgia and romance as they floated by on the models. Perfection.
It would easy to say that Rick Owens' clothes belong in a gallery — yet delivered in store, the many collectable pieces and deconstructing of his complex runway narratives can be immensely rewarding. A genius at his own particular take on clothes, his are truly and indisputably collectors' items.
Issey Miyake's fabrics are extraordinary, experimental, and unique. This season the knits especially were works of art. Perhaps to hang on the wall when not being worn? Colours also played a strong role in the success of the collection from winter whites to sharp turquoises.
Finally, Calvin Klein, under Raf Simons' unique vision, explored workwear, the great outdoors and patchwork for next winter in a festival of Americana. Once again, if it looks difficult on the runway it's because the allure of these clothes resides in editing, selecting and decoding the messages to find those perfect pieces to add to the classics and basics of a wardrobe.
Modern Times
The technical fabrics, sparkle and plastic, the sporty influences and the ease of this story offers the customer a modern take on dressing. It takes us from the simplest of pieces right through to maximalism. Busy lifestyles welcome these looks and embrace the day-to-night mixing of track pants and sequins, club wear and trench coats — and every possible combination in between. Leather and plaids signal the grunge connection and so do logos, of course. Yet, it's also got disco, gym wear, lots of knitwear plus denim in every imaginable item. Layering is obviously a heavy feature: it's fashion bricolage, assembling, and combining something new and modern in its flouting of the fashion rules. This joie de vivre of combinations is surely inspired by busy lives, and a need to keep moving. The opposite of the controlled, considered, and matched wardrobe of the uptight past.   
Balmain's Olivier Rousteing used glitter and synthetic for huge paillettes, trousers, jackets, knits,— and everything else he could lay his hands on. But take a single piece and team it with black, jeans or a basic and it becomes a piece rather than overstated. Fluo and vivid colour also mean that we should "take only in the recommended dosage"; certainly to avoid an overdose of colour. The sequins at Halpern are the shimmer and glitter of breakfast glamour, lunchtime sparkle, and night-time glitz. A sequin for every occasion.
Ashish knows exactly how many sequins to use to the last detail. His sureness of touch means easily soft-cut pieces and slender silhouettes march side by side offering something for everybody. His collections produce smiles of delight and communicate the designer's huge love and respect for his profession.
Anrealage used some major synthetics with shine and transparency. Silhouettes were swinging, fit and flare: from the simplest slip of a dress to the complex suit, this was a confident modernist collection. The softly rounded patchwork sweaters offered a splendid alternative.
Calvin Klein also joined in this; setting off much of the synthetic shine and clear plastic trend, alongside Karl Lagerfeld at Chanel last season. Simons' remains a specific voice in fashion: true to his own vision and ideas. This results in collections of individuality where "trends" is a dirty word since he leads his own lodestar to creation.
At Wendy Jim, Helga Ruthner and Hermann Fankhauser took street to the ultimate limit —showing us a street of individuals wearing next season's clothes. The brilliance was it was an artificial street created indoors and we had to walk past the people in their shift dresses, re-constructed jackets, wild graphic prints, and sharp colours. It was, in a word, terrific.
Balenciaga was sharply divided into two halves — the latter half centred around layering, check pieces, padded jackets and a million saleable, commercial pieces styled to make an oversize multiple layered statement. Pick it apart and watch it fly out of the boutiques.
Off-White, Each x Other, A Détacher and Undercover all took to the streets, mixed it all up and then showed it as a catwalk. This approach was certainly mirrored in Gipsy Sport's casting and styling. The excitement in this look requires passion, daring and chutzpah. This lot definitely certainly brought freshness and variety: from velvet to graphic black and white, from the simplest zippered pieces to the complexity of decorated checks. Please also note the disco dazzling dresses from Paco Rabanne, much loved on Instagram by editors.
Statement Dressing
Where we find colour, pattern, decoration, textiles, elements that make our hearts beat faster and our eyes pop; we also sometimes find that the customers will wear them top to toe with outrageous panache. Yet, the best thing about these looks is they can also be extracted and merged with other looks: watered down, and modified. Take a tiny piece and, like great seasoning, it adds zest to the other stories. The true diva will wear this as seen on the catwalk, possibly even supplemented, augmented, and exaggerated with other pieces and certainly hair and makeup to arrest the attention.
Matty Bovan went all out in his first major catwalk show. It was confident, complex, and colourful. There is a pure British anarchy that streaks to his work; we will watch with excitement to see how this develops and yet how his signature style remains intact. Dries van Noten's fabrics and prints are established and yet, with each collection, they move forward whilst remaining totally true to his personal interpretation of fashion. Etro was a Wild West and wild layering of brilliant pieces to buy and add to your wardrobe.  It was confident and sharply focussed, whilst retaining the exotic handwriting of the house.
Dolce & Gabbana truly believe that more is more — be it gold, tiaras, prints or jewels. Their boutiques bear witness to this exuberance, where one enters and becomes enchanted with D&G world. And like Alice falling down the rabbit hole, we land in expectation of wild adventures, and they never disappoint. Manish Arora mines ethnicity and then whisks into his own vision. India, China, Tibet: they all get the Arora treatment on his planet and, this season,  it was just magical and wonderful and out of this world.
At the Gucci catwalk, set in an operating theatre, the clothes were accessorised with the heads of the models, miniature dragons, and extraordinary facemasks. Alessandro Michele gave his audience literally hundreds of pieces and layers of accessories, which when delivered in the shops will be snapped up to add magical details to the customer's lives.
Rahul Mishra beaded cascades of pleats on the outside so the plain inside fanned out in softness. He embroidered black and white into geometrics mixed with flowers and he used the richest darkest beading to create pieces of narrative wonder to buy as today's heritage for tomorrow.
Tsumori Chisato literally flung caution to the winds and layered, over layered, and trimmed from the rainbow shoes and socks to the layered hats. Yet through all this, there was a beauty and an elegance as rainbow glitter striped gauze, and crayon-bright faux fur followed incredible flowered dresses worn over matching wide pants. It's indeed a fashion carnival.
Richard Quinn not only had Her Majesty the Queen attend his show, he showed her what a brilliant newcomer he is to London Fashion Week. The florals and flowers, petals and blossoms simply poured down the catwalk and padded cover-ups, the huge billowing fullness of the clothes and the 100% British, garden party, bone china tea service, Sanderson's wallpaper, Ascot, Chelsea Flower Show, herbaceous border, Barbra Cartland, Norman Hartnell madness and beauty of it all was simply grand.  
From all four cities, these four movements arose; leaving something for everyone. From fringe, suede and print, to slender silhouettes and layering; going thorugh PVC's allure, sheer fabrics and emblematic embellishments. Trends to truly mix and match, pick up or discard as you see fit and to match your budget, lifestyle, and wardrobe.
Words / Tony Glenville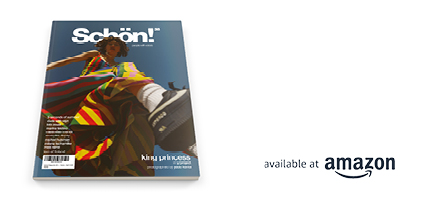 Discover the latest issue of Schön!. 
Now available in print, as an ebook, online and on any mobile device.