In a huge survey of the keywords that students of this year's GFW felt were uppermost in their thoughts, ambitions and desires, three won: sustainability, diversity, and happiness. As a core judge on the selection panel, in the four full days I spent admiring close to 450 collections, these first two words were certainly strongly in evidence, whilst the third appeared in the joy of the final outcomes. 
Sustainably manifested itself in a myriad of ways: from the most obvious ploy of empty plastic bottles to students with the ambition and focus to essentially fabricate or grow their own fibres. The utmost care for the planet was present in the interest of developing collections that don't add to the landfill or present problems of recycling. Reinterpretation of old fabrics, new ways with classics such as denim, and intense scrutinisation of the construction of eco-friendly fabrics started many thought-processes. How we live, how we use clothes and what happens to them seemed to imbue many students collections with a new integrity and new information. The press story is no longer just about colour and trend but about how the collection evolved and it's purpose in the greater scheme of things.
Diversity is one of those words that can be "worthy" and included in a press release for no apparent reason except for it just being the buzzword of the moment. At GFW, diversity was implicit from portfolio and marketing through to catwalk. In the past, combined menswear and womenswear collections often felt forced or contrived; but that is no longer the case. Clothes blurred boundaries and embraced items suited to anyone, whilst offering freshly great ideas — not merely a politically correct nod at new views on gender. Similarly, diversity of models was simply stunning at GFW 2018 with a brilliant myriad of cultural backgrounds.  It was also wonderful to see casting, alongside hair and makeup, celebrating different skin tones, hair types and attitudes. From Lagos to Martinique and Shanghai to Kazakhstan: students were celebrating their origins, cultural identities and, above all, their unique heritage. 
And so to happiness, which prevailed throughout the days but was personified by the speakers at the Gala Awards. Enthusiasm, commitment, passion, and other defining words were used again and again by speakers as they named their nominees and winners. In a business whose outside image is bitchy and unkind, the reality is quite different. GFW 2018 was defined by leaders, teams and staff from colleges and courses across the country coming together to support an event which found Diane Von Furstenberg, Tu at Sainsbury's, George at Asda, Levi's and Ralph Lauren all giving up time and expertise to support and guide fashion students at the very beginning of their careers. From promotions to menswear, and swimwear to marketing, it was all about the business, jobs, and, ultimately, smiles.
The greatest memory of the days? The sheer bloody amazing, intense, extraordinary work of patchwork, knitting, embroidery, appliqué and textiles created by the students — reassuring us that the heritage of crafts (so beloved by generations of Scots, Welsh, Irish and Brits) remains alive, robust and flourishing. Thank you, Graduate Fashion Week 2018, for gifting us this journey of sustainability, diversity and happiness. 
Discover more of the Graduate Fashion Week highlights here.
words. Tony Glenville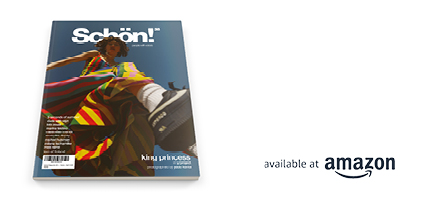 Discover the latest issue of Schön!. 
Now available in print, as an ebook, online and on any mobile device.