At a time when many people are discussing change, and a good few have already missed the entire shift in fashion due to a refusal to change their working methods or viewpoint, it is interesting how many writers and observers are now trying to nail these changes. French Elle, NOW FASHION, Business of Fashion, Suzy Menkes and others are debating both the here and now, and the future. The way fashion designers have shifted it their approach to designing a collection, as well as the changes at major houses, and the speed of fashion. Well it's happened and is happening, so – as they say – get with the programme.
My aim is to try and clarify the past few weeks as a reason for you, the reader, to get through to the end of this piece, and to have found it interesting. 
"Inspirations" seems to worry a lot of people. There was Rifat Ozbek, Jean-Paul Gaultier and Martin Margiela at Louis Vuitton; Vêtements nearly everywhere you looked, a lot more Martin Margiela from various stages of his career, and a lot of "vintage" inspired pieces, from Edwardiana in pie crust frills, high necks and ribbons and lacing. It carried on through to the '90s with an awful lot of '80s including some huge shoulder pads, crinkly plastic look fabrics and a lot of Helmut Lang and Jean Colonna and a touch of Liza Bruce.
The unconscious influence of the late great Walter Albini, Chloé under Lagerfeld the first time, Bill Gibb, Ossie Clark and Thea Porter was evident across the world at times, but, as we will discuss this is actually unimportant. The other thing to note is that catwalk stylists have a lot to answer for, and Prada and Miu Miu positively scream "stylist" as another assemblage of stuff hurtles down the runway producing rapt applause, but diminishing returns when it is delivered. Yes, Iris Apfel has become a fashion icon, this season she was feted in Paris and was exhibited at Au Bon Marché, but she is her own invention and her own stylist, please do not imagine anyone else can do what she does and pull it off.
Now onto clothing; London does clothing but really, really well because it is our heritage; Margaret Howell and John Smedley and others need no tricks, they show and deliver the goods. Thank you. This also applies to Hermès in Paris, who, even when Jean-Paul Gaultier was designing it, reigned him in enough to not frighten the horses.  In Milan it seems to me both Iceberg and Marni sit slightly to one side of the rest of the names and do produce clothes, and very good ones. Contrary to popular rumour, great clothes are not easy to design and show. 
The secret or whisper labels are my next group. Linked to the clothing designers they are a bit more fashion. They may change designers but the standards of the pieces, and the saleable quality of the top ready to wear labels is brilliant season after season, with no need to shout or trumpet the collections. Pascal Millet, Rochas, Nina Ricci, Cédric Charlier, Vanessa Bruno, Lemaire and many more continue to quietly create collections real women, who want to add to their wardrobe, update their existing wardrobe or simply look appropriately dressed on every single occasion, will buy. Not front page news but not everyone can be a headliner and not every woman wants to make people gasp with astonishment as they enter a room. These Paris labels match the Milan collections of Trussardi, MaxMara, Ferragamo, Etro and others who, when they get it right, represent the best of Italian luxury where "classic with a twist" is the key message. 
The Japanese designers remain impregnable as a key element to fashion, separate from trends, moods and themes; they deliver exactly what they have always delivered – something special for the customer. Issey Miyake, Tsumori Chisato, Junya Watanabe, Undercover, Yohji Yamamoto, and Rei Kawakubo never falter, never push and never shrink from those early collection attitudes; make interesting clothes, shown in an extraordinary way, beautifully constructed and which when delivered look amazing. The craft at Tsumori Chisato is breath-taking in close up as is her colour sense. Yohji this season was a masterclass in rigour, self-discipline and restraint, and left the audience in raptures. Also the sighting of Irene Silvagni looking so perfect in Yohji restored one's faith in what great fashion and style can be about.  
The Belgians like the Japanese also deliver and although Columbian, German and American respectively, I include Haider Ackermann, Lutz Huelle and Rick Owens in this group for their attitude, consistency and commitment. Sebastien Meunier showed a pure strong collection at Ann Demeulemeester and Dries Van Noten offers a template and hallmark for designer integrity. Dries van Noten was as ever a dream: the clothes are the core and heart of the collection and once again they were divine. The contribution Belgium has made to fashion is still inestimable. The influence is like a tiny thread linking and passing through the best of fashion in the last quarter of a century.    
Next group are the so called "Cutting edge" and cutting is a key to their work; chopping up perfectly inoffensive garments and reassembling them is hardly new or innovative. Xuly Bet, Martin Margiela and Comme Des Garcons, amongst others, did this many seasons ago, but that was then – this is now. It is so easy to dismiss things we have seen before in fashion terms and then realise there is a whole generation who not only didn't see this, but don't care. By its very nature fashion consumes the past, and then presents it to controversy from the ones who remember it.
Tracing fashion back is fun, but it leads nowhere, Rousteing at Balmain offered a top to toe look first seen at the very first Givenchy Couture by Alexander McQueen, Gareth Pugh this season also looked uncannily like McQueen at Givenchy, the first ready to wear, but this is amusing to those who were there but actually annoying as a criticism. Cutting edge doesn't reference the past intentionally, punk and deconstructionism are simply impossible to displace as influences.
Finally, my professional and personal winners and successes are a totally disparate bunch and have no linking narrative whatsoever. In no particular order I present Rodolfo Paglialunga at Jil Sander: just a great collection which kept the heritage of the house attitude but moved it forward to a new rhythm and with a truly beautiful aesthetic, it also seems somehow international, not Italian or German much as Sander herself always seemed outside a specific cultural aesthetic. Glenn Martens at Y/Project for me presented a perfect show, romantic, unisex, beautifully constructed and somehow not derivative; and on the rail the clothes are glorious, producing a shopping frenzy on all those who visited.
Riccardo Tisci at Givenchy continues to design and create beautiful clothes without trying too hard, modern with trying too hard, and edgy without trying too hard; a very difficult creative act to pull off. Simone Rocha and Valentino proved beautiful and romantic can work if you believe 100% in what you are doing but importantly have a feeling for fabric and silhouette, both collections were about skills, not just an idea. Tomas Maier at Bottega Veneta evolves, designs, creates, cuts, and fits clothes at the pinnacle of ready to wear season after season, his clothes also look towards women, not girls. Faustine Steinmetz creates an alchemy in fabric each season and her visual sense to communicate this is faultless. Can I also mention Anne Sophie Madsen whose aesthetic of beauty seemed to blow many of the other versions of deconstructed and tattered Miss Havisham romance off the runway, and Quetsche whose fabrics and construction was truly innovative. That's it. Let me know your thoughts? I bet we don't agree!
Words / Tony Genville
Follow him here.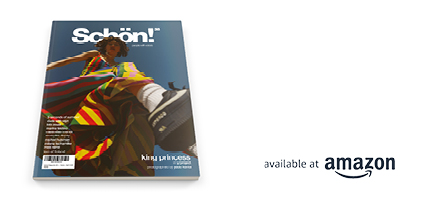 Discover the latest issue of Schön!. 
Now available in print, as an ebook, online and on any mobile device.