During hard times of the Second World War, "make do and mend" was the watchword for clothing. In 2016, as we saw LFW come and go, many London designers seem to have revived this thought system. Many collections reflected a "loving hands at home" aesthetic: scribbled-on clothing, shredded fabrics, untrimmed fraying edges, crumpled un-pressed fabrics and lots of wobbly seams.
Asymmetric, chopped and sloping hemlines were everywhere, and plenty of lumpy proportions bunched over one another in unflattering layers. With this recycling of ideas and elements, rationing and hard times seemed very close at hand.
On the other hand, there were some sophisticated and professional collections that communicated a narrative between the designer and a desire to sell clothes, rather than a fun ego trip. These cohesive and balanced collections demonstrated traditional fashion skills, such as construction, cutting and sewing, as well as knowledge of fabric.
Sharon Wauchob offered a soft, shimmering collection of desirable clothes in wonderfully fluid layers, from a slither of satin pyjama shirt to a wisp of lace tea dress. Hers were clothes for multitudes of women to interpret in individual ways and add to their wardrobes. The interplay of texture and the exquisite colour palette of muted tones showed a confident mastery of fashion design and creating a collection.
David Koma's girls have softened a little but clean lines ensured that the body is always at the heart of the silhouette. The long and lean emphasis on the torso flared into flippy skirts, split panels and even slightly, dare we say it—puff ball skirts. Predominantly black, the collection never felt heavy as complements of white, mocha and a fluo yellow gave it liveliness along with the new feeling of movement. Tiny ruche frills and splendid full sleeves gave an unexpected hint of demure Edwardiana. Polished, beautifully cut and with magical detailing, this was a confident collection.
Gareth Pugh has also reached a new era of confidence. His catwalk constructions and statement pieces merged seamlessly with wearable clothes. The mastery of the purple fluid looks in the collection allowed a layered and sexy sense without revealing that much flesh. Pugh is a designer who takes no prisoners, yet still demonstrates skills in cut and silhouette alongside inventiveness of narrative.
At Emilio de la Morena, the decorated collection had two key elements: colour, which he threw together in amazing combinations, and frills, which he handled with a shrewd skill. The waist was the heart of the collection silhouette in dresses, jackets and skirts. Raw, stitched edges added to the statement curves. Huishan Zhang also favoured decoration but much of it surface embellishment. Crystals, pearls, ostrich fronds and embroidery blurred day to night looks from denim to taffeta. Even the bows were somehow clean and crisp and the collection felt, a much over used word: fresh.
Ryan Lo showed a strong collection of eclectic influences – Venetian carnival, Les Enfants du Paradis, and Commedia dell'Arte, to name a few references. His collection encompassed simple print or ruffled and tiered dresses through to festive harlequin knits and poetic full sleeved blouses.
Teatum Jones made lace look modern by showing it both on slip dresses and in geometric banding. The aesthetic successfully merged street and elegance into easy stylishness, a difficult trick to pull off. Antonio Berardi showed at such a pace and with such élan, one is slightly out of breath at the end of his show. His stand-out for me was a slender slinky black-with-white cuff fringed in black, somehow bringing Paul Poiret to 2016.
Toga used colour as an abstract splash for much of the collection, including in tiny knitted corselets. Isa Arfen showed in an artists' garret high above the streets of Shoreditch, models playing with flowers, drawing, braiding each other's hair in a delightfully calm mise-en-scene. The collection balanced bold prints with simple pieces and soft gathered layers were as far from flounces and frills as possible.
Peter Jensen was inspired by the grandmother of Loulou de la Falaise, Rhoda Lady Birley, an Irish beauty married to the great painter Sir Oswald Birley. Jensen showed the prettiest girls in town in a greenhouse surrounded by gladiolus. Bold ginghams, oversized headscarves and seemingly simply pieces, which were perfectly proportioned and cut, recalled English summer heritage across many decades amalgamated into one glorious statement: utter bliss.
Faustine Steinmetz is a sorceress whose magic installations each season allow us to view her extraordinary textile work slowly and closely. Denim as a title does nothing to explain her alchemy with blue on blue fabrics and constructions. Fashion wizardry at its pinnacle.
Finally, Ashish, with music by Baluji Shrivastev OBE and makeup by Isamaya French, focused on Indian culture. The clothes were pieces that combined into strong looks on the catwalk from easy shirt dresses, tunics, shirts and full skirts through to sequinned disco flares. More than anything it was the thinking behind the collection that celebrated a culture of colour, shimmer and movement through music and clothing. It celebrated gender blurring by displayed the clothes on men and women, seemingly as though they simply picked what they wanted from the rail and showed it. "It is not about black and white, it's about the whole rainbow." Indeed, this and all diversity was truly celebrated. Thank you, Ashish (who took his bow wearing a T Shirt which simply stated "Immigrant"). It is possible to create a cohesive narrative, make great clothes and reflect London.
Words / Tony Genville
Follow him here.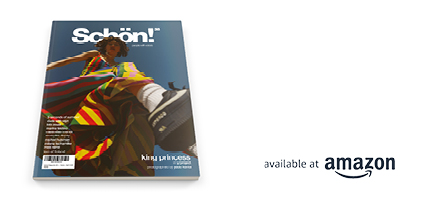 Discover the latest issue of Schön!. 
Now available in print, as an ebook, online and on any mobile device.