Bringing the city walls of Shoreditch to life, Dr Martens has teamed up with UK graffiti and street artist Will Vibes to celebrate the autumn/winter Hogarth collection. The iconic footwear brand delved deep into the heart of London's creative community, introducing visual narratives to the bricks of The Great Eastern Bear gallery. Taking inspiration from A Rakes Progress by 17th-century artist William Hogarth, Will Vibes taps into the history of the city, resurrecting the tale of Tom Bakewell in a spectacular mural display.
With works allover Europe and worldwide exhibitions, Will Vibes is at the forefront of a wave of established street artists, who blur lines between conventional genres of visual arts. Reflecting Dr Martens' collaboration with Sir John Soane's Museum for the autumn/winter collection, Will Vibes took his cue from the satirical narrative of the gambling misfortunes of Tom Bakewell, and his notorious evenings in the Rose Tavern in Covent Garden.
"Dr Martens is an iconic British brand that has continued to re-emerge throughout the decades and where better than London to celebrate its heritage," Will Vibes enthuses. A fan of Hogarth's work, translating his paintings into murals was a thrilling feat. "I've always admired the work of Hogarth so it's a fitting tribute to be able to bring his brushwork back to life," he concludes.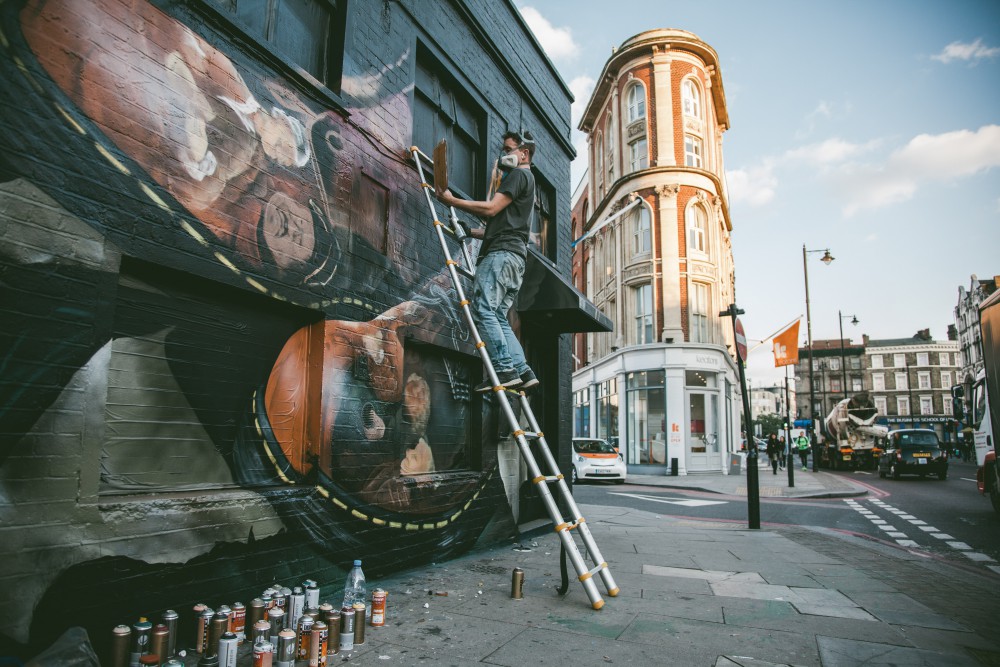 Visible until the 2nd of November at The Great Eastern Bear, just five minutes from the Dr Martens Spitalfields store on Lamb Street, Will Vibes' mural is a must see.
Join in and become a part of the Dr Martens family – for the chance to win a piece from the Hogarth collection, share a photo of the mural using the hashtag #STANDFORSOMETHING (not forgetting to tag @drmartensofficial on Instagram or @drmartens on Twitter) until 9 November 2015.