Whizz kid-cum-Hip Hop prodigy Daye Jack is innovating a new kind of sound. Often referred to as 'experimental hip-hop', the artist alternates seamlessly between rapping and singing over catchy, synthesised beats. Having studied computer engineering at NYU, Daye has since channeled his fixation with all things tech into his music; encapsulated by the title of his new album, No Data. At times uplifting and danceable, at others sombre and thought provoking, Daye writes music for the digital era, whilst embracing his idiosyncrasies.
What was the experience like of moving from Nigeria to Atlanta at such a young age? How do you think this impacted your upbringing?
I think I got to see two different versions of the world at a very young age that most kids didn't. One is culture driven, and wears its issue on its sleeve —the poverty and corruption in politics – the other hides those issues better. 
When I was 3 years old, masked men came into our home in Nigeria, shot and killed my uncle, whilst my cousins and me hid in a closet. It trips me out that that's my earliest memory. I learned at an early age that the world can be a dark place.
When did you first realise you wanted to work in music?
I wanted to sing since I could remember. I was always in choir singing Gospel. I knew I'd rap when I was 13, listening to Outkast, thinking you can be a weirdo —be yourself — and make rap that's real to your life.
You named your song Hello World after a commonly taught coding programme, and many of your song names and album titles have technological connotations. How else has the study of computer engineering infiltrated your music?
 I like the idea of being a Futurist with the concept in my music. I read a lot about where Tech is going to go. Elon Musk is a futurist. My latest project, set to drop end of March, plays with the ideas of 20-30 years from now, and what it'll be like living with AI's. 
How did you cope with rising to fame to suddenly with your breakout mixtape, Hello World? Was it something you ever expected to happen?
 I thought I'd be a computer programmer and make music as a hobby to show my friends. It's taken over my life; I feel blessed.
You've already created music alongside the likes of Killer Mike, Ariana Grande and Tori Kelly. Who would you most like to collaborate with in the future?
 I'd love to work with Andre 3000. Or just talk with him and say thank you. Love Below shaped the music I make today. 
The music video for Hands Up has received widespread praise as a powerful protest against police brutality (most notably from the deaths of Mike Brown in Ferguson and Trayvon Martin in Florida). How important is it for you as an artist to express your political beliefs and to make music that responds to issues facing society?
Very important. The best art speaks to issues in a society – a song can't change the world but it can start the conversation. Right now the United States is in troubling times. As a first generation immigrant it scares me. We have a lot of work to do.
You've described your music as 'experimental hip-hop', combining rap, talking and singing in your tracks. In which mode are you most comfortable making music?
Singing. There's something awesome about not having the greatest voice but saying, "fuck it", and crooning with your own style. Like some Andre 3000 and Parliament Funkadelic vibes. You know, it's just normal people expressing themselves.
How would you summarise the meaning behind your new track, Raw?
Raw is about being unapologetically yourself. It's that moment when you're at your most confident, and you feel like you're the best at what you do. 
What's the story behind your album No Data?
No Data is an album about self-acceptance. In an age where there's so much information being thrown your way, how to act, dress, and express yourself —it's an album that says "fuck it all". You're enough. Its something I wish I could go back and play for the 13 year old me who didn't fit in. Like, 'little homie that's a good thing, be an independent thinker'.
Having achieved so much at such a young age, who would you say has supported you most on your journey so far?
My family and my team. I write a lot of songs about loneliness and anxiety —those feelings are part of who I am —but I know I always have a support system.
Words / Daisy Schofield
Follow her here.
Photography / Diane Abapo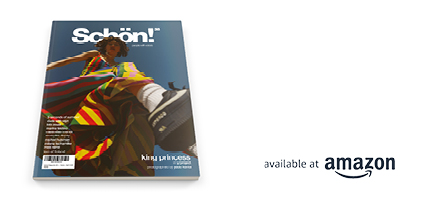 Discover the latest issue of Schön!. 
Now available in print, as an ebook, online and on any mobile device.