The words 'haute couture' produce different impressions upon different people. One may envisage Audrey Hepburn in Funny Face, outdated salons with people on tiny gilt chairs watching models' swish past in ball gowns, or simply a dinosaur lumbering on after it should have been extinct. Much of this imagery derives from the past, rather than the present and thus often the question becomes: 'how does couture survive?' —promptly followed by the affirmation: 'it doesn't make any money'. Yet, if this were true, haute couture would have died many seasons ago.            
Whilst none of these views are completely wrong, the reality is that haute couture is still very healthy: it is welcoming change, whilst still respecting its heritage and position in fashion. Precisely, one of these shifts is that now, more than ever before, the clients must be the focus of the clothes —otherwise, how does one justify such venture? In fact, and fortunately for the couturiers, nowadays many people strive for the new, the special, the unique, the limited edition and the personal —not incidentally, all key features of this season's collections.

En passant, Iris van Herpen showed a stunning collection. Styled by Italian Vogue's Patti Wilson, it was beautifully comprised of dresses ready to be worn by Red Carpet sirens. Fusing couture's tradition with the new, 3-D technology was used to create other-worldly pieces in figure-hugging silhouettes; alongside soft, floating-like caftan shaped pieces. There were extraordinary surfaces and origami; while aquatic structures slithered and writhed around and down the body. It was only with the single, finale piece that Iris van Herpen strayed back to her fashion-as-art, installation aesthetic.
Georges Hobeika subtly re-visited the past. Using lavish embroideries, his solid gold Oscar dress and Grace Kelly looks have a gentle nostalgia, whilst exuding modernity. There is an Edith Head, leading lady of the silver screen, appeal and quality to the clothes —be it a tiny jacket or a New Look length flowered dress. Clients feature heavily in the room, almost in classic couture mode, as you can nearly envisage them pencil poised on a card, marking their favourite styles.

Another large client-based audience was seen at theMaison Rabih Kayrouz show. The designer held a full spectacle outside his atelier and the sole number of attending women wearing his clothes speaks for its success. The designer creates drama through the line, the purity, and the craft of brilliantly designed clothes, which humbly hide their brilliance. Shrugged-on, easy coats, neat flattering tops, soft simple and graceful trousers alongside fit and flare dresses —all in an exquisitely brilliant and varied colour palette: from deep leafy moss, a navy just up from the darkest shade and marigold, to name but a few. Undoubtedly, a testament that denotes a designer who truly understands what runs through its maison's veins.
Christophe Josse had briefly parted from couture, yet his soft and understated colour palette, long lean lines and beautiful understatement remains as true as ever to his aesthetic. He presented an eye-catching floor length dress worked in lace and cutwork featuring intensive craftsmanship —a simple yet flattering, easy shape.  The soft neutral colour palette and beautiful textures, alongside couture detailing, often only fully revealed in close-up, were specific in mood and style. Themaison's clients must be rejoicing at his return, for like all the designers mentioned, he epitomises the need for individuality and a specific view of client and mood.

In comparison, Ronald Van der Kemp caters for a much more extrovert and saucy customer. However, the clouds of florals printed on white as well as the azure blue trouser suit teamed with a sunshine yellow hat, are not flashy or vulgar in the hands of this expert. A dance dress in tangerine, a sci-fi rocket girl in silver, or a simple red dress all take on a perfect balancing act between the classic and the inventive. In his hands, the seemingly conventional becomes fascinating —perhaps he could be best described as a couture connoisseur.

Faithful to his roots, Jean-Paul Gaultier offers us brilliant sharp linear tailoring and chic daywear with strong silhouettes. Once again, the waist is emphasised. He presents fringed, flounced, coloured, and decorated pieces as if to say: 'I like to be serious about my work, but I also like to enjoy it, and so do my clients.' It's no secret that Monsieur Gaultier has many clients, hence the emphasis on couture. Like Viktor & Rolf and the infamous Dolce & Gabbana, this is the appropriate metier for their work and their business. Fringe, a signature of a few collections this season, made its mark several times. Particularly, in a tricolour dress which spun and whirled its way down the catwalk. Coco Rocha closed the show with her three-year-old daughter Ionia —showing you're never too young to start appreciating couture.

Another couture advocate, Giovanni Bedin launched twelve perfect monochrome myriad pieces comprised of short, sculpted bodices and gently flowing skirts —simply gorgeous. However, when I suggested longer silhouettes may also work, he grinned and replied: "Oh, yes, we already made those." Understanding that your client may not always have the vision to imagine other lengths, but still taking an idea forward; in the truest haute couture fashion. 

Viktor & Rolf explored Duchesse satin as a fabric through intricate techniques that truly had to be seen to be believed. Woven, plaids, checks, flowers, bows… everything the fabric could be made to do, presented in shades ranging from lemon, rose and mint, to navy and black. Similarly, the lengths encompassed short to long in a what was truly a tour-de-force —only achievable in couture workrooms. Furthermore, the potential for their superb and charismatic bridal collection to incorporate these techniques in white-on-white seemed huge.


Meanwhile, Alexandre Vauthier threw us into a retro riot that, despite the rumours, was cleverly not confined to one era: Antony Price's Plaza in the 70s, Grace Jones in the same decade, Human League… it was a wonderful mixture of imagery that still managed to remain completely true to Vauthier's vision. There were fluttering blouses in a New Romantic vein, sharp and sexy shoulders in a nod to The Hunger, as well as a rich red draped column dress that was both timeless and stunning. Wild metallic plaids for nightclubbers, clouds of tulle and dotted veils, and Roxy Music hats and a pace formulate an energy and sexiness that's out of bounds to many designers. Spot-lit, between the cages of the set, both audience and models were having a wonderful party.


Xuan and Hyun Mi Nielsen are new names in the schedule, each with only a few seasons under their belt. They are totally different, but each is seeking a voice and client who understands their aesthetic. Nielsen showed a tribal-influenced collection with an amazingly complex mix of pieces. The client can have a wonderful time extracting what they want for their personal preferences: from the coats and trousers through to the fluttering silk dresses. The drama of the presentation never obscured the rich invention of the designer and her creative impetus. Xuan, on the other hand, is more directly romantic with ruffles—already a signature— and a languid drape and softness to the clothes, which again linked the client, designer and emotiveness. This season, there was almost a nostalgic perfume to the feeling and emotion, as the fabrics fluttered and swept in front of us like visions of romance. The contrast between these two is total, which makes it imperative to watch the development and evolution of their work from day one.
Returning to a long-standing name, Schiaparelli had so many women in last season's collection, it was fun spotting the pieces. The salons are booked for days following the show, and the mix of tailoring, special events and full-out gala provides the perfect spectrum to please everyone: from sharp surrealist jackets to tulle confection and, of course, everything in between. What especially takes Schiaparelli forward is the designer at the helm, Bertrand Guyon. Some say old names and houses should be allowed to go. Clearly, they've never had the privilege to visit the headquarters in Place Vendome and watched how Guyon subtly merges past, present and future. Particularly breath-taking was a dress of tiered frills in exquisite shades, cascading down to the floor like some mad-creation conceived of woven of nylon and miniscule beads. As was a  jacket that looks like a piece of Boulle furniture straight from Versailles. Guyon seamlessly employs techniques the eye can hardly credit: macramé, knit, tapestry, embroidery —the authentic haute couture workroom skills— taken to the limit and then beyond, in enchanting ideas and special pieces embodying both wit and great style.

Last but not least was Pierpaolo Piccioli at Valentino. Since Mr Valentino is still resolutely alive, this is not a house being forced to accept a new designer. The succession has been a lengthy and at times difficult process but, as Piccioli came out, the roar that echoed through the room was also mirrored by Mr Valentino himself, applauding on his feet. The spotlight and admiration weren't solely set on the Philip Treacy chapeaux or the ball gowns, but on the main pieces for the clients. Wonderful trousers and tops, genius streamlined coats, terrific late-day looks without clutter or fuss; as well as various sculptural late-day into full-on evening looks. The colours were truly brilliant in combinations and often with pennants and ribbons slicing through, or simply colour blocked in the combination of pieces. The elaborate embroideries were bolder and fewer this season —foreshadowing the clients' responses. The whole collection felt like a step forward whilst upholding the heritage of the house; the brand, the originator, alongside the signature of the designers and his interpretation of all these elements. A juggling act like no other: hats off to Pierpaolo Piccioli for taking Valentino forward. 
In all, each of these wildly different houses managed to maintain the client and the aesthetic in harmony. Few clients are as schizophrenic in their fashion repertoire as Lady Gaga, they have a style and look for a house or two to match this. 'Have something to say, say it well and clearly'—this is definitely the message of this season, if not every season of Paris Haute Couture.
Words / Tony Glenville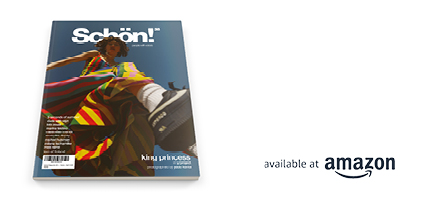 Discover the latest issue of Schön!. 
Now available in print, as an ebook, online and on any mobile device.