Carla Gugino's unwavering devotion to film and her belief in its power to elevate, unify and inspire, has been a key driver of her success. Her commitment to acting can be traced back to her early teenage years, when she legally emancipated herself from her parents in order to pursue her career. Gugino rose to fame with the Spy Kids franchise, which saw her playing Ingrid Cortez (mother to the two leads). Refusing to be pigeonholed, she has since taken on diverse roles in numerous blockbuster movies, from Sin City to Watchmen, and hit-TV shows, including New Girl.
Gugino's role in the upcoming film, The Space Between Us – a romance meets sci-fi movie – is perfectly suited to an actress so invested in movies which combine uplifting messages with more complex themes of loss, love and isolation. Gugino speaks to Schön! about what drew her to the project and the importance of films which offer audiences new perspectives and understandings.
The actress says she was attracted to the script as soon as she read it. It caters to a variety of ages and pertains to multiple genres, from adventure, to comedy, to romance and Sci-Fi. Yet at its core, Gugino states that the movie is about "four isolated people who – some by choice, others by circumstance – end up in a very unusual way finding this 'patchwork' of a family".
In this unconventional family, Gugino plays Kendra, a well-trained astronaut, who is sent to space to become a "glorified babysitter" for Gardner (played by Asa Butterfield), after his mother dies giving birth to him on Mars. Kendra is pivotal in convincing NASA to allow Gardner to visit Earth, so that he may be able to "experience love, and the messiness of reality". 
As someone fiercely intelligent and inquisitive, much of Gugino's passion for film lies with her interest in human complexities. This is what initially drew her to the role of Kendra; a character whose husband divorced her when he found out she was couldn't have children. "When I was in my early to mid 20's, there were just so few roles like that," Gugino explains. "I couldn't wait to come into my 30's so I could be considered for roles that felt like how I felt inside – that felt complicated."
The opportunity to play a strong female part in a Sci-Fi film – a genre typically populated with male leads – was an exciting prospect: "I'm so appreciative that there are so many movies that have women, as well as young women, at their center… women love movies! And I'm not interested in a chick flick for the sake of it being a chick flick: I want to watch interesting characters, both male and female, for their stories."
In light of this conversation, Gugino speaks of the Women's March in Washington, which she will be attending the following day. Despite mourning a society which is "very divided right now", she maintains her conviction in the movie industry, and more broadly speaking, "art", which has "triumphed and survived the toughest times in history. It can illuminate life through someone else's eyes and give us a different understanding: art and entertainment can bring us together." Her reasons for marching are "defending endangered rights, and saying, 'We are all on this planet together, so let's try and make it good for everybody.'" The Space Between Us is, Gugino believes, a film which resonates with this point in history, "because it's all about human beings connecting… It really isn't about which side of any line you stand on. Human contact is what's important." 
Gugino clearly possesses a profound ability to connect not just with audiences, but also to the people she works with. She speaks reverentially of the cast of The Space Between Us, describing herself as a "huge fan" of co-star Gary Oldman, whom she became "fast friends with immediately". She says that she wanted to work with the film's director for a long time, and loved working with Asa Butterfield, praising his talent and motivation: "I feel fortunate to watch young actors, right from the point of Spy Kids, especially the ones that are so hardworking and talented."
The actress speaks of her own future with an enthusiasm and curiosity akin to that which she attributes her younger co-stars. "I tend to gravitate towards very different things to what I've done before," she says. "There's a film I'm going to do soon, which is a darker, and of a more adult tone. I never know what I'm going to do until it appears in front of me; until it clicks." Her only mantra now when it comes to acting is "never say never". It is this open-mind which continues to make Carla Gugino's life so colourful, exciting and full of promise.
The Space Between Us is out worldwide tomorrow.
Words / Daisy Schofield
Photography / Alexander Saladrigas
Fashion / Jenny Haapala & Naomi Kotter
Hair / Anthony Campbell @ The Wall Group
Make Up / Matin Maulawizada
Photography Assistant / Diego Bendezuc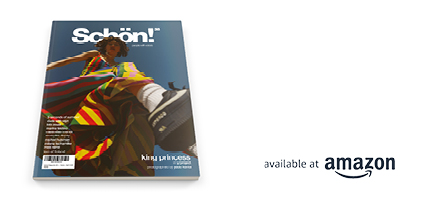 Discover the latest issue of Schön!. 
Now available in print, as an ebook, online and on any mobile device.