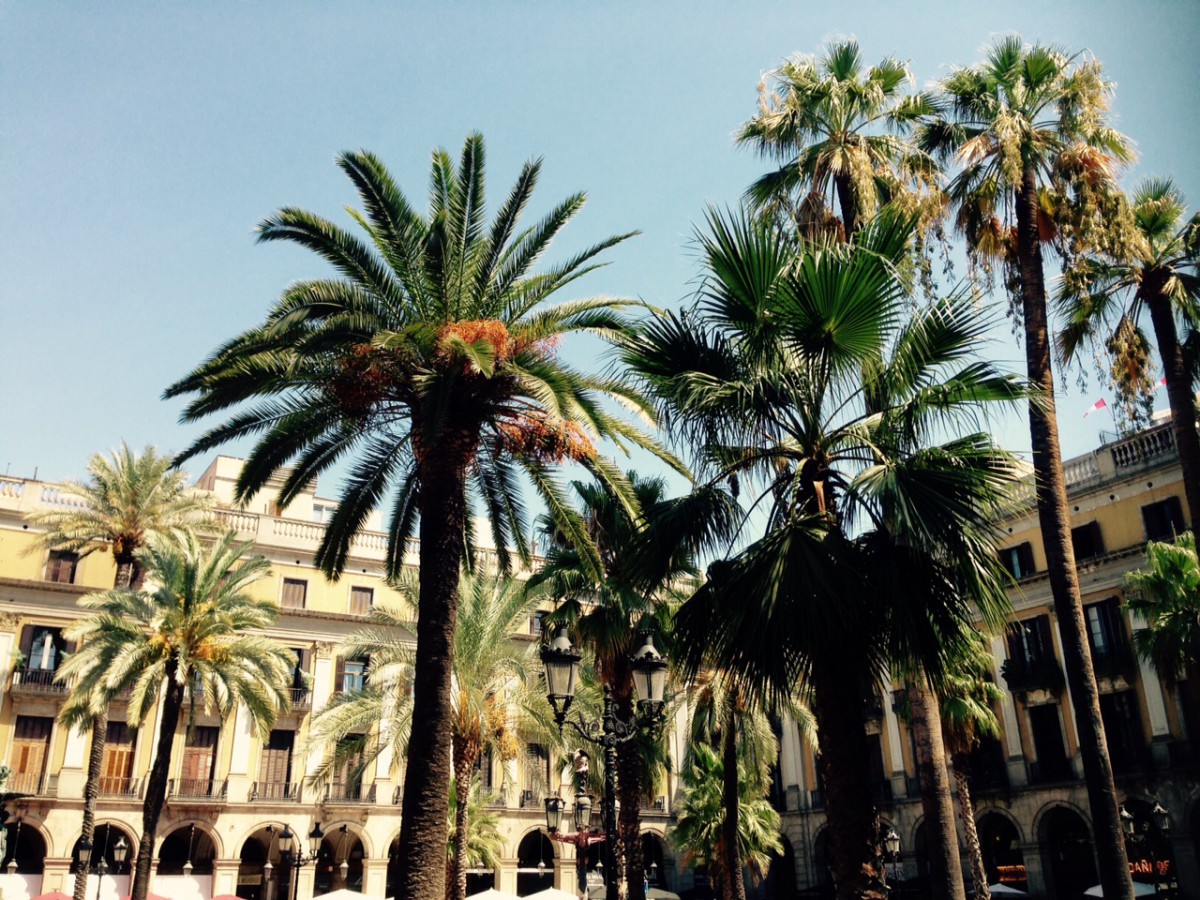 The slightly salty yet succulent taste of jamón ibérico that rests on the lips. The warmth of the skin as the sun kisses it. Antoni Gaudí's neo-Gothic architecture. Colourful printed skirts swaying down the cobblestone paths. These are some images of Barcelona, the capital city of the autonomous community of Catalonia in Spain. Barcelona's unique location offers long beaches, a wealth of seafood, and too-good-to-be-true weather. It is also rich in impressive architecture and culture, making the metropolis an exciting choice for your next getaway.
The Sagrada Familia is a must-see Roman Catholic church designed by Antoni Gaudí. It is a UNESCO World Heritage Site, boasting Gothic and Art Nouveau forms that Gaudí has implemented. The exterior is reminiscent of a melting candle, highlighting the intricate design of the building's grand façades: Nativity, Passion, and Glory. Every nook and curve tells a story of Christ's life or scenes of heaven and hell. As you make your way inside the church, upon first glance, the hypnotic ceiling and pillars provide a futuristic and slightly alien aura. The carefully constructed circular window on top that emits a beam of light is so symbolic that it gives chills. As Gaudí intended to mirror the organic nature of trees and branches in his design, a wave of whimsical spirituality rushes over, captivating all that bears witness to this masterpiece. The church is expected to be completed in 2026.
Take the time to get lost in Barcelona's Gothic Quarter (El Barri Gòtic), the heart of the old city. A large majority of the buildings date from the Medieval Times, some from as far back as the Roman settlement of Barcelona. The labyrinth of small streets open into bustling squares. Visit the Barcelona Cathedral while in the area. A 7 Euro admission fee gives you access to the impressive church, rooftop for stunning views of the city, garden, and church treasures.
For a whirlwind Gaudí experience, visits to Park Güell, Casa Milà, and Casa Batlló are all highly recommended. Park Güell consists of gardens and architectonic elements located on Carmel Hill. A reflection of Gaudi's naturalist phase, the park is ripe with organic forms and provides spectacular views to Barcelona's red-topped roofs.
Casa Milà, or popularly known as La Pedrera, is a modernist building constructed by Gaudí from 1906 – 1910. It is characterized by its undulating stone façade and twisting iron balconies. The patios and roof are exemplary in design – spiraling ventilation towers and organic arches are just details that illustrate Gaudí's unique genius.
Another one of Gaudí's renowned buildings is the Casa Batlló. The local name is Casa dels ossos, or House of Bones because the heart of the building asserts a skeletal quality. The façade is a colorful mosaic made of broken ceramic tiles and the roof is arched to resemble the back of a dragon. Although the admission price is pricey, it is well worth it because the audio/visual guide delivers a special virtual experience. The device that you are given combines augmented reality and virtual elements so that you can see how the Batlló family would have lived in the Barcelona of the day. Visualizations of furniture and animations of organic shapes allude to the marine aesthetic and functional features of the building.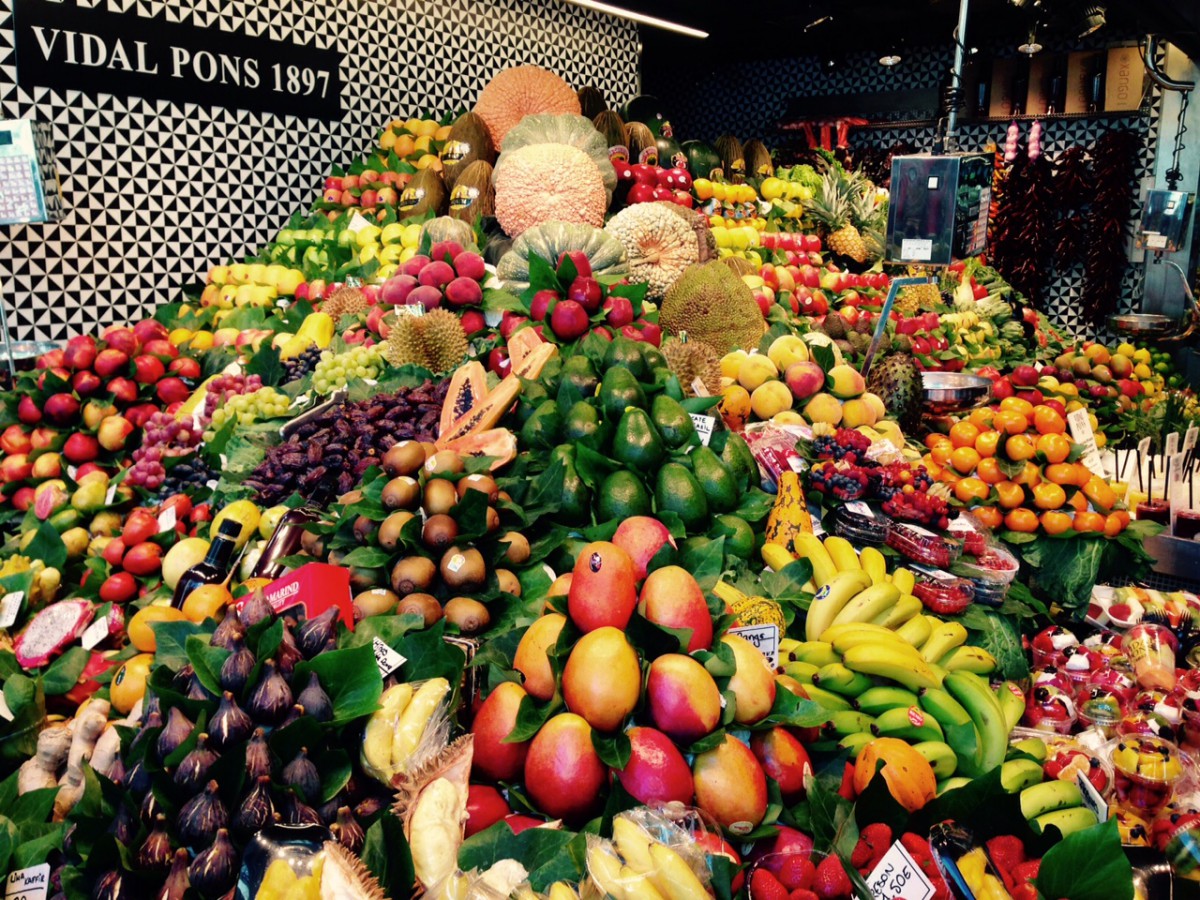 Although La Rambla is commonly considered as one long street filled with shops and festivities, it is actually composed of 5 boulevards – or ramblas – joined to make one long promenade. A market can be found here, a bountiful of colors and scents that will make your senses tingle. Rows and rows of freshly squeezed juices line stands, as well as fruit popsicles, and fresh produce. Spices, ham, cheese, and more can be found in this lush marketplace.
To satisfy your growling stomach after all those Gaudí expeditions, grab a bite of Barcelona's most authentic pizza at NAP. This hidden gem focuses on quality, as all pizzas are handmade before you. The Diablo Pizza is a spicy number that is sure to fire taste buds.
Check out Jamón Experience found on La Rambla. The hanging legs of ham that decorate the shop might be a vegetarian's worst nightmare, but the displays allow you to view the layers of different types of ham. The strong flavors and quality presentation pay tribute to Spain's speciality. In addition, there is a learning space or museum that showcases the process of making the jamón.
Barcelona's imaginative and free spirit is echoed in all aspects of the city: the people, the architecture, the dining. Its quirk comes from the modern youth intertwined with the historical roots of the urban playground. Barcelona is one of those cities that should be explored over and over again like a Gaudí building – you never know what hidden surprises you may find the second time around.
Words & Photos / Sheri Chiu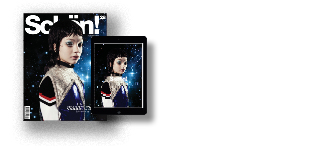 Discover the latest issue of Schön!. 
Now available in print, as an ebook, online and on any mobile device.