As the rhythm of Menswear Fashion Week beat its unrelenting bass line, Aniye By introduced a rock-driven collection for the autumn/winter 2017 season, nestled in the liberty style halls of the prestigious Circolo Filologico. Laced, layered and lulled into a rock & roll world, models emerged in velvets, furs and lace, resurrecting a world of punk. Creative Director Alessandra Marchi was quick to elucidate the revelling roots of the brand: "The story of Aniye By was born with a company called DepecheMode; for me, the story all starts there, in the sense that music, notably rock and electronic music, was the element that prompted my passion for the fashion industry," she told Schön! backstage ahead of her show. "In line with that, the collection for autumn/winter 2017 was inspired by punk and romantic punk. That means silver, studs, and a British vibe." Anarchy In the UK aside, tattoo-print dresses, rock chain sneakers and a new Tata bag emerged alongside boyish looks, that came to life in the form of oversized sweaters. 
Bringing the narrative of grunge to a digital world, Marchi brings together references that are anchored in contemporary youth. "A passion of mine is travelling, be it physically or through the Internet. Its democratic nature is fascinating – there is such a volume of information. There's obviously a need to know how to process this information correctly, but I believe it is a fundamental skill – to know how to use the tool to travel."
As Italian star Roshelle stepped up to the mic post-catwalk for an effervescent show, Alessandra Marchi was quick to point out the relevance of digital culture in defining a social future. "Thanks to music, which involves both women and men, the importance has shifted when it comes to gender, in the sense that anyone can be who they want to be." Boundary-free and with a solid sense of fun, Aniye By is the rock hallmark 2017 was waiting for. No space for shrinking violets here.
Discover the Aniye By collections here.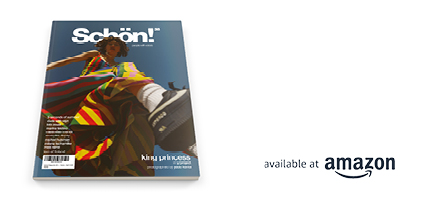 Discover the latest issue of Schön!. 
Now available in print, as an ebook, online and on any mobile device.