Playing the most controversial character of this season of TV shows, Alexander Vlahos takes the helm of the high-voltage Versailles with his exuberant role as Philippe D'Orléans, the gay brother of King Louis XIV. Being the most expensive series Canal+ has ever produced, Versailles is an emotional rollercoaster, a high-octane historical drama, tracing the construction of Versailles – that intertwined with the complex pathos of power, sex and treason: royal relationships, in HD format.
The Welsh actor, best known for previously starring in Merlin as Mordred and in The Indian Doctor, returns to screens in a lavish romp that takes us into the nooks of crannies of Versailles' guts, in Rococo gardens, opulent interiors, and in between the sheets of its beds. Talking to Schön! ahead of the UK release, Vlahos sprawls out the details of his relationship with his character, that of his character's with Le Roi Soleil. As we unearth the power struggles of the super-wealthy and the excessive climax of the Monarchy in a pre-Revolutionary France, so do we bring the tale of a key figure into a contemporary setting, where a gender-bending royal takes on mediocrity and convention. Face to face with Schön!, Philippe D'Orléans has his say. 
Could you describe your character, Philippe d'Orléans?
He is a complicated character, he is a dandy, but also a warrior; he is homosexual, but also has a wife, who is the King's mistress. It's the first proper dysfunctional family, so it's very confusing. He is madly in love with his boyfriend, the Chevalier, and he also wears women's clothes, but would also lead any French armies into battle and be victorious. He is a man of a lot of power, wealth, but also has very little consequence in court. He is that classic younger brother, where you have all of the perks but non of the responsibilities. It's a joy of a part to play, for someone as young as me to have. 
How would you describe the relationship between him and his older brother, Louis? 
It's the heart beat of the show, it's the skeleton of what Versailles is about. It's complicated, it's incredibly passionate, very emotional. They know each other so well that they are like chalk and cheese, you know, they are very different. Louis as a king, is not allowed to show emotions, any sort of emotion is a sign of weakness.  Whereas Philippe doesn't have any of that hanging over his shoulders, so he is very emotional and gets to show everything, he gets to cry, he gets to shout, he gets to show every aspect of his personality.
I am an only child, so it was a very new thing to try and discover within acting, this brother thing that is very hard to describe unless you are a brother or a sister. Whereas George who plays Louis, has a sister, so I think for him it was, nothing easy but it was simpler for him to tap in that sibling thing that's in our show.
Would you say that was the most difficult thing about playing your role? 
The most challenging part of Philippe was trying to figure out my own insecurities as a person, not as an actor. But the guy that plays my boyfriend, Evan Williams, became sort of my partner in crime, we both committed to their love for each other, and we went for it. So that was my initial fear, when we started the job, but once the job kicks in and started doing the scene it was kind of second nature, the two show runners in the show Simon Mirren and David Wolstencroft came up to me very early on and said, "The truest relationship in this whole series is the one between Philippe and Chevalier", Louis has a relationship with six/seven women in the show, and they are either driven through religion, duty,  passion, lust, but it is never based on love. And we needed to make sure to portray this relationship between these two guys, and  needed to make sure it was love that we showcased. 
And did you base your acting on any inspirational figure or anyone you could look up to? 
I did, when I got the part they described Philippe as a 17th century David Bowie, and that was me going like "Wow, well, I can't believe someone like this actually existed" [laughs]. So I listened a lot to Bowie, and I watched Iggy Pop in the studios, watched that sort of late '70s and early '80s manic showmanship that he has got.
It's actually funny because I am kind of living in Paris at the moment, in the middle of shooting season 2, and last night I got an invitation to see Iggy Pop in a private concert! My heart was in my throat, because, it's very rare that while you are still filming that you get to meet one of your icons. 
Do you also think the costumes helped you get more into the character?
Oh god, massively! Costumes and the wig, and the heels. You arrive in your jeans and your t-shirt and your hat and you get on to set and an hour and a half later we all appear suddenly it's 17th-century France. It's crazy. The wig changes the shape of your face, it also changes the way that you hold yourself.
It's weird because when I got the part, I thought Philippe was so different from me. Then by the end of filming you both realise that you actually are the same person, and you realise, "oh god! it wasn't a challenge after all, it was just me!" [Laughs]
So you started relating to him more and more? 
You relate to his predicament, and you enjoy aspects of his personality that maybe you can't get away with in normal day life. I share an amazing bond now with George Blagden. When we text each other, I text with the word brother in it. I don't have a brother, but I gained one on screen and also gained one in real life which is lovely and an amazing part of this job I think!
Had you been to Versailles before actually filming? 
I got the job and was over in Paris for months before starting filming. There is a guy on the show called Mathieu da Vinha, he is the historical consultant of Versailles itself, he is the guy that does the tours, he works in Versailles 24hrs a day, 7 days a week, and he was our historical consultant from the show. He came to the studio one day before we started filming and he said "How would you all like to have a private tour of Versailles". We all got the mini bus, the whole cast, all fourteen of us. The site is closed on Mondays to the public, so we got a four – five hour walk around Versailles to ourselves. Jaw-dropping amazing! You realise the scale of Versailles itself, and the crazy, mad Louis idea. 
At the end of the tour you end up back in this sort of gallery, this portrait gallery, and there is a family portrait of when Louis was going through his Greek phase, where he wanted to be very Roman. So the portrait is of Louis dead center in a toga, and next to him is Marie-Thérèse, his wife, and then just down to his left is me, with my wife Henriette, and our mum. And it was incredible, it was a moment when the whole cast was in front of this huge portrait. These people actually existed. It was sort of an epiphany moment, thinking "bloody hell, don't fuck it up!" [laughs]
The cast is quiet young for a period show, do you think it affects the mood of the production? And do you think it makes it more modern? 
God, yes, 100%. The average age of our cast is about 26 years old. What it does on set, when we are filming, is that there is an exuberance of energy of youthful actors in control.
You have two lead actors, George [Blagden] and myself, two actors that the rest of the cast look up to for leadership and on a show as big of this, you know there are spending 30M on the set, they are spending 2.7M per episode, it is a lot of responsibility to put on two young actors shoulders. The crew adapts to the energy to what they are given, and they are given a youthful rock 'n' roll, no fucks given atitude on set.
But then, also, when mirroring what life was like, this was a 28-year-old king, and a 26-year-old younger brother, who were the most powerful men in France. Basically, they had the best house parties. There was opium, alcohol, they were rich, wealthy and they didn't care!
Do you feel any pressure about being part of such a massive production? 
I did, when I got cast I think I felt a massive amount of pressure thinking, not just for me, but can we pull it off? This is a lot of money and it's just a big scale thing, and you arrive and it's the biggest thing I have ever done, I think it's the biggest thing that George has ever done.
Me and George, we have similar roots, he is from Vikings, and I was in Merlin and we have both been in big shows that have had big budgets but nothing like this. But outside pressure is just interference. If you start thinking about stuff like that it gets in the way and it's not good preparation, it's just distracting. You learn very quickly to hide it, to put it in the back of your head, to throw it away somewhere and stop thinking about it.
Looking back at your role in Merlin as Mordred, would you say Philippe and Mordred have any similarities? 
Apart from the fact that the same actor plays them! [laughs] I think their similarity is that they are very compassionate people. Mordred's downfall in Season 5 was that he turns on Arthur and Merlin because he was in love with a girl who got killed. With Philippe all he does is show compassion, towards his brother and other characters. And they are also both underdogs, Mordred was trying to figure out a way of fitting in, and same thing with Philippe because he is never seen in a positive light by his brother. 

How do you balance screen and stage work? 
When you do a TV job as long as I do, sometimes, the first thing you want to do immediately afterwards is go on stage. I am fundamentally a stage actor, and that's where I was trained, and that's where my love of acting is. Being on stage with a live audience is where I belong! That is where I truly think that I will find myself, and you realise that nothing can beat a live audience, and the butterflies in your stomach when you are about to step on stage.
What are your stage ambitions?
Well, my favourite play is Hamlet, and that's the next adventure! It's not set in stone but there is talks at the moment of how I, as well as other people, can try to make that work. People think that you need to be in your late thirties early forties to figure out who Hamlet is, to be able to have that repertoire and acting skills to be able to portray him. But he is a young guy…

How is life on set for Season 2?  
We are mid filming at the moment, we have about four episodes down already, so we are halfway through filming block two, so there is episode 5, 6 and 7. This morning I got sent an email with episode 8, 9 and 10. So, the whole season is out. I love my job and I love playing Philippe, so any time I can go in and put on the wig and the boots, I feel like a really lucky actor! 

Versailles will air on BBC2 on 1st June.
Words / Aurore Groult
Follow her here.
Photography / Phil Dunlop
Fashion / Kristofj von Strass
Hair / Akiko Kawasaki
Make Up / Aga Dobosz using Bobbi Brown
Photography Assistants / David Jenewin & George Eyres
Fashion Assistant / Eva Maria Santner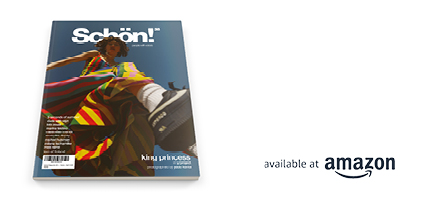 Discover the latest issue of Schön!. 
Now available in print, as an ebook, online and on any mobile device.