As the spotlight flickered across the dark space we saw a group of black-clad men bearing aloft a dark haired figure encircled in black drapery. The heavy wooden throne they carried was placed against a black curtained wall and the woman was raised high by the throne. At the same time, the blinds slowly rose revealing the vast expanse of the frozen Dnieper River behind the glass wall. Now, the fashion show could begin.
We descended the icy steps and walked out onto the pavilion into the frozen river, once we had taken our vodkas and seated ourselves on the black banquettes, we were almost awaiting the start of another show. After the spellbinding opening, the models started to stride down the full length of the room. It took me a few moments to realise that, at a certain point, a model would step over the extended panel of fabric and the regal figure posed on the throne would grasp the folds of fabric, ultimately wrapping them around herself.
But, who was she? Her presence was so powerful she could have been a famous actress. She turned out to be Ukraine's first disabled model, 23-year-old Alexandra Kutas. Born with a spinal injury, she has never been able to walk but this has not limited her horizons. Her performance at the show elicited a huge ovation alongside that for the designer. Vozianov cuts his clothes in the true manner of a couturier and yet, it is all based on mathematics: circles, squares, oblongs, etc. His draping technique and creative skills make it virtually impossible to understand how he works the fabric. It is only when you examine the pieces up close up that the mastery reveals itself. His clothes fall into the same creative category as Rei Kawakubo at Comme des Garçons, only easier to wear. He creates both menswear and womenswear and being awarded Designer of the Season at Mercedes-Benz Fashion Week Kiev has further cemented his reputation. Globally, the discussion surrounding models and diversity are high on many people's agendas today.
This is not just because of pink pussy hats and women's marches being topical, or because of the continuing controversy regarding both the minuscule size and the very young age of many models. The discussions are deeper and broader, as well as at a much higher level, within the very heart of the fashion industry. With journalist Sarah Mower wanting to "celebrate the entirety of fashion's rainbow membership"; Cathy Horyn pointing out the need for "a more diverse cast"; Ivan Bart, president of IMG, championing larger sizes; and many more who are not just talking about it but speaking out and putting their views out there on record.
The reasons in contemporary global cultures are obvious. It wasn't until 1966 that African American model Donyale Luna graced the cover of Vogue UK, with Beverly Johnson following on the cover of Vogue US in 1974. However, it is still hard to find women of colour in the same numbers as white Caucasians. But colour and race are not the only points of discussion right now: this is about diversity in its truest sense. This year, we saw Muslim model Halima Aden on the catwalk at MaxMara, transgender Brazilian model Valentina Sampaio starring on the cover of March's Vogue Paris. Winnie Harlow has become a fashion icon by embracing her beautiful and unique vitiligo. True, we have seen all this before: Aimee Mullins wore specially carved prosthetic legs at Alexander McQueen back in 1999 but these one-off moments are hardly the heart of the fashion business. In most cases, there is a very specific reason for casting older, bigger, ethnic, disabled, transgender, etc. models in a show. On the 8th of March, Dhaka held a fashion show where the models were the victims of acid attacks. A specific and wonderful purpose to use these models but dropping one of them in a show as a gimmick reflects well on nobody. It's the thought behind the action as much as the action.
Many designers will never willingly choose anything other than extremely thin, young, androgynous white girls to model their clothes. This season, Dries Van Noten celebrated his 100th show by bringing back models who had previously walked for him -all ages and types; 85-year-old Carmen closed the show at the Guo Pei Couture show, and Jan de Villeneuve is modelling Aganovich at 72.
But this is not the norm in the fashion world. If it were, we wouldn't make so much fuss and give so many headlines to this fact. Disability, colour, size, gender, religion or age may mark out a fashion model as different; but ultimately, what she brings to the show is what matters. No one could tell Alexandra was disabled until well after the show since she was directed correctly within her capabilities and role within the show. So, how do we reach the stage where a diverse runway is a normal one? Perhaps by doing it over and over again and assuming it as so.
Words / Tony Glenville
Follow him here.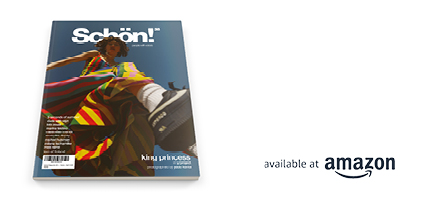 Discover the latest issue of Schön!. 
Now available in print, as an ebook, online and on any mobile device.