The second day of Toronto Men's Fashion Week Autumn/Winter 2015, or TOM*, accentuated sophisticated complexity across a diverse group of designers. The highly anticipated MensFashion4Hope runway show was featured this day, a special charitable initiative to raise funds for Kol Hope Foundation for Children. Schön! explored the deeply unique universes of the designers who showed on the second day, which included Venturist Commuter Wear, Rank by Rani Kim, Worth by David C. Wigley, and HD Homme.
Venturist Commuter Wear started the day with an athletic collection of painterly strokes and electric hues. Canadian born fashion designer Raj Gill creates for a niche market: cyclists. In a census, between the years 2001 and 2006, the number of people riding a bike to work in Toronto increased by 30% and 65% of Torontonian cyclists are male. The market for fashionable cyclists exists, and Gill has tapped into it. The trailing fabric in Venturist Commuter Wear's new collection generates movement when one is whizzing by on his bicycle. Gill utilised colour blocking and splashes of bright colours that provide a modern twist on the urban adventurist.
Armour silhouettes protected the core while a mélange of patterns and textiles visually excited the public in Rank by Rani Kim's runway show. Emerging designer Rani Kim returned to the DNA of her design education in Denmark, taking conceptual forms to craft original pieces for the modern man. The colour palette consisted of navy, pewter, and beige for an overall soft collection. Kim proved that she understands translating artistic sensibilities into sleek and wearable pieces.
Tom's Place was the official clothing sponsor of the MensFashion4Hope fashion show, an initiative to fuse fashion and charity together. Local celebrities made their way down the runway in an uplifting manner by smiling, dancing, and even clinking beer bottles with audience members. Among those celebrities were the President and CEO of Trump Residences, a fire fighter, a celebrity chef, Canadian Idol judge Jake Gold, and Moose Knuckles Founder Will Poho. These influential male symbols sported chic suits with pocket squares, highlighting Tom's Place's perfect cut for any physique.
All proceeds generated from TOM* will go to The Kol Hope Fund at SickKids. The Kol Hope Foundation helps and supports children with disabilities Canada and around the world. It is named after Kol, the son of TOM* Founder Jeff Rustia. Kol was born with a fatal genetic syndrome and was expected to live only three months. However, through SickKids' hospital care, Kol exceeded that and lived for 14 years.
At the end of the MensFashion4Hope show, Tom's Place Owner Tom Mihalik donated CAD $10,000 to the Kol Hope Fund at SickKids, which brings the cumulative total to CAD $95,000.
There was interplay between masculinity and untraditional shapes in Worth by David C. Wigley's surprisingly whimsical show. Inspired by the Norwegian fairy-tale East of the Sun and West of the Moon, Wigley transported us to his fantastical world by crisscrossing plaid skirts with leather jackets. He started by pairing unlikely clothing combinations to create quirky virility. Lush materials reminiscent of vintage pyjamas were introduced, elevating the collection to a dreamlike fantasy.
HD Homme did sophisticated chic by pairing luxury leather jackets with classically tailored trousers and long gloves. Toronto designer Hussein Dhalla succeeded in fabricating a well-constructed and cohesive collection fit to be in Sin City. Details such as fur lapels, marble buttons, and thin lasso rope belts heightened the overall collection into a realm of pure luxury. Dhalla not only played with matte and shine, but also incorporated origami pleated patterns and textiles. HD Homme presented a very streamlined and polished assortment of separates – a strong finish to Day 2 of Toronto Men's Fashion Week.
Words / Sheri Chiu
Schön! traveled to Toronto with Air France and stayed at Hotel Le Germain. Special thanks to Tourism Toronto.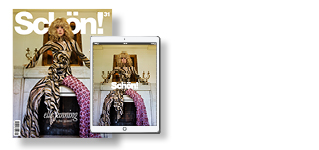 Discover the latest issue of Schön!. 
Now available in print, as an ebook, online and on any mobile device.