Toronto Men's Fashion Week, or TOM*, celebrates its second year, showcasing the very best of Canadian menswear. Not only does the event include fashion shows, it also incorporates TOM* Talks to activate discussion on the most pressing issues in fashion today and TOM* Night Life because every fashion show deserves an exciting after party. There is nothing more refreshing and exhilarating than being at the helm of an emerging fashion industry, and TOM* succeeds in representing a cultural mosaic of talents. The first day of the Autumn/Winter 2015 Shows features Keniya-X, Andrew Coimbra, Kollar Clothing, Garrison Bespoke, Just TA by Alan Ta, and Joao Paulo Guedes.
TOM* kicked off with Keniya-X in a sporty array of mixmatched textiles of a worker spirit. Camouflage prints were integrated in jackets and shirts for an urban jungle feel. The back of garments revealed surprises such as unexpected pockets or country's flags.
Military met thug in Andrew Coimbra's show with speckled prints reminiscent of Canada's landscapes. We strapped ourselves into Coimbra's exciting ride of outerwear fastened together with buckle straps that hinted to adventure. Accentuating clean silhouettes, Coimbra focused on comfort and played with layering, lengths, and shine.
Kollar Clothing showcased a range of comfortable basics including ash knits with peek-a-boo zippers. The collection carried a sense of relaxed military in ribbed trousers and olive coats. Paying tribute to a man's desire for coziness in the Canadian cold, Kollar Clothing showcased staple pieces that every man should have.
Sophisticated tuxedo cuts converged with vividly graphic patterns were seen inn Garrison Bespoke's fresh collection. The runway was brimming with sharply tailored pieces, with prominent lapels fit to be in Woody Allen's Magic in the Moonlight. The show transitioned to the '70s in an array of eveningwear boasting circle and geometric prints. Garrison modernised his man by juxtaposing paisley and rose prints with Nike footwear.
Just TA made a statement with must-have coats and rustic tunics of an Eastern calling. Inspired by the Renaissance, designer Alan Ta featured elongated and majestic silhouettes. Plaid knits intertwined with colour blocking, while passionate reds transitioned to a softer aura of comfort charcoals and ivory.
Joao Paulo Guedes brought us to church in in crisply tailored suits and stained glass prism sweaters. As the winner of the first ever Emerging Menswear Designer Award during TOM* Spring/Summer 2014, Guedes proved why he is one to watch in his sleek collection playing on the lines of cathedral architecture. The Canadian designer of Brazilian descent masterfully played with royal purple kaleidoscope prints and navy hues in a way that commanded attention. The hats with wide brims injected a hint of mystery. We at Schön! can say that we are devout believers of Guedes.
Words / Sheri Chiu
Schön! traveled to Toronto with Air France and stayed at Hotel Le Germain. Special thanks to Tourism Toronto.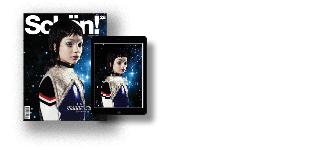 Discover the latest issue of Schön!. 
Now available in print, as an ebook, online and on any mobile device.