The time has finally come. The 14th of March is a date that many of us have eagerly awaited, for this is the day that the Victoria and Albert Museum opens the doors of Savage Beauty, the first major retrospective of Alexander McQueen's work to be held in Europe.
If you were lucky enough to catch Savage Beauty in 2011 at the Metropolitan Museum of Art in New York, it is still worth a second visit here in London. The V&A had one third more space to work with than the MET, so were able to add 66 garments and accessories. The exhibition also begins with a completely new space, the London Gallery, which includes 10 of McQueen's earliest designs from three collections: The Birds, Highland Rape and The Hunger. The Cabinet Of Curiosities has doubled in size and now houses over 120 accessories and show pieces and 27 screens.
All this makes it not only the largest McQueen retrospective to date, but also the biggest and most ambitious fashion exhibition ever held at the V&A. Of course, bigger doesn't always mean better, but in this case, the museum really has outdone itself. The exhibition is simply astonishing. It has clearly been a labour of love for curator Claire Wilcox and her team, who spent nearly two years preparing for this day, not least because McQueen was a keen supporter of the V&A. As Kate Bethune, Senior Research Assistant describes it, the project was an "absolute privilege" to work on.
"What makes McQueen so fascinating to me," Bethune continues, "is that he didn't just render his designs in fabric: he used balsa wood, razor clam shells, glass, so many different materials." For her, a standout piece is the gown made entirely from pheasant feathers: "It's ingenious for its construction and it really conveys the fragility and beauty inherent in nature that McQueen was struck by."
The Cabinet of Curiosities will stand out for many visitors. The room is full from its floor to its towering ceiling with the most remarkable garments and accessories from McQueen's famously theatrical shows, many of them the product of collaborations with other designers and artists, such as Phillip Treacy. These are items that were never intended for commercial production and, unless you were at McQueen's shows, this is really the only chance to see them 'in the flesh'.
Another highlight, and the only exhibit that the press are not allowed to film or photograph, is the 3-D hollogram of Kate Moss, which was created using 19th Century, rather than modern, technology, and originally served as the finale to the Widows of Culloden show. Bethune describes it as "incredibly poignant and very moving. I think visitors will leave with that really embedded in their memory."
This sounds rather unlikely until you reach the darkened room and see the ghostly apparition, which almost brings on tears. The sudden wave of emotion seems inexplicable until the realisation comes that, although the house of Alexander McQueen still puts on a great catwalk show, we will never have the opportunity to see another one conceived by 'Lee'. Then there is a strong sense of loss for a man most of us never met.
Although expecting to be impressed by Savage Beauty, I had no idea how emotional the experience would be, but the fact is, seeing so much of McQueen's outstanding work in one place reminds us that the artist who so tragically left us in the prime of his life was a creative force like no other. Every item here speaks of an exceptionally original mind, but is also exquisite in its beauty and intricate detail. "Although his ideas were bold and subversive, everything McQueen did was rooted in craftsmanship," confirms curator Claire Wilcox. The creativity and craftsmanship on show in this space are so arresting they stop you in your tracks at every corner.
Put simply, Savage Beauty is a 'must see'. Literally. Do whatever you can to get there.
Savage Beauty is at the V&A from 14th March to 2nd August 2015.
Find out more at vam.ac.uk/savagebeauty
Words / Huma Humayun
Follow her on Twitter.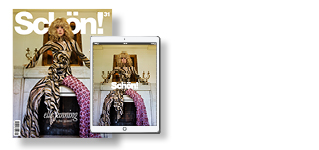 Discover the latest issue of Schön!. 
Now available in print, as an ebook, online and on any mobile device.