Brian Ziff presents the Schön! Magazine exclusive, Rite of Spring. In this haunting series, we watch as the new season emerges from the death of the last; nectars flow, hummingbirds suckle and flowers bloom as the cold, hapless winter succumbs to the verdant inevitability of spring. Each tableau is first shot and composed by Brian Ziff, and then painstakingly animated by Ethan Chancer, creating a moment forever in limbo under the trance of a soft, crisp breeze.
This Schön! exclusive series was produced by
Photography, Music & Words / Brian Ziff
Animation / Ethan Chancer
Creative Director & Beauty / Mynxii White
Model / Erika Labanauskaite @ NEXT
Hair / Anna Estella Patterson
Styling / Sarah Toshiko West
Makeup Assistant / Elsie Simone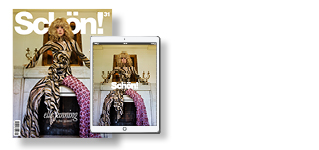 Discover the latest issue of Schön!. 
Now available in print, as an ebook, online and on any mobile device.