The ninth day of Paris Women's Ready-To-Wear Autumn/Winter 2015 Fashion Week concentrated on sensibly sleek daywear. From Masha Ma's coveted coats, to Rahul Mishra's intricately embroidered dresses, this final day gave us a closing glimpse of the alluring winter looks to come. We also visited the worlds of Allude Cashmere and YDE. 
A metropolis of modern expressionist lines, complimented by ferocious fur collars and leather leggings, pervaded Masha Ma's architectural love-letter to ready-to-wear.  Geometric mohair jackets in clay and charred coral were adjoined with triangular lapels and clenched with leather peplum belts. Fitted dresses were reminiscent of Deco staircases, veering between sleek and simple. Every look was meticulously rendered and imbued with understated details of texture and form. Silver threads lined industrial style shirts and a bulging bomber jacket: Ma's futuristic foray into a more contemporary and wearable sphere of cubic Oriental inspired fashion.
To understand the art of storytelling through creation is no mean feat, but precisely what Rahul Mishra managed to achieve with his A/W15 collection. Weaving delicately intricate stories of villages of the world into the woollen jackets and dresses that formed his work, Mishra offered a peaceful tale of sustainable co-existence between man and nature. As a designer Mishra is capable of capturing a unique sensitivity in his designs without diminishing the strength and power of a woman; this showcase proved to be no exception.
Stracciatella silhouettes and checkered cashmere, interwoven with pearl-stained organza, emphasized the artistry of Allude Cashmere's Creative Director Andrea Karg. The delicacy of her designs reverberated in murmurs of soft stitching and pastel tones, while tulip shaped collars blossomed atop ribbed asymmetrical dresses. Auriferous chocolate splattered faux fur – was used to create a protracted vest and a matching pleated skirt tightened at the waist (assumedly with the assistance of Cinderella's bluebirds) with a large black velvet bow. Caramel sashes draped against multilayer minimalistic jacquard knits and billowing trousers gathered at the ankle.
Closing fashion season in style, Ole Yde delivered an elegant collection at YDE laden with confidence and sophistication. Constructing looks from rich fabrics such as silk, satin and cashmere Yde was able to transport a fluidity to the runway. By keeping his A/W collection understated at its core, whilst still adding touches of glamour, Yde showcased his most timeless work to date.
Words / Chloe Rash and Natalie Roar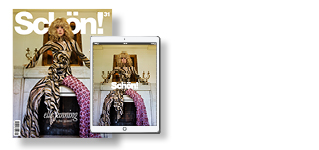 Discover the latest issue of Schön!. 
Now available in print, as an ebook, online and on any mobile device.