The eighth day of Paris Women's Ready-To-Wear Autumn/Winter 2015 Fashion Week revolved around patterns and a galore of textures. From CHANEL's reinvention of tweed in a brasserie setting to Paul and Joe's luxe plaid coats, this day was bright with captivating prints. We also visited the worlds of Agnès B., Valentin Yudashkin, Junko Shimada, and Shiatzy Chen.
French fashion designer Agnès B. proved she's no stranger to comfort in her collection representative of a casual chic city clicker in vibrant prints and comfortable knits. Long silhouettes of cosy knits were juxtaposed with icy landscape prints, or those of kaleidoscope colours and geometric wonders. Agnès dabbled in tomboy territory, fashioning ensembles reminiscent of Huckleberry Finn. A variety of tailored blazers and pencil skirts highlighted the very essence of spur-of-the-moment sophistication, while doses of shimmering sequins added a hint of girly fun. This season the Agnès B. woman exuded simple elegance, a girl that you'd love to have as a BFF.
Maleficent comes to mind after viewing Russian designer Valentin Yudashkin's dark baroque fantasy: a mystic collection that burned like a blistering flame: a fable of fiery intricate gowns, lustrous yellow paillettes and lacy cocktail dresses. Yudashkin's divine manipulation of feathers, organza, fur and beading, were much more couture than prêt-a-porter. One stand-out gown in particular was an inky stripped skirt attached to a fixed bodice decorated with a blackened skull and horns of a deer. A crimson fox fur ski jacket and an emerald velvet hooded dress exuded an air of enchantment, whilst jewelled sheaths mirrored the opulence and grandeur of early-18th-century Prussia.
Junko Shimada's uncluttered collection reads like a diary of memories in a poetic ode to the designer's serene voyage across the Irish Sea. In a sensory installation, concrete coloured Paddington jackets swayed above the crowd, rotating on a wire cable, while scenery of costal images swam behind.  Leather waders and wellies were festooned with invisible odors of musk and seaweed, while indigo cable-knit sweaters and inflated fisherman (or in this case, fisherwoman) vests were anchored with minimal black pleated trousers.
Drawing her inspiration from mythology – both Chinese and Greek – Shiatzy Chen ventured to the icy mountains to deliver a romantic collection depicting the tale of a baroque duchess stepping into a Chinese painting. Rich in both fabrics and colours, Chen chose a palette of petal pink, Tibet green and khaki orange to paint across double-knitted tweeds, organza and of course brocade to clothe her duchess. However, the view from the mountains was not the only story woven into Chen's Fall collection, the intricate craftsmanship in each look also told a tale of her impeccable attention to detail.
A hint of British rebel, a dose of sweet florals, and a pinch of cool comfort reigned in Paul & Joe's new collection. Brand founder Sophie Mechaly said she drew inspiration from her family vacations in Saint Tropez and the liberating freedom of her mother's way to dress. Plaid was prominent and styled in such a way that exuded a young, rocker vibe, but the collection slowly transitioned to lighter and fresher looks highlighting organza blouses with neck bows. Berets were thrown on for a Parisian oh-la-la, juxtaposed with long sequined dresses for a touch of glam. The show ended on a solid note of black ensembles, demonstrating Mechaly's versatility for designing for any woman with an outgoing spirit.
Words / Sheri Chiu, Chloe Rash, and Natalie Roar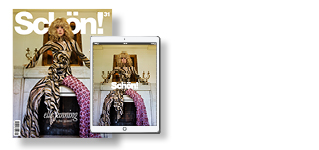 Discover the latest issue of Schön!. 
Now available in print, as an ebook, online and on any mobile device.