The sixth day of Paris Women's Ready-To-Wear Autumn/Winter 2015 Fashion Week connected vibrant patterns with layered outerwear. From Kenzo's mesmerising floral jacquards, to John Galliano's Art Deco motifs, this day experimented with asymmetry and oversized coats. We also visited the worlds of Maison Rabih Kayrouz and Jean-Paul Lespagnard.
In an enormous mirrored warehouse in the periphery of Paris, holographic columns posing as conceptual trees levitated like fairy-tale branches; as models in grassy trapeze windbreakers marched like chic combatants to ethereal electronic music. The effeminate gladiators of Kenzo's fashion forest were armoured with curved black felt helmets to compliment layered outerwear, patterned with vibrant touches of colour. Details were aplenty, as burgundy ponchos and satin pantsuits were lined with pulsating stripes of tangerine for a multifaceted oeuvre with a resilient, warrior-like spirit.
There was a striking intimacy that pervaded the Maison Rabih Kayrouz show, inviting us into his Left Bank atelier; we felt very à la maison.  In the diminutive space, Mr. Kayrouz entertained with understated, yet masterful, asymmetrical dresses that looked anything but homemade.  Silk blouses decorated with fuchsia circles were fastened by buttons ranging in size and coupled with jagged skirts in shades of olive and crème. Laser cut rectangular shapes were quite prominent, while loose fitting plaid garments were the perfect appetizer to precede the plat principal: a white sheath embroidered with galactic shaded spheres. It was just too bad we weren't invited to stay for desert.
Creative director Bill Gaytten of John Galliano reinvented the roaring '20s with his ode to Art Déco motifs in a geometrically ocular rebirth of curvilinear forms.  Soignée evening dresses gleamed with metallic jacquard while long-limbed overcoats housed dramatic pocket squares; revitalizing the standard grammar of ornament of the bygone era. Dark magenta accents lingered on the brim of embroidered cropped jackets and swam with flamboyant illustrations of fanciful fish. Bold designs were trimmed with spheres of mink and fox for a stylistic opus. The collection was a visual joie de vivre, reminding us that in a decade consumed with the future, it is sometimes necessary to be reminded of the exquisite beauty of the past.
Jean-Paul Lespagnard's comically named A/W15 collection, Cheese on Fleek, gave guests a taste of modern-day nomad with heavily layered looks in clashing prints of all kinds. Relaxed-fitting outfits were tied at the waist to add shape to each design whilst still keeping with the casual-cool air of each look. The main talking point of the collection, however, (and there was a lot to talk about) came from below the waist – the shoes. In true Lespagnard style, this season's shoes saw a hybrid take on the walking sandal with heels elevated by spring coils in a style so unconventional yet obviously practical they will no doubt be next season's must-have.
Words / Chloe Rash and Natalie Roar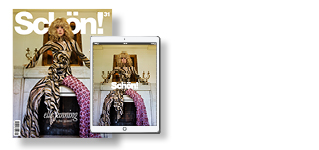 Discover the latest issue of Schön!. 
Now available in print, as an ebook, online and on any mobile device.