The fifth day of Paris Women's Ready-To-Wear Autumn/Winter 2015 Fashion Week focused on dynamic playfulness in sleek ensembles. From Tsumori Chisato's upbeat super-heroines to Vivienne Westwood's outrageous British punk show, this day was a mix between fun and sophistication. We also visited the worlds of Veronique Leroy, Elie Saab, and Martin Grant.
Pow Ka-bang! Tsumori Chisato's inspiration for her AW15 collection was comic super-heroines. A happy mix of sequins and brightly coloured garments were sent down the runway composed in dresses and skirts dotted here and there with a couple of trousers. The looks had of course the inevitable illustrated print touch so dear to the designer, either as actual comic strips, oversized lippy mouths or busty caped heroines embroidered with sequins. The word "smile" was emblazoned on some of the garments as well as on the comic strips covering the set walls; that's exactly how we left the show: smiling.
"When you display things without hierarchy, it's up to each and every one to realise and relate to what's going on," was a part of the quote French designer Veronique Leroy used to frame her Autumn/Winter showcase in Paris. The collection, designed to strip away all notions of day or eveningwear, combined vivid colours alongside more neutral shades of ginger and old rose. Giving strength to looks through her subtle attention to detail, Leroy layered bold bracelets over elongated sleeves and high-neck sweaters, embellished metal eyelets to elegant dresses and finished each look off with lace-up black boots.
Captivated by the mystique of the forest, Lebanese designer Elie Saab developed his own prêt-à-porter herbage by creating tree-like silhouettes, softened with details of lavish foliage and dusted with shades of nature for the fearless effeminate adventurer. Fluid dresses and structured forms were embroidered with geometric patterns on lace, while tweed and fur coats appeared like decadent Amazonian landscapes, textured and rich with allure. There was a darkness to Saab's collection which was rare and all consuming; he has created more than a woodland of lush creations, but a leafy universe of expansive femininity.
A fringed affair of punk rock inspired silhouettes and 1970s British grunge reminded us that Vivienne Westwood is still at the top of her game: mastering a nostalgic unisex appeal, the collection exuded the energy of London's ageless and spritely Carnaby Street. A chartreuse baroque dress looked as though it had been strung from the ceiling by a puppeteer, while androgynous canary plaid suits sashayed under crimson and gold tinsel. Floral stained frocks coated with pop colours swarmed the runway and a French kiss in the show's finale was not nearly as sensuous as the tattoo clad male model rocking a bronze, multi-layered gown.
Master of precision Martin Grant pulled off another collection packed with perfectly tailored coats and waist cinching skirts and dress. Both luxurious and classic, Grant added a new breath of life to familiar silhouettes, with high notes including a Mongolian fur trimmed coat in smooth chocolate brown, and a sleek silver evening dress; the kind of dress that puts a special kind off slink in your step, and proves once again that Grant makes clothes to give confidence to women of all shapes and sizes with his ever-flattering, ever-sexy designs.
Words / Coline Bach, Chloe Rash and Natalie Roar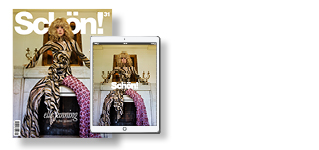 Discover the latest issue of Schön!. 
Now available in print, as an ebook, online and on any mobile device.