The fourth day of Paris Women's Ready-To-Wear Autumn/Winter 2015 Fashion Week concentrated on exaggerated forms and looser fits. From Issey Miyake's three-dimensional garments to Yohji Yamamoto's poetically voluminous gowns, this day reinvented the classic female silhouette. We also visited the universes of Chalayan, Jitrois, Undercover, and Andrew GN.
Murder on The Orient Express was Hussein Chalayan's theme of choice for his Autumn/Winter 2015 collection. Disseminating clues throughout the collection, the designer started his dark story by the gang of brown pieces, slashed fur coats and boiled wools in a sharp tailoring before going into blacks and greys, with a nod to Agatha Christie's characters in 1930s cloche hats. Then came more clues with curtain-pleated pieces attached to garments with hoops. Finally, we finished with beautiful "blood-splatter" embroidered gowns. Chalayan's mystery solved.
Starting out with the geometric-like shapes of Issey Miyake's signature plisse fabric in bright primary colours, the design house then debuted some faux fur Klein-blue coats and jackets that came in as breeze of modernity. Followed by some white and black pleated pieces, whose neatness and tightness created the illusion of thick neoprene-like fabric in complicated constructed shapes. The true magic came with the finale: the girls came as a pack down the runway, in sheer tops and with wide belts tied around their waists, then suddenly untying the strings, they let long multicolour skirts down, and they twirled. There were smiles for miles.
As the 70s continued to reign supreme this season, Jitrois added new life to the trend – with a dash of leather no less. Splashes of colour, by way of vivid purple and orange – to match model's orange bobbed wigs – provided new dimensions to classic shapes and silhouettes of formfitting dresses and sleek flares. This collection was cool in a way that did not boast and because of this, very-much wearable. The decision to use lighter leathers in crocodile and snakeskin added freshness to a predominantly all leather looks in a way only Jitrois could achieve.
Half-way between Leigh Bowery, half way terrifying villain from a horror movie, it's with clear plastic face masks that the girls appeared at Undercover. After a first section of strict monochromatic white and black tailored looks, some stunning oversized classic pieces made their entry: a parachute-like satin varsity jacket, a gigantic biker and an equally big bomber. After a series of Renaissance looking portrait-print pieces, the stunning final pieces came in the form of three looks sprinkled with what can only described as razor-sharp mirror shatters, reflecting the light in projected rays all over the room. A true apparition.
Reinvention was the theme that rang true at Andrew GN's new collection. With the marriage of old-money opulence, and the freeness of bohemia, GN's looks told tales of once abandoned tapestries and carpets, transformed into luxurious cocoon coats, adorned with black velvet gingko leaf appliqué and plunge-neck gowns delicately finished with beaded feather capes. A perfect mix of day to night, this season's GN woman will be no doubt spoiled for choice by the pages of his latest and greatest fairytale.
Surreal and utterly beautiful is what would describe Yohji Yamamoto's Autumn/Winter 2015 collection best. Starting out by some austere, almost monk-like, looks, Yamamoto soon enough sent some floating wide structured crinoline dresses that resembled silent ghost ships, floating around the Centre George Pompidou's venue. Some appeared to be mesmerising shipwrecks, while others resembled abandoned building constructions, still baring the skeleton steel beams underneath. The entire experience was pure poetry.
Words / Coline Bach and Natalie Roar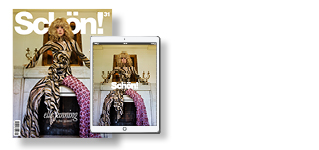 Discover the latest issue of Schön!. 
Now available in print, as an ebook, online and on any mobile device.