The third day of Paris Women's Ready-To-Wear Autumn/Winter 2015 Fashion Week presented narratives of a modern day traveller. From Manish Arora's iconic colourful looks, to Christian Wijnants' journey to Africa, this day carried us to dreamy destinations. We also visited the universes of Roland Mouret, Ann Demeulemeester, Bianca Popp, AF Vandevorst, Sandrine Philippe, and Gosia Baczynska.
Roland Mouret displayed an elegant balance between a woman's sensuous silhouette with the severity of cold weather dressing.  Each piece was designed to be a staple; Mouret toyed with the juxtaposition of fluidity and construction. At the core of the collection were luxe fabrics and colour created to analyze the narrative of craft, an artisanal adventure of the modern voyager. Geometric patchwork quilting alluded to the oral storytelling tradition of nomadic cultures and the passing down of personal histories and legacies. Fitted, sheer polo-necks layered discretely throughout the collection were inspired by the story of unique patterns originally fabricated and bestowed by fishermen's wives to identify their husbands at sea, with patterns unique to each family.
Manish Arora's collections just continue getting better and bolder. This season, Arora fashioned a colorful pop princess who ventured into a mystical land with winged creatures. The heroine sported shining armor and intricately embellished sweatshirts; night birds sat on shoulders while feather accessories decorated the warrior's face. Arora demonstrated his love for rich prints in jewel tones of royal blue, aristocratic mustard, and regal purple, and amber. His technical expertise was showcased in embroidered jumpsuits. Arora's runway show was extravagant and playful as it always is, but definitely more sophisticated than seasons past: a direct testament to the happiness he spreads in his garments through fashion forward styling.
In the Ann Demeulemeester show, Creative Director Sebastien Meunier  featured an elegantly dark collection of plunging V-neck blazers fashioned out of top-notch fabrics. He revealed a passion for layering and cinching waists with bold leather belts. Pin striped trousers, a pinch of red, and evening gloves summed up the refined yet subtly saucy Demeulemeester woman.
Emotions ran high as Bianca Popp took her bow at her first Paris show, a show designed "for educated people," the overwhelmed designer told us backstage. The collection, inspired by electronic music and sound tracked by Temple Invisible, was birthed out of Popp's desire to explore knowledge and the universe in all its forms. In doing so the designer has created a collection for the conscious fashion consumer that left a lot to the imagination. Technicality was key in this collection's design process as Popp manipulated fabrics not often used for clothing to create her signature knotted looks in tones of black and grey – a muted palette she has taken on since her move to Paris last year. If this first collection from Bianca Popp is anything to go by, however, the future will be anything but muted for this young designer.
As guests entering the Belgian ambassador to France's residence, protective face masks, onesies and shoe covers were handed out. As guests made their way through what seemingly looked like a building site, fitted with scaffolding, and plastic covering every inch of the venue, the sense of confusion in the air was palpable. As the band played and artist Joris Van de Moortel began spraying them with white paint, all bets on what kind of presentation this was going to be were off. Dressed in predominantly all black, with hints of grey and jacquard, this season's A.F. Vandevorst woman was inspired by folklore, condors and the traditional dress of Peru. However, as the duo so wonderfully showcased, influences also came from a heavy dose of rock and roll and a sprinkling of chaos, a sprinkling that guest who weren't able to grab shoe covers may still be trying to rub off today…
Taking his inspiration from Jackie Nickerson's photographic series Farm, Christian Wijnants' latest collection found its voice buried in the captivating imagery of Nickerson's documentation of farmers in Southern Africa. An exploration of not only African agriculture, but also print and texture, Swarovski crystals, cord-tied skirts and gentle appliqué added finishing touches to loose fitting dresses in gingham and mohair blankets.
Sandrine Philippe's dark collection focused on organic silhouettes of fur and artisanal feathers. Acting as enveloping cocoons, the garments aimed to protect and provide a gateway into transformation. Philippe demonstrated extraordinary technical know-how in distressed clean cuts and the incorporation of luxury leather.
Dark decadence reigned supreme as Polish designer Gosia Baczynska gave guests her take on old Hollywood glamour in her show entitled Frankenstein's Dream. A blend of utopian thinking and the tragic romanticism of James Whale's tale of Frankenstein, the collection exuded a sophistication only heightened by the luxurious setting of Hotel de Monaco. Baczynska's appreciation of the female form rang true as she showcased intricately hand-sewn dresses, and using techniques such as laser-cutting to add an art-deco twist to classic designs. Pop-cultural references, such as the iconic image of Frankenstein printed in black over black silk pieces, injected a subtle youthfulness that only made this timeless collection more exciting.
Words / Sheri Chiu and Natalie Roar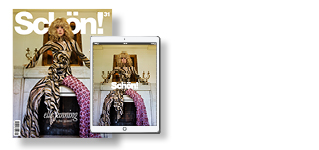 Discover the latest issue of Schön!. 
Now available in print, as an ebook, online and on any mobile device.