The second day of Paris Women's Ready-To-Wear Autumn/Winter 2015 Fashion Week accentuated newfound comfort in architectural ways. From Lemaire's warm wrap overs to Alexis Mabille's luxurious sportswear, this day appealed to the inner chic hibernator that is awakened with winter comes. We also visited the worlds of Cédric Charlier, Guy Laroche, Damir Doma, Dries Van Noten, Sharon Wauchob, Aganovich, and Swarovski.
Lemaire kicked off the second day of Paris Fashion Week with wrap over coats, neck warmers, and caps for a cosy winter. Long, classic silhouettes made for an easy vibe, while wide legged trousers added a hint of tomboy. Designers Cristophe Lemaire and Sarah-Linh Tran created capes that demanded attention and maxi coats of lambswool melton.
Cédric Charlier presented a bright and athletic collection of Astroturf green, vivid navy, and peach. Streamlined silhouettes provided an athletic shape, while colour blocking made for a visually delightful show. A dose of shine added glamour to the overall classic pieces.
Deconstructed textiles met fitted knitwear and gold prints for dark romanticism in Guy Laroche's runway show. This marks Creative Director Adam Andrascik's first collection for the brand as he paid tribute to the house's hunger for lavish ready-to-wear. Printed leather biker jackets and trench coats with floating panels were juxtaposed with form fitted dresses. Inspired by the film Pillow Book, Andrascik concentrated on lean volumes and with a gold dipped effect, infused with an element of calligraphy.
Damir Doma illustrated sculptural minimalism in cashmere and fine wool; a celebration of craftsmanship. Long silhouettes captured a vein of imperfection that ran throughout each piece. The body was shrouded in light dry cotton and rough linen, that were slightly frayed. Doma captured a disturbed sophistication to invoke a modern woman of softly tortured ease.
The beginning of the Dries Van Noten show celebrated a marriage of old and new, refined and ordinary, elaborate gold brocade and plain cotton chinos. Van Noten left guests spoilt for choice as model after model trickled down the catwalk with an almost intimidating authority, matched only by the show's all girl soundtrack, that resonated with an overwhelming energy of power throughout the salon. Fabrics ranging from the decadent to the everyday were accentuated and aligned with sequins, gilded fringing, fur, feathers and flowers in a manner of casual elegance that one has become accustomed to seeing at Van Noten's shows. This show spoke of comfort, indulgence, and casual glamour, but the loudest word this show spoke was "empowerment," for the wearer, for the on-looker, for all.
Lacy and racy, but always sophisticated, Sharon Wauchob's latest collection highlighted polished blazers and suede coats that covered the body, while transparent dresses revealed the lines of bodies. A soft wave-like motif was featured on thin garments of rosebud, juxtaposing the daring leopard print with outerwear. The Wauchob woman was classically seductive, but still in touch with her youthful spirit.
The duo at Aganovich's love affair with tailoring continued this season, with a softness in edge that gave the pair their most wearable collection yet. Muted tones rang true to the heart of Taylor and Aganovich's brand as volumes of fabric were draped to form asymmetric silhouettes out of decadent silks and tweeds in black, white and pinstripe – a palette interrupted only by sprinklings of brown, red and a very somber floral.
Sporty and chic, the Alexis Mabille woman gave us a glimmer of glamour.  Precious boxy jersey dresses and sweaters embellished with chains hung like precious threads off the garments. Embracing pink jacquard flares and rucksack, Mabille used the codes of luxurious sportswear (think Aspen) and heightened them with the choice of very fine materials he picks for his pieces: cashmere, lace, jacquard, velvet or fur patches. The sparkly chain used also as a lacing element on the back of coat sleeves or shoulder blades was the silver lining element guiding us through the collection. Of course, the classic Mabille signature touch, the perennial twisted fabric bow, made its way down the catwalk.
Swarovski's Winter Garden Collection highlighted a mixture of elegant jewellery, drawing from organic elements of nature. Crystal drops suggested rain, while speckles of crystals encapsulated in tube bracelets referred to stardust. Standout pieces included graphic lattice jewellery, which took inspiration from old English Manors. These items drew a darker inspiration with large crystals of a vintage flavour. Swarovski demonstrated its extravagant design for the successful woman, but also injected notes of sweet youth, with the simple addition of a butterfly.
Words / Sheri Chiu, Coline Bach, and Natalie Roar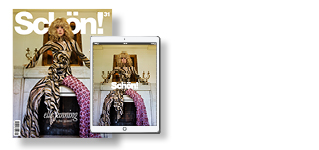 Discover the latest issue of Schön!. 
Now available in print, as an ebook, online and on any mobile device.