Naomi Grossman – know the name? You'll certainly recognise her face – that is, after three hours of prosthetic application, hair and make-up for her role as Pepper in ABC's popular series American Horror Story. Despite her transformation into one of the most loved characters of the show, Grossman is not solely defined by Pepper, having spent time in the illustrious Groundling's Company, founding her own comedic short company and having written, produced and acted in two sold-out solo theatre shows.
So, who is the woman behind the prosthetics? Hailing from Denver, Colorado, Grossman was immersed into the world of acting from a young age, joining a children's theatre company at age 8 and taking small roles in regional advertisements. "I used to force the company to watch me perform on the porch in front of my bedroom when they were over for dinner," says Grossman of being bitten by the acting bug early. "I always dreamt of being up there, on stage, or on screen – so long as all eyes were on me!"
After studying theatre at the Northwestern University, she became a member of The Groundling's Company, known for nurturing the stars of American comedy show Saturday Night Live. Despite early yearnings to appear on the series – "I used to be obsessed with SNL", she says – she did not find her acting success from the company, instead crediting it with providing her with the tools to shape her own career, starting with the conception of her comedic short company, Red Meat Entertainment. "We put out what we want, and often we get it, though we don't always get to choose the path we take to get there," the actor says of her time at the company.
However, Grossman is not just a prolific actress, she's also an incredibly talented producer and writer, having withheld the aforementioned roles in both her 2003 debut solo theatre show, Girl in Argentine Landscape and in 2009's Carnival Landscape. Both received critical acclaim and the latter enjoyed a twice extended, sold out run. Red Meat Entertainment also stemmed from her need to create, something which she briefly denied herself, "After The Groundling's I was convinced I had no talent," she says. "I settled down with a boyfriend and got a day job for a year… until I realised I was not a normal person! I couldn't bear not creating."
Her comedic shorts formed a platform for her to showcase her skills, including hilarious impersonations of Madonna and intelligent, hilarious sketches. But now she's gone on to bigger roles she's taken a step back on her comedic work, "I have zero desire to compete with cat videos," she says, "but the shorts may have indirectly led me to the success I'm enjoying today. Let's face it, American Horror Story casting needed something to Google in order to entrust me with Pepper."
But she does admit to being worried that comedy would be the only genre she would be cast for following her early acting experience. "It's such a hard business I had to choose what I was good at, and just concentrate on that," she says of her comedy work, "ultimately, I just want to work; play interesting complex characters, in quality projects. The genre is irrelevant."
Of course, her big break came when auditioning for American Horror Story, which last season received a record ten million views, with Pepper being one of the centre pieces in Elsa Mars' (played by Jessica Lange) freak show. Despite its success, at the time of the interview for her first season, Asylum, Grossman didn't initially know what she was signing up to. "For all I knew, it was just some glorified extra-role. I thought I was one of an army of pinheads," she says, "Later, I was called in for a meeting with make-up. They had a few girls they knew could handle [the make-up's] demands, but the bridge of my nose looked best."
Speaking of what attracted her to the character, the first on the show to reappear as the same role over two series', Grossman says "Pepper is like an onion we keep peeling, her backstory isn't even revealed to us until two seasons later. That kind of complexity is what attracts me to a character." Appearing alongside her paramour, Salty, Pepper's story in Freak Show was one of the most heartbreaking of all, enduring both the death of Salty and being reunited with her reluctant and unkind older sister. "The tears came, quite effortlessly actually," she says of her tearful final scene, leaving Elsa Mars, "I was so sad for Pepper, and sad/thrilled/nervous for what would come next in my career."
What's next for the actress? She's playing a part in 2015 horror film The Chair, where she plays the mother of a death-row inmate who is facing the electric chair. "It's another dramatic, unattractive role, yet unlike anything we've ever seen from me," Grossman says of the film, "I speak, I show my own face… I'm excited to see it!"
Naomi Grossman may not be instantly recognisable sans-Pepper make-under, but she is certainly someone to get to know; we expect to see a lot more of her across televisions and cinemas after American Horror Story and in anticipation of The Chair. Watch this space!
Words / Molly Taylor
Follow her on Twitter.

This Schön! online exclusive editorial was produced by
Photographer / Carlos Moscat
Stylist – Designer / Anh Vu
Talent / Naomi Grossman
Make Up / Stephanie Puleio
Hair / Tony Medina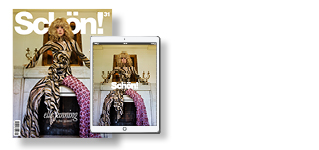 Discover the latest issue of Schön!. 
Now available in print, as an ebook, online and on any mobile device.