True to London's heritage, tailoring in all its various forms was honoured at London Collections: Men. First in line, Richard James' collection was inspired by the intrepid British engineers who helped to build the Transandine railway from the Chilean Andes to Argentina at the end of the 19th Century. The granite, blue-grey and earth brown that formed the base of the collection's palette reflected the Andean landscape, while accents of blood red, fuchsia, burnt yellow, teal and turquoise evoked the vivid costumes of the indigenous people. Tailoring was warm and textured in wool flannels, Saxonies and bouclés, while casual wear took a cue from British sporting heritage and the off-piste skiing that the engineers introduced to this part of the world.
Ede & Ravenscroft, believed to be the oldest tailor in the world, presented a collection inspired by the grace and elegance of the Edwardian era, with structured pieces in soft, luxurious fabrics. Saturated hues of hunter green and burgundy were countered by subtle camel and grey. Each item was named after a town or village in Ireland, while the collection overall comprised of four stories: uniform, city gent, out of town and formal dress.
Gieves & Hawkes presented an impressive line-up of luxury looks at Christie's auction house. The city gent was catered for with classic single breasted suits in varying shades of grey, while more casual items included slick and shiny black pony skin jackets. Evening wear was sumptuous in shades of burgundy and plum with dinner jackets featuring slim lapels in contrasting colours.
This season, Tom Ford took inspiration from the early '60s via the early '80s. His trademark luxury tailoring paid tribute to Mods and early rock 'n' roll bands with Crombie coats, slim trousers and polo necks in a sober palette of black and grey, peppered with dog tooth checks. Camel duffle coats and sheepskin jackets complimented the dark indigo denims in the more casual looks, while evening jackets featured graphic monochrome prints.
Hosted by The Earl of Mornington in the historic apartments of Apsley House, the showcase by Savile Row and St. James's provided the grand finale of LC:M's tailoring talent. From great coats to hacking jackets and eveningwear to cavalry costumes, there was something here for every sharp dressed man. A plethora of dashing gents, including models and military men, adorned the rooms to demonstrate why London has been a menswear capital for over 200 years.
Words / Huma Humayun
Follow her on twitter.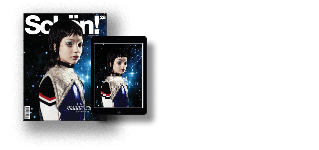 Discover the latest issue of Schön!. 
Now available in print, as an ebook, online and on any mobile device.