London Collections: Men came to a close on a colour high. From the mountaineering theme at the Moschino show, to the graphic rubber silhouettes at KTZ, the concluding days of LC:M showcased expanded silhouettes. With a stellar cast of models, who, in their diversity, epitomised the wide spectrum of individuals that build up London's fashion scene, the last days of LCM were as rich as they were visually enticing.
James Long's webbed, strapped, cinched and patched collection was a poetically modern show, with hints of contemporary baroque emphasised with lace pieces. Taking the utility from conventional pieces, such as bombers and hoodies, Long created a brilliantly dysfunctional collection that was an aesthetic stroke of genius. With illustrations by James Davison, a graphic touch was inserted, adding further depth to already brilliantly complex silhouettes.
KTZ opened on a selection of tailored looks that, on first approach, seemed a fairly safe statement for the graphically bold house. Marjan Pejoski took inspiration from A Clockwork Orange, and true to the British emblem, hooded, cloaked figures slowly emerged, rigidly upright in neck-pieces. Signature monochrome prints paraded alongside incredible fur hood sculptures. From the pixelated prints, to the ornate fur patterns, this wonderfully rich black collection was a strong one.
Guests at the Moschino show were treated to a snowstorm as models wound their way around supersized fir trees. Inspired by the slopes, pieces included giant ski boots, long johns and oversized woolly hats, with no shortage of fur trims and some tartan to boot. However, this was no ordinary ski trip. The collection was packed with eye catching colour with clashing orange, fuchsia and lime green prints, lashings of shiny sequins and big, bold gold logos.
Rows of motorcycles and hells angels greeted guests as they arrived at Belstaff's LC:M party in an underground car park. Meanwhile, models got into the bad boy mood as they made a pit stop in American style diners. Slim trousers in shiny black and oxblood leather, boxy jackets, polo necks and graphic knits were complimented by chunky ankle boots and padded leather gloves.
The colour palette at Katie Eary was explosive, with block coloured cinched coats, as well as dégradés between different hues. Between the metallic tones of the roll necks, laced crotches were a particularly delectable detail that were a fun spin on conventional jeans.
Xander Zhou experimented with volumes and textures in this autumn/winter 2015 collection. Taking his inspiration from a crossover between Wild West films and traditional Chinese calligraphy, the pieces reworked conventional equestrian silhouettes, with full leather, denim and fur looks. Embellishments comprised tassels, fur patchwork effects and leather lozenge appliqués.
From oversized pieces to graphic motifs, and from deconstructed outerwear to textural games, the autumn/winter 2015 collections expanded, yet again, the horizons of menswear. While a clear overall penchant for monochrome was seen, other designers feverishly celebrated colour, providing something for all. Just as London has become famed to do.
Words / Patrick Clark & Huma Humayun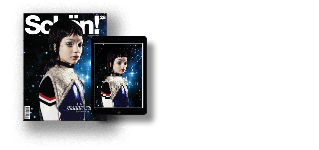 Discover the latest issue of Schön!. 
Now available in print, as an ebook, online and on any mobile device.