The fourth and final day of Paris Haute Couture Fashion Week unveiled two prevailing characteristics: adventurous heroines and nature's regenerative powers in the springtime. Schön! delved into the inventive realms of the couturiers who showed their collections on the final day, which included Stéphanie Coudert, Serkan Cura, Zuhair Murad, Alexandre Delima, Ralph & Russo, and Coppélia Pique.
The resonating strings of a sitar set the scene at Stephanie Coudert's Spring/Summer couture show, a nostalgic, and emotive display of trichromatic fringed fabrics and belted gossamer-thin evening wear; honouring women that the designer met in Iran and Iraq. A coral tinged shawl against a sharply cut crème jumpsuit and a below-the-knee wrap dress was dusted with charcoal flowers. Signature overcoats corroborated the young designer's prodigious pattern cutting technique and triangular cutout leggings suggested a reinvigorated woman of the Middle East: pioneering, modern and like Coudert's valorous designs, unafraid.
Once again proving he is a master of the stage, Serkan Cura presented a collection that was nothing short of theatrical. Inspired by Greek mythology, Cura opened the show with intense fur ringlets, separated by Swarovski stripes. Imagination was brought to new heights. Models' faces were radiant in brilliant glitter by makeup artist Elise Ducrot, while their hair was slicked back tightly by hair stylist Christian Attuly. Some of these powerful women sported impressive backpacks, whereas others were fastened in crystal-encrusted corsets. It wouldn't have been a Serkan Cura show without feathers – audacious gowns and bodysuits featured plumes galore. One geometric hourglass dress blew us away. The Belgian designer of Turkish descent showed range from an insatiable crisscross look reflective of corset strings to an almost galactic silver suit.
Liquid silhouettes and reflective crystals flooded Zuhair Murad's Haute Couture Show in his collection inspired by the beauty of water. It began with the echoing sounds of dripping water. Then, one by one, models flowed onto the runway in gowns adorned with sequins and pearls reminiscent of droplets after a fresh rain. Looks were cinched with skinny silver belts with hands, gripping the waists of glittering dresses. Ethereal, billowing organza and tulle trains added to a ripple affect in flowing rivers. The colour palette consisted of watercolour hues of peach, straw, and forget-me-not. From gossamer eveningwear to slinky, sexy sheaths, Murad's garments were dripping in luxury.
Painted with a muted palette: a kaleidoscope of rhythmic, dainty silhouettes of organza and chiffon paid tribute to contemporary heroines at Alexandre Delima's savory SS15 défilé. An ultra-feminine bubblegum tinged cutoff shirt and matching free-flowing bottom was personified with a suave, circular rimmed chapeau that emanated effeminate purity and grace. A pallid trouser-suit created for a modern-day Daisy Buchanan oozed Southern charm, while gilt accents adorned gowns and necklines to create Delima's Midas, jazzy, touch.
The power couple that form Ralph & Russo returned for a third season in Paris to unearth a majestic collection inspired by artist Sandro Botticielli's "Primavera" and classical painter Nicolas Poussin's "Realm of Flora." Tamara Ralph and Michael Russo challenged conventional silhouettes with highly sophisticated draping and tier formations, alluding to flowery symbolic myths. Enticing and fertile, the flower correlated directly to the garments of cornflower ruffles, reminiscent of the softest petals. Ralph & Russo triumphed in flower bud appliqués and pearl embroidery, which left their regal models gleaming like morning dew. Spring hues blossomed in the air: pomegranate, soft mint, and the occasional midnight for a touch of drama. Animated and lithe, fluid chiffon gowns juxtaposed voluminous gazar numbers. While real flowers wither and fade, Ralph & Russo's floral collection has proven to transcend time.
Coppélia Pique ended Paris Haute Couture week with a harlequin homage to late French artist Niki de Saint Phalle. Mosaic overlays of Prussian blue and electric yellow were embroidered on top of geometric white silk mini-dresses to mirror vibrant polythene bags of paint. Designer Axelle Migé presented a breathtaking mélange of materials such as wood, metal, and glass embellished the bodice of an opulent gown with a ballooning bottom as rotund and ebullient as Phalle's celebrated Nanas. A fragile collection injected with celestial layers of chiffon and sculptural torsos with cylinder shoulders and striped detailing. Pique's unique vision continues to make her a designer, nay… artist, to watch.
Words / Sheri Chiu & Chloe Rash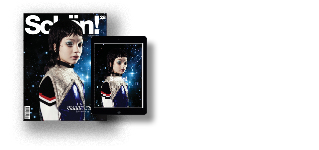 Discover the latest issue of Schön!. 
Now available in print, as an ebook, online and on any mobile device.