The third day of Paris Haute Couture Fashion Week revealed a multitude of textural delights and bold patterns. From Elie Saab's nod to Beirut's "golden age" and use of ostrich feathers to Jean Paul Gaultier's wedding extravaganza, this day was bursting with creativity. Schön! explored the unique worlds of the couturiers who showed their collections on the third day, which included ILJA, Franck Sorbier, Antonio Ortega, Defined Moment, and Bowie Wong.
Burly brushed textiles in large volumes blended with fluid jewel toned silks to create ILJA's eclectic Spring/Summer 2015 collection. The multifarious opus demonstrated Ilja Visser's supreme mastery of creating movement with varying textures and fabric.  Her designs, inspired by the divine balance between nature and life, were painted with earthy oils accented by waves of saffron and rusty pink to personify the lavishness of existence.  Some standout pieces included: a mint green jumpsuit with delicate pleating in the front with an elephantine orange bow, while other imposing silhouettes reflected moss landscapes, using jacquard sleeves along with gentle silks to express the subtle elegance of splendour and motion.
It began with clusters of bubbles streaming out of the grand organ of Oratoire du Louvre. The first model took centre stage at Franck Sorbier's couture show, waving her arms in a slow dance, caressing the bubbles. Silhouettes were neat, but skirts distressed, demonstrating the construction of deconstruction. Sorbier's collection shone bright with pieces such as a braided dress with a flowing white skirt and a hand painted violet dress of silk organza. Sorbier proved he could master the dark from last season, and the fresh sweetness of spring to come.
In an exquisite lettre d'amour to his native Beirut, Elie Saab, took us on a nostalgic voyage of his past, ironically heralding, what we can only hope, is the future of haute couture. With an unparalleled attention to detail, Saab imagined an outwardly magnificent collection where every bead glistened as if each one was individually polished pre-runway. As for A-list celebrities looking to soar at the Oscars this season: negligee style dresses, varying in lengths and in coquettish allure, were decorated with phenomenal Ostrich feathers, perfect for the red carpet, or a fantastical carpet ride.  
Jean Paul Gaultier married the very best of masculine cuts and feminine silhouettes in his wedding couture show. The French designer popped the question to 61 girls, and we couldn't help but say yes to all of them. What traditionally closes a show opened this one: a bride dripping in silk and tulle, with a thread spool headpiece, illustrating the meticulous process of couture. Gaultier mixed sophisticated with cool in classic tuxedo jackets topped off with baseball caps. A duality reigned in this collection: black and white, soft and hard, male and female. Loose fitted trousers accentuated long, carefree silhouettes.
The audience went wild when models from years' past took to the runway. We loved the dual dress of chalk and breakaway ribbed geranium, almost origami in nature. Structural, wired hips added an architectural complexity while gold sequined numbers injected a touch of glam. The spectacle concluded as Naomi Campbell entered as an interpretation of a flower bouquet. This is one defile that evoked a mix of wedding time jitters and bipolar, rock 'n' roll chic – a juxtaposition that keeps us coming back for more Gaultier.
A heterogeneous romp inspired by Canadian graffiti, Mexican-born designer Antonio Ortega's colourful, effervescent collection was an urban delight. Bright threads danced on models that walked to the sounds of heavy drums and wore oval headpieces swirled with bulls eye centres. Patterned patchwork skirts were woven with iridescent rainbow threads but there was no spray paint can in sight – bursts of fuchsia and cotton candy feathers made their mark.
Tran Thi Thanh Nga, Artistic Director and Designer of Defined Moment, uprooted the concept of the tree of life and transformed it into a collection of organically elegant wedding gowns. White and cream tree ring swirls seemed to grow out of silk organza. Suspended from the ceiling, the garments resembled floating angels. The collection was presented like works of art, revealing technical ruching and embroidery. Gowns highlighted dangling silk threads, reminiscent of weeping willows. "A family and relationships are like trees," Nga said. "There are roots, it's solid, and it lasts forever. I wanted to propose this for all girls." The Vietnamese designer's clean and sophisticated dress shapes contrasted the detailed handwork. Defined Moment proves that it is rooted in the very heart of couture. 
The gilded backdrop of Paris' Peninsula Hotel further augmented the seductive intensity of Australian, Hong-Kong born designer Bowie Wong's all red couture show entitled Recollection. Midriffs were exposed as Gaultier-esque corsets hung gracefully above voluminous skirts injected with rosebuds. Cherry stained bodices exploded with peplum while a fiery, hand-embroidered kimono dress paraded an elaborate crinoline underpinning, reminding us of Wong's beginnings: the theatre. Taking a bow from his days as a costume designer, Wong showed promise of a technique that surpasses the stage.
Words / Sheri Chiu & Chloe Rash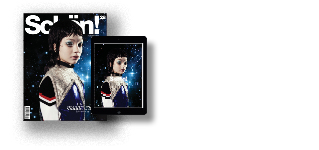 Discover the latest issue of Schön!. 
Now available in print, as an ebook, online and on any mobile device.