The second day of Paris Haute Couture Fashion Week demonstrated designers' passion for spinning stories, whether it be Stephane Rolland's architectural majestic gowns, or Julien Fournié's exotic world traveller. Schön! dove into the creative universes of the couturiers who showed their collections on the second day, which included De Beers, Bouchra Jarrar, Busardi, Laurence Xu, Atelier Gustavolins, Alexandre Vauthier, and Tony Ward.
An important part of haute couture fashion week is the presentation of fine jewellery. Headquartered in London, De Beers showcased its new collection of rings, necklaces, earrings, and cuffs. De Beers doesn't rule out a diamond just because it may be a lower grade, but considers the overall beauty of the gemstone. In 2013, De Beers launched the Phenomena High Jewellery Collection, inspired by the world's natural elements. Another set, titled Frost, highlighted the reflection of light on ice. The necklace in this collection has metal so thin that the diamonds appear to float on the neckline. What's more, the Sunbeam collection showcased sunrays piercing behind clouds while the Sirroco necklace evoked wind and air.
As houndstooth-patterned biker jackets sauntered fiercely down the runway, the image of Parisian wayward schoolgirls inhaling skinny cigarettes couldn't help but come to mind. Bouchra Jarrar's ultra-sexy and sprightly collection defied the expectations of couture – focusing on the opulence of everyday outerwear by augmenting the art of minimal extravagance. Diagonal zip miniskirts were paired with matching houndstooth over-sized vests while toothsome tailored coats with golden fox trimmed collars were seductive and urbane. Even without the usual bells and whistles of haute couture, Jarrar imagined a black and white, effortless presage; perhaps creating a new, more modern road for fashion, a road less traveled but undeniably worth the journey.
Mother and son team Busardi and Tuck Muntarbhorn took flight as they presented their first prêt-à-couture show in Paris. Drawing inspiration from the landscapes of South America, Busardi explored femininity in the frosty fields of Patagonia and the warm, sandy deserts of Argentina. Constructions of flowery swirls decorated most garments, while others brandished ostrich feathered hems alluding to rare and exotic birds. The layering and formation of tiers consisted of feathered shoulders, short skirts, and a tulle finish. Busardi's ethereal eveningwear was an interplay of transparency and opaque, regal and girly, airy and strict. Overall, a very successful take-off for this Thai brand.
It's hard to compete with the Eiffel Tower – the structure's iron skin and triangular shaped bones have become an international symbol of romance and insurmountable splendour. So when Stephane Rolland decided to stage his Spring/Summer couture show at Maison de la Radio, a venue that directly faces the lattice monument, he used the architecture of his own designs to overthrow one of Paris' greatest architectural feats. In a Cartesian inspired spectacle, Rolland showcased splendid silhouettes, embellished with magnificent ornamental needlework.
In line with last season, Beijing designer Laurence Xu opened his runway show with a young girl in a golden floral dress with a billowing skirt. Xu paid homage to Chinese patterns in his work: emerald and sapphire floral embroidery that sensually wrapped around the body, blossoming silk forms at the hips. Oversized ruffles and hints of feathers were prominent, demonstrating the meticulous hands craftsmanship. Xu finished the performance with an enormous wedding dress, dramatic and jaw opening in every way. 
After almost a year and a half off the runway, Gustavo Lins, creative director of Atelier Gustaviolins, showed an Amazon inspired, vibrantly pigmented unisex collection, packed with powerful silhouettes that were understated and cut to perfection. Illustrious tailoring reflected the Brazilian designer's profound understanding of architectural forms; his womenswear necklines plunged like spiralling bamboo trees, while diagonal seams swept across the backs of layered overcoats. Loose fitting dresses swayed like verdurous Amazonian leaves and waists were decorated with over-sized violet and gold stones. Leather and cashmere outerwear paired with lush maroon scarves dominated Lins' menswear – a less tropical – but equally as refined demonstration of a remarkable designer whose return to the runway is a much needed blessing in disguise.
This season, Julien Fournié infused oriental goddesses with touches of Amazonian splendour. He first started with a destroyed white dress, scratching the slate and starting anew. Fournié customised prints with his initials, but rendered them into characters of a faraway language. Moreover, the French couturier evoked images of desert sands through hooded gowns, majestic in every way. Shades of camel, mahogany, and sky blue decorated this remarkable collection. Accessories were fabricated with deep red coral fragments. Cream gowns featured oil-splattered prints, as if models faced car trouble in their international journey.
If sex sells, then Alexandre Vauthier should have no problem hawking his first couture collection that showed a lot of leg and a gifted understanding of the female form. Employing various textures and materials, Vauthier used a melange of luxurious animal skins to craft sinful garments for the fiercest of fashion-vixens. An emerald crocodile skirt and an eel mini-dress with rolled up sleeves sent animalistic shivers down the runway. Another highlight was a cascading crème dress with a matching bolero that emanated sex appeal while leaving something to the imagination.
Inspired by Gothic architecture, Tony Ward injected hints of dark, lacy dresses in his usual vibrantly feminine looks. Not only did baroque motifs in pewter and silver decorate garments, glistening gems did as well. One complex, architectural bodice was a stunner, and demonstrated Ward's high attention to detail. The Lebanese designer didn't shy away from what he knows best: sweet rosewood dresses that highlighted intense embroidery and beading. Passionate reds glided down the runway, along with an impressive beige body suit with a wide skirt flowing on hips.
Words / Sheri Chiu & Chloe Rash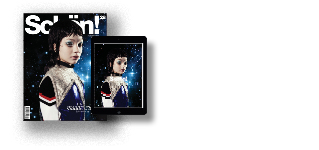 Discover the latest issue of Schön!. 
Now available in print, as an ebook, online and on any mobile device.