On the first day of the Paris Haute Couture Spring/Summer 2015 runway shows, soft femininity was the common thread woven throughout each collection. From On Aura Tout Vu's balletic performance to Yiqing Yin's newfound simplicity, this day was filled with oneiric designs. Schön! also brings you the very best from Georges Hobeika, Dice Kayek, Christian Lagerwaard, Rad Hourani, Yumi Katsura, and Yanina Couture.
Enchanting allegories of femininity built up the Georges Hobeika Spring/Summer 2015 Couture show. A stream of pastel pinks, muted blues, and yellows commanded Hobeika's beguiling collection, which played with texture and length to deliver an effervescent tale of splendour. Many of the pieces were cinched at the waist and ornamented with whimsical bows, while butterflies cocooned against lavish gowns, and capes danced around billowing silhouettes.
Turkish designer Ece Ege of Dice Kayek stepped into the sweet world that is "Dollhouse." Although the collection was seemingly inspired by the "uncanny dolls of Hans Bellmere, disarticulated dolls of Annette Messager, and fetish dolls of Louise Bourgeois," it did not portray a sense of twisted darkness. Instead, Dice Kayek brought us to the altar of children's games where waists were cinched and skirts were short for playtime. Graphic and padded structures showcased an interplay between construction and fragility. A dress with a Perspex embroidered top was seen, as well as a gem studded "Tetris" dress in multi-colour patchwork embroidery. Dice Kayek portrayed juvenile purity in this myriad of bitter-cute ensembles.
A balletic performance of gradient tulle and fine-spun shadowy ruffles sashayed down the On Aura Tout Vu runway, which staged Bulgarian design duo Livia Stoianova and Yassen Samouliov's opulent costumes, created for The Nutcracker ballet in Geneva. Sheer tops woven with fragmented mirrors and inky triangular skirts were bridged with long chiffon trains – the perfect armour, for the modern soldier. Geometric bodices gleamed with silver and red crystals — and in view of recent events – a geometric leotard was embroidered with powerful sentiment: "Stop Violence Just Dance"… revealing that the stitches of solidarity go a long way.
The first look that entered the runway at the Netherlands Institute was definitely an eye-opener as Christian Lagerwaard's model gracefully strode in a snow gown with a daring low cut matched with an audacious high slit. However, the following dresses were more conservative in nature in regards to silhouette and colour palette. The edges of sleeves and hems were tethered; three-dimensional rosebuds were featured throughout the collection. The Dutch designer masterfully ruched the backs of dresses, alluding to a delicate spinal cord.
Primary coloured silhouettes brought new life to Canadian designer Rad Hourani's androgynous couture – a welcome addition to his usual black-on-black oeuvre. The king of unisex design opted to display his punctiliously cut collection at the Canadian Cultural Centre; where pleated origami forms were accentuated with doughy plastic fabric and oversized blazers were matched with crisp, streamline trousers. Hourani proved that we are not fettered by our identity, but by our fettered society – a society that he continues to unbind with his masterful co-ed creations.
Celebrating 50 years of creation, Yumi Katsura payed tribute to the Rimpa School of Japanese decorative painting. Garments with painterly strokes and patterns of the sun, birds, flowers, and trees highlight the beauty of traditional Japanese art. Katsura showcased her strength in accessories in the impressive headpieces and earrings. Regal and sophisticated, Katsura's kimonos translated ancient art into modern day settings.
Culture and fashion often go hand-in-hand, especially in the case of Russian designer, Yulia Yanina, whose Spring/Summer 2015 Couture Collection reflected the vibrant spirit of Russia.  With the veteran designer's Parisian sensibility, Yanina blended the richness of her homeland with the je ne sais quoi of French fashion icons: Jane Birkin, Brigitte Bardot and Catherine Deneuve.  Yanina's exquisite technique and attention to detail seeped through the seams of her lightweight tier skirts and black and white velvet laser cut dresses.
Amidst the dark hall of Pavilion Cambon, a layer of warm fog hovered. The atmosphere was dark, providing no clue as to what was in store in Yiqing Yin's runway show. Titled Oxymoron, the collection still contained notes of Yin's signature draping style, yet dabbled in new territory. She returned to the core of her usual dreamlike characters and centres on the essence of self, which is translated into grey matter. The show opened with beautifully soft grey garments, which evolved into steel. Dresses were wrapped and twisted in the way Yin knows best. As second skins, graphic printed bodysuits imitated a tribal yet space-age tattoo. We want to see this talented couturière push boundaries even further.
Words / Sheri Chiu & Chloe Rash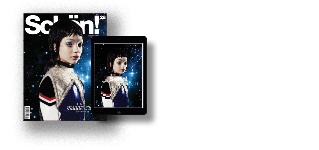 Discover the latest issue of Schön!. 
Now available in print, as an ebook, online and on any mobile device.