As the fashion month powers on through its roster of fashion capitals, Schön! headed to Barcelona, where over 30 designers presented their autumn/winter 2015 collections. Now in its 15th edition, 080 Barcelona continues to tap into the textile heritage of the region, supported by the Generalitat de Catalunya. True to the regional textile heritage, the entrepreneurial and design showcase that is 080 Barcelona explored the emerging fashion talents and commercial strengths of the Catalan capital, all whilst continuing to promote Barcelona's cultural history. 080 Barcelona welcomed professionals of the industry in yet another prestigious venue, with this season's shows and exhibition spaces hosted in Barcelona's harbour-side Maritime Museum. From the multinationals that are Custo Barcelona, Mango and Desigual, to younger talents of the likes of Georgina Vendrell, Manuel Bolaño and Josep Abril, Barcelona boasted a brilliantly eclectic spread of autumn/winter collections, reasserting itself as a valid and key player in the global fashion industry.
Outerwear in a wide panoply of textiles was the highlight of the Pablo Erroz collection. Faux shearling adorned wool coats, while a selection of plaids added comfort and textural experimentation to overcoats. An added level of geometricity with stripes was seen, which delicately added movement and structure to the collection.
Brain & Beast, on the other hand, brought havoc to the runway, with a collection that celebrated chaos in all its forms: from laced-up shirts to slogans, audacious street wear tapped into pop culture, subverting canons to reveal the beastly within popular iconography.
Undoubtedly one of the foundation stones of Spanish fashion, Mango inaugurated the season of 080 Barcelona with its evening of events, comprising a spectacular runway show and equally impressive post-show celebrations. The catwalk show that presented the spring/summer 2015 collection saw silhouettes personify the crossover between 1970s beatniks and cowboy apparel. Opened by model and actress Elisa Sednaoui, the runway was ebullient with lace, embroidered pieces and suede. The double denim looks, sported both by women and men, set in parallel with textural ponchos, were particularly svelte.
On the second day of shows, textiles collided in the Txell Miras show, with draped, wrapped and knitted silhouettes. Toggled volumes of cloth added shape and sculptural texture to the pieces. The neoprene pieces, in blocks of black and white, were beautifully manipulated to create deconstructive tech-tailored looks.
Warm woollens and protective layers ran throughout Miriam Ponsa's collection that took inspiration from the exile of Spanish refugees, 75 years after Franco came to power. Political discussions aside, brilliant manipulation of textiles resulted in an immaculate study of fibres and textures, of pared-down patterns and textiles.
Josep Abril's aptly named Invisible collection saw various pieces fuse seamlessly into one, with knitwear incorporated into the seams of a one-piece. What appeared to be a monochrome two-piece suit and shirt revealed itself to be one single overall. Ashen highlights added a play on decorative deconstruction, but the strength resided in the precise cuts and sleek tailored pieces.
Amidst a sea of sobriety, Desigual cast a gleeful host of models, all boasting infectious smiles. The designs were beautifully muted for the winter collection, displaying warm hints of colour in knits and prints. Simple plaids and full-bodied colour-blocks added strength to the pieces, making this Desigual collection a particularly covetable one.
The third day of shows opened with Georgina Vendrell's DarkLight collection, that explored the material properties of patent pieces: various monochromes shades were exploited, capturing the varying degrees of textures. Amidst the brilliant rubber and pvc pieces, rich woollen and fur pieces, cut in ultra-contemporary urban shapes, stood out as particularly innovative. A definite highlight in the schedule, Vendrell asserted her design ambitions with flair.
Isometric, the creative love child of Joan Ros Garrofé and Jessica Montes Bonito, presented a collection titled Pysche, that explored the depths of the mind, as pioneered by a certain Sigmund Freud. Translating tailored details into surreal shapes and forms, Isometric pushed the limits of bodies, gender and volumes.
Krizia Robustella sent sickly sweet bears down the runway, in a flurry of baby blues, pinks and oranges. Saccharine overtones aside, the collection's brilliantly buoyant designs were urban, fresh and uncompromisingly fun: this collection will be sure to please lovers of pop.
Manuel Bolaño's collection presented an intricately complex juxtaposition of aesthetic sources, in a truly postmodern blending of references, and touched upon themes of Eastern European heritage, pop culture (with an explosive Cher soundtrack) and Gypsy princesses. Blurring boundaries of nationality, cultures and gender, the collection was a delicately poetic portrait, capturing the struggles of marginalisation and difference.
Founded by the Dalmau brothers in the 1980s, Custo Barcelona has gone on to become a pillar of Catalunya's fashion system. A strong commercial figure on the international fashion scene, Custo reasserted his signature style in his autumn/winter 15 collection: graphic prints, that ranged from a delicately muted black & white palette to the more explosive red, blue and green combinations, strode down the catwalk. Amidst the houndstooth and plaids, geometric prints took the collection to sky-high levels, with designs that seemed to echo Barcelona's architecture.
On the final day of the event, knitwear brand Escorpion had us yearning for (yet more) cold weather with its stately woollen designs: with a focus on the ways in which knitwear falls and marries the shape of the body, the collection cocooned corporeal forms in a layered effect.
Barcelona wouldn't be its fashion-self without a healthy dose of sportswear. Cue Punto Blanco's show, that presented its urban sports collection in true Catalan panache. With graphic colours, figure-hugging designs and signature elastic waist-banding, Punto Blanco introduced a hint of fun to the driven energy of sportswear.
080 Barcelona closed with the 38th edition of Modafad, the awards presentation that showcases emerging designers. The collections of Pedro Covelo, winner of last season's award, Martín Maldonado and Yoseline Martinez were presented, displaying urban, colourful designs. With this award, Barcelona emphasized that its strengths in the fashion industry reside not only in the commercial strength of its multi-nationals, but that emerging designers can, through an ever growing exposure, establish themselves in the international showcase that is 080 Barcelona.
Discover the collections and read more on 080 Barcelona here.
Words / Patrick Clark
Follow him on Twitter.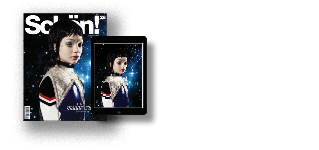 Discover the latest issue of Schön!. 
Now available in print, as an ebook, online and on any mobile device.