You are not alone. You are not damaged goods. You did not break the rules. You do not have to pay for it. If we take shame out of the equation, how many people could we save?
While we have made leaps and bounds medically, fear is still the number one killer. Despite the fact that we are closer than ever to a place where the disease has been dampened, if not eliminated, we have created a new one in its place that keeps the virus very much alive. The HIV virus isn't typically a sickness where one finds support, love and protection from friends and family; it is shunned and abhorred. The situations of isolation and solitude experienced by those afflicted by the virus are the very crux of its destructivity.
This phobia is the very thing that is detrimental to furthering a solution to finding a cure. With populist media and ill-informed opinions feeding bigotry, toxic shame is feverishly nurtured in every social post: an ignorance that has existed since the appearance of the virus is still well and truly thriving. This is what prevents the real cure. 
The mental well-being of those diagnosed is a crucial element of the fight against its effects. It's easy to find liberation in self-destructive behaviour as a way to cope with the fear, and anger that come with discovering a new diagnosis. As a virus, it doesn't discriminate: one major unifying characteristic is the isolation it instills in each victim.
We have come too far to let a new social epidemic continue to spread an infection of trepidation. The virus has mutated. The virus is guilt. The virus is humiliation. The virus is confusion. This is what keeps the casualties of contraction from getting the medical care that could potentially stop the virus dead in its tracks. Studies from the Centers for Disease Control and Prevention estimate out of 1.2 million people, only 37% are actually seeing a clinician regularly.
The development of new medication is only one of many major medical developments that bring us one step closer to true freedom. With the combination of preventive precautions and regular testing, keeping ahead of the virus' devastating effects is a reality in reach of all.
We must revive the urgency for proper prevention measures. We must again put a spotlight on what it means to be safe. There isn't a lack of information in the media, only a lack of real sex positive education. For the first time, we have a real choice and a real chance at survival. We must stand united and push for the safety of our future.
We are not alone. We are not damaged goods. We did not break the rules. We do not have to pay for it.
Join the cause. Support charities across the globe by donating now!
Designers Against Aids. 
AIDS Research Alliance. 
AIDS Healthcare Foundation.
Elton John AIDS Foundation.
Aid for Africa.
AIDS Trust of Australia.
New Zealand Aids Foundation.
This Schön! editorial was produced by
Photography / Bridger Scott
Beauty Editor & Words / Mynxii White
Models / Olga Voronova, Lara Ghraoui & Zack Clark @LA Models
& Jacob Kulesza @ Two Management

Special Thanks to Andres Rigal.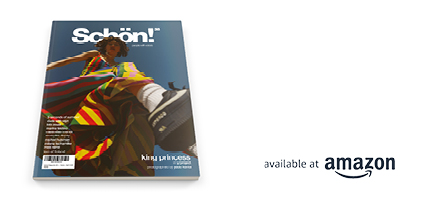 Discover the latest issue of Schön!. 
Now available in print, as an ebook, online and on any mobile device.