As the womenswear season continues in Milan and Paris, Schön! looks back at some key moments during London Fashion Week's Autumn/Winter 2016 shows. From feminine florals at Ryan Lo to victoriana goth at Daks, London designers were faithful to their individual brand DNAs, as the fashion industry faces the tumultuous task of re-adjusting annual schedules. 
Reinventing modern florals each season, Holly Fulton's collection for autumn/winter 2016 included monochrome florals and paisley – with black and white complimented by soft yellow and baby pink.
1960s vibes were present in silhouette and styling as a-line tunic and bodysuits topped by pussy bow and bell sleeve blouses, mini skirts and wide leg trousers.

Staying true to his recognisable dreamy and romantic style, Ryan Lo presented a collection inspired by Disney's Mulan for autumn/winter '16. Butterfly motif knitwear, whimsical bows, ruffles complimented soft chiffons and sheer fabrications in pastel palette of custard, lilac and candy pink – as Chinese influences arrived in the form of red silks and cherry blossom florals covering overcoats and a-line dresses.
The current Gothic Victorian trend was given a luxurious twist in Filippo Scuffi's autumn/winter collection for Daks. Alongside rich fabrications including velvet, chiffon and lace, oversized plaid and tweed prints brought an autumnal feel to a formal feeling collection. Widow visions were accessorised with brooch embellished chokers, bows and leather clutch bags.
Design duo Palmer/Harding continued their refined tailoring this season – combining their classic cut shirts with modern oversized silhouettes. Sleeves were elongated as exaggerated coat shapes were layered upon mouth covering necklines, crisp skirts and trousers, finished with exquisite leather accessories.
With bright colours at the forefront, designers Fyodor Podgorny and Golan Frydman presented a playful and graphic collection for Fyodor Golan autumn winter 2016, true to the brand's aesthetic signature. Crisp shirt dresses were topped with digital printed mini skirts, followed by Coca Cola motif overcoat and dresses. Silhouettes were flowing, as ruffles, fur and draping delivered texture and movement alongside metallic and slashed lines in a striking fluorescent palette of neon yellow, pink, green and red.
Paying homage to two of the best times in history for parties, designer Henry Holland's inspiration for this seasons House of Holland was the 1920s and '70s. Glitter, fur, ruffles and denim were revived from the seventies in the form of dungarees, split seam skirts and gold two-piece suiting – whilst sequins and fringe embellished dresses bringing a 1920s feel to Holland's modern party pieces.
Looking closely at Edith "Jackie" Ronne's great Antarctic expedition of 1947, Liv Tyler and Delphine Ninous have created a polar inspired collection for Belstaff autumn/winter 2016, named Polar Pioneer.
With knit and outerwear pieces influenced by arctic landscapes, textures echoed icebergs, snow, rocks and Inuit dress – as tactile leather pieces complimented the furs, soft wool and skins.
In the 1970s and 80s the USSR produced garments printed with deers, wolf and forest landscape motifs – recognisable today on fleeces you may see in charity shops or worn on the back of the elder generation.
Ukrainian designer Yana Chervinska, took inspiration from these pieces, modernising and reinventing them into luxurious prints and embroideries – alongside sheer panelled maxi dresses and tailored overcoats.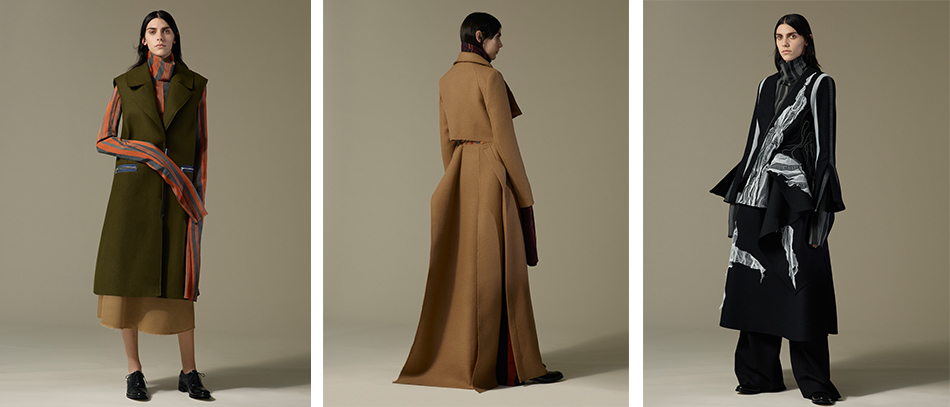 This seasons collection from Haizhen Wang took inspiration from all things airborne. With models taking flight in refined tailoring, silhouettes were oversized, effortless and layered with elongated sleeves lengths and masculine trouser shapes. In muted tones of camel, black, grey and navy, fabrications were left raw edged as aviation-inspired coats included modern zipper detail and striking panelling, seen in Wang's special autumn/winter 2016 fashion film.
Words / Emily Gallagher
Follow her here.

Discover the latest issue of Schön!. 
Now available in print, as an ebook, online and on any mobile device.