Now in its 47th edition, Lisbon's fashion week ModaLisboa also celebrated its 25th anniversary this year. In honour of this, the overarching theme chosen for the spring/summer 2017 season was Together, representing the bringing together of designers and brands with national and international media, and of the fashion world with the public during this four-day event.
A key element of ModaLisboa is its commitment to search for and showcase new talent. The Sangue Nuovo (Young Blood) platform acts as both group show and competitive arena for fashion graduates, with awards including an eight-week workshop at Milan's prestigious Domus Academy, a 5,000 Euro scholarship from official sponsor Vulcano and the opportunity to travel to Maastricht to take part in the FASHIONCLASH festival.
The 11 young designers who participated presented diverse and sometimes diverting collections (Micaela Sapinho's 'Free the Nipple' prints spring to mind), but Schön! was most impressed by João Oliveira, who walked away with the FASHIONCLASH Award. His pieces combined streetwear aesthetics with sportswear practicality and drew on a nostalgia for a 1990s childhood. Oversized jackets with chunky drawstring details were teamed with candy stripe tennis dresses and a palette of neutrals and khaki was softened with baby pink.
Once they've graudated from Sangue Nuovo, young designers are further supported under the LAB initiative, before joinging the main catwalk. One of these is Porto born and bred Ricardo Andrez. On his runway, models remained anonymous in a base layer of head to toe bodysuits, allowing the garments to do the talking, namely to explore themes of identity, gender and race. Shiney and matt fabrics, oversized silhouettes and fetish wear detailing were combined to create a collection that was both trangressive and wearable.
Dino Alves has been described as the Enfant Terrible of Portuguese fashion. His spring/summer 2017 collection, entitled Warning, juxtaposed the beauty of nature in which, he says, "we find the purest design," with the destructive effects of human behaviour. Taking his cue from plants, trees and especially flowers, Alves interpreted nature both in its most splendid form but also through its process of deterioration. Ruffles and tufts of tulle representing flower arrangements and leaves were paired with the graphics referering to chemical labels, packaging and danger signs and natural colours with chemical and industrial ones.
Kolovrat presented a menswear collection that was simultaneously industrial and romantic and played with the idea of masculine strength versus vulnerability via a clash of textures, fabrics and cuts from frayed knitwear to boxy t-shirts, long shirts, asymmetric trousers and graphic prints.
Meanwhile, the fun factor was ramped up at Luís Carvalho, whose Heart of Glass collection was inpsired by Debbie Harry and 1970s pop and rock. Silhouettes ranged between long and cropped, skinny and extra large, in cotton twill, cupro, silk and mesh with a vinyl finish. The colour palete of coral, bottle green, royal blue, red, white and black, was inspired by the work of '70s artist Gretchen Albrecht.
As always, ModaLisboa is not just a series of catwalk shows. The programme this season included discussions and debates in the form of Fast Talks, the Wonder Room, with stands from local brands ranging from fashion to fragrance, and an exhibition highlighting one of Portugual's major exports: shoes. The purpose of this installation was to showcase footwear from some of the counrty's most promising young brands.
Future Archive was the title of Portuguese photographer Miguel Domingos' exhibition. Born in Portalegre, Domingos began his career in London 10 years ago, after graduating from London College of Fashion. He went on to work in Paris and New York, before returning to Lisbon last year. The exhibition contained a selection of portraits and landscapes from Domingo's forthcoming book of the same name – an anthology largely consisting of previously unseen photographs – bringing together the people and cities that have inspired him over the past decade.
For more information, click here.
Words / Huma Humayun
Follow her on Twitter.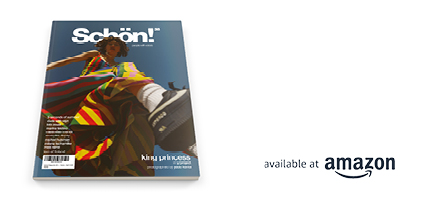 Discover the latest issue of Schön!. 
Now available in print, as an ebook, online and on any mobile device.