Known for his surrealist, dreamlike imagery, Belgian born artist Stephan Balleux's latest showcase at La Galerie Particulière features incredibly intricate and detailed work, that questions the senses and deconstructs the digital age that we inhabit. 
As he exhibits in Paris at La Galerie Particulière, Stephan Balleux talks to Schön! about his career beginnings, where he draws his inspiration from and the technical process of his paintings.
Your figurative talent obviously derives from mastering various techniques. What was your parcours? What is your background in art?
My first art class was at ten, I entered my first nude class at 12, and at 14 I entered the royal academy of Fine Arts until 18. I did 4 years more in the painting department, and in the meantime a bunch of other classes, from etching to silkscreen.
I did work a lot… actually, technical classes don't exist at all in art anymore, but it helps, in order to master a medium, to work a lot, again and again.
You seem to rework existing images. How do you work with archives?
I have a huge collection of images, collected on books mostly and also online sometimes. For a long time, I mostly worked with images I had found. I think it is important to use existing images from the collective and to transform this part of our civilisation, in order to not be crushed by it.
Where do you draw your inspiration from?
Everything visual, and also some authors, pets, anthropologist, philosophers, artists, musicians.
Does mood influence your work, or is it whatever comes to mind?
I would say it is more energy than mood. I like to do something when I feel like I have to do it, when I have the right energy. The body doesn't react the same when you sculpt, paint or doing post-production or CGI.
And then finding the right music for the energy.
What was the technical process in creating a piece in your upcoming exhibition at La Galerie Particulière?
First, finding the right picture. Then, photographing or scanning it, then painting it very small. Painting over it. Photographing it again. Mixing the original one with the painted photography. Cropping and tuning the levels of the pictures. Then, painting it slowly with watercolour.
Your work has elements of surrealism, with oneiric imagery. How do you engage and play with the spectators' senses?
I want the spectator to feel uneasy and very familiar with a picture of mine.
In order to achieve this strange strangeness, I need a blend of sweet cliché, with a twist.
This strangeness is also achieved because I focus on the surface of the artwork. Most of the time, the spectator won't be able to easily recognise the materiality of the art piece.
If they see a painting, it has also the characteristics of photography, or a movie still, or a sculpture, or a drawing… or a little bit of everything. The spectators' senses are then a bit confused, and this is what I would love to achieve "le déreglement de tous les sens" of Rimbaud. But with a strict no-drugs policy.
Finally, what is next for you?
I have a solo show at Artbrussels, the contemporary art fair of Brussels, end of April. Still busy working on a huge painting.
I have a couple of exhibition projects but I am longing to work with no deadlines and also to be able to move forward on my new projects, where actually pictures itself become my medium.
Stephan Balleux's work is on show at La Galerie Particulière, Paris, until April 26th.
 Words / Tom Courcey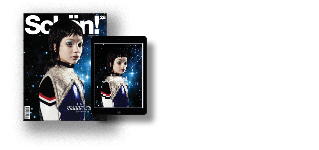 Discover the latest issue of Schön!. 
Now available in print, as an ebook, online and on any mobile device.