A genius too often overlooked, Richard Bernstein was a dark horse in New York's '80s art scene. An integral part of the Pop Art movement, since 1972 and for almost two decades, he served as the cover artist for Andy Warhol's Interview magazine, where he created more than 120 portraits. Such was Bernstein's plastic mastery and undeniable allure that often people would attribute authorship of his works to Warhol himself. "Sometimes people think I do the cover of Interview. Well, I don't. I haven't the time. But Richard Bernstein's faces are wonderful. They're so colorful and he makes everyone look so famous," Warhol himself said of his collaborator and friend. 
An NYC native, Bernstein was a fixture in Warhol's artistic milieu as well as a regular in the city's nightlife scene, often seen at iconic venues such as Max's Kansas City and Studio 54. Living quite the bohemian life residing in Hotel Chelsea until his untimely death in 2002, Bernstein's enigmatic persona and artistic quality undoubtedly crown him as a genius. Known for his hyper-colourful glossy graphic portraits, his technique involved using airbrush, pencil and pastel on photographic portraits — capturing everyone from Madonna and Mick Jagger, to Cher and Calvin Klein. "Richard Bernstein portrays stars. He celebrates their faces, he gives them larger-than-fiction size," Paloma Picasso said of him, adding that through his oeuvre: "Superstars became Megastars."
Roger and Mauricio Padilha have decided to shed light on Bernstein's legacy and ability in their upcoming book, Starmaker. Ahead of the release by Rizzoli this September, we sit down with the brothers to talk about getting Jean-Paul Goude and Grace Jones involved in the project and Bernstein's work beyond the iconic Interview covers.
You guys have dedicated books to Antonio López, Stephen Sprouse and Chris von Wangenheim. What was it about Richard Bernstein's story that made you crate this book now?
Roger Padilha: Richard has always been on our minds as a potential subject. Of course, we loved his work for the Interview covers but we especially loved the work he did for Grace Jones' album covers when we were kids. It felt like a great followup to our last book and serendipitously, Interview magazine closed this spring and there was a sudden interest in Richard's covers so it seems like all the stars have aligned for him to be showcased.
How would you say this project differ from previous ones you've worked on?
Mauricio Padilha: All of our books so far have focused on New York-based artists during the '70s and '80s, so I'm not sure it is a dramatic departure from what we have done. Of course, the subjects are completely unique and individual — although all four of our book subjects knew [each other] and sometimes even worked together! Richard's book is hyper colourful and pop-arty, which is a very dramatic change from our last book on Chris von Wagenheim which was so dark and disturbing.
This is the first full monograph on Bernstein. Why do you his figure has been seemingly overlooked within pop culture given the prominence of his work?
RP: First and foremost, Richard was known as a commercial artist and the crossovers that so many artists do nowadays wasn't really encouraged. You couldn't be thought of seriously in the art world if you had your artwork on a Supreme skateboard or a Vuitton bag the way you are nowadays. So Richard, who started off as a fine artist, lost that credibility once he started doing commercial work. Another factor is that so many people actually think that Andy Warhol and not Richard did the covers of Interview. So there are a lot of factors why he isn't as celebrated and remembered. We're going to change that.
How did you get Graces Jones and Jean-Paul Goude involved in the project? 
MP: We called them and explained the project. Both were very close to Richard and it would have been unthinkable to not have them involved. But there were hurdles — Roger had to fly to Jamaica to visit Grace and convince her to do the interview and the foreword. That entire experience can be a whole book unto itself!
The book features more than 200 colour illustrations in 176 pages and you were given full reign of the archives by Bernstein's family. How did you set off to make the selection?
RP: We have a very good idea of what the book should look like — in relation to art prints, personal ephemera and outside images — so while archives are overwhelming to start digging through when you have a good idea of what it is you're looking for, it's easier to edit.
What is the main aim and message you guys want to send about Bernstein's work?
MP: He was a genius artist! Truly amazing. And there was no media he didn't master. He could draw, design, paint, art direct, sew, decorate, and even cook all on a very high level apparently…
Personally, what is it about Bernstein's graphic work that speaks to you?
RP: His work was actually a sort of lighthouse to us… We were from a very drab town in Long Island and we longed for lives of creativity, fun, fashion… so Interview and specifically the covers were a monthly reminder that that sort of life can be achievable only a stone throws away in NYC… you just have to bare through those high school years [laughs].
As we have mentioned quite a bit, the book features his iconic Interview covers as well as rarely seen personal and commercial pieces. To end on a slightly lighter note, if you had to choose one piece from the book as your ultimate favourite, which one would it be?
RP: I love his Greta Garbo portrait. It was done early on in his career and it really was the first portrait he painted so I see it as a precursor to all the covers he later did of celebrities.
MP: I love his Candy Darling poster. Its always been a favourite and it's very rare to find. When we finished the book, Richard's nephew Rory surprised us and gave us each a Candy Darling!
© 'Richard Bernstein STARMAKER: Andy Warhol's Cover Artist' by Roger Padilha and Mauricio Padilha, published by Rizzoli New York, 2018, will be available to purchase next month.
Images courtesy of the Richard Bernstein Estate.
words. Sara Delgado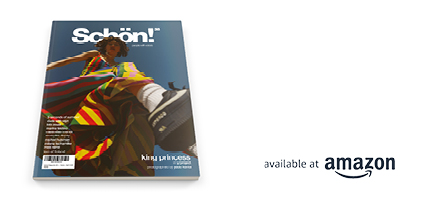 Discover the latest issue of Schön!. 
Now available in print, as an ebook, online and on any mobile device.